How to Start a Candy Business
Decide if the Business Is Right for You
Hone Your Idea
Choose a Business Name
Create a Business Plan
Fund Your Business Plan
Register Your Business
Register for Taxes
Apply for Licenses/Permits
Open a Business Bank Account
Get Business Insurance
Prepare to Launch
Build Your Team
Start Making Money
Starting a candy business can be a great idea to cash in on America's love for candy.
However, laying the foundation for a flourishing candy business isn't as straightforward as it sounds.
In this post, we'll take you through the 13 steps you need to follow when starting a candy making business from the ground up.
The idea is to help you avoid common pitfalls, enabling you to achieve success a lot faster.
Let's get started.
Fast Facts
Revenue potential
$210k-$4.2m p.a.
Profit potential
$53k-$798k p.a.
Step 1: Decide if the Business Is Right for You
Start by determining if starting a candy store is a good idea in the first place. At this point, you'll want to know the following:
Pros and Cons
Gauging the downsides of a candy business will enable you to know the challenges you're likely to encounter. Evaluating the upsides of the business will provide the motivation you need to start.
Below are the pros and cons of making candy:
Pros
It feels good to satisfy a candy lover's cravings while making money at the same time.
Low initial capital required.
It is easy to create brand loyalty and therefore the business has a high customer retention rate.
Regular income thanks to the consistent demand for candy.
Cons
Competitors can easily copy your recipe.
It can be challenging to run a candy business, especially if you're a solo entrepreneur.
Industry trends
You know the cons and pros of the business. Next, you'll want to familiarize yourself with the industry trends. That way, you can know which direction the industry is heading and how you can position your business to grab the available opportunities.
Below is an overview of the trends shaping the candy industry.
For starters, the size of the candy market in the United States is estimated to be around $11 billion measured in revenue.[1]https://www.ibisworld.com/industry-statistics/market-size/candy-production-united-states/ As stated, the industry has recorded a steady growth rate over the last five years, expanding at a Compound Annual Growth Rate (CAGR) of 1.2%.
The average adult American consumes an average of 25 pounds of candies annually, according to research.[2]https://brandongaille.com/42-awesome-candy-consumption-statistics/
What's more, the National Trade Federation says that candy is the most common Halloween purchase, with 95% of consumers planning to buy it for Halloween, followed by decorations at 72% and costumes at 67% in 2019.[3]https://nrf.com/media-center/press-releases/social-media-influencing-near-record-halloween-spending
According to the National Trade Federation, Americans spend a staggering $2.6 billion on candy during Halloween. That's $25 for every person taking part in the festival.
How much does it cost to start a candy making business?
It costs $2,000 on the lower-end to $8,000 on the higher-end to start a candy business. However, most startups in this industry spend about $5,000.
Most of the initial capital goes toward marketing, creating your online footprint, and buying equipment.
On the lower end, the capital is enough to enable you to create a basic website and launch a local marketing campaign to generate leads.
On the higher end, you can create a full-blown eCommerce website and launch an online and local marketing campaign.
Below is a table showing a more detailed initial cost breakdown:
| Start-up Costs | Min | Max | Average |
| --- | --- | --- | --- |
| Licenses and permits | $300 | $1,200 | $750 |
| Insurance | $125 | $300 | $213 |
| Marketing and advertising | $500 | $3,000 | $1,750 |
| Website | $200 | $1,500 | $850 |
| Software | $200 | $400 | $300 |
| Equipment | $500 | $1,300 | $900 |
| Raw Material | $100 | $200 | $150 |
| Miscellaneous | $75 | $100 | $88 |
| Total | $2,000 | $8,000 | $5,000 |
How much can you earn from a candy making business?
According to IBISWorld, the candy making industry in the US employs about 23,3778 people through 1,375 registered businesses1https://www.ibisworld.com/united-states/market-research-reports/candy-production-industry/.
Below is a breakdown of how much you can make from a candy store based on three different scenarios:
Scenario 1

: You're a sole proprietor running a home-based candy production business. You only offer your products at a wholesale price, generating a 30% gross margin.
As a startup, your income potential is 50% of the stated industry benchmark ($420,557). Your overhead costs account for 5% of sales.
Scenario 2:

You have three employees, including yourself, running your business from a commercial facility.
At this stage, your earning potential is 75% of the industry benchmark. You sell your product in wholesale and retail, generating a 37% gross margin. You pay your employees an average of $32,000 annually as per the national median pay guidelines for production workers in the United States.
Further, you spend $30,000 on rent per year. All other expenses account for 7.5% of sales.
Scenario 3:

You have 10 employees, including yourself, running your business from a relatively large commercial facility.
At this point, your revenue is at par with the industry's benchmark. You sell your products in wholesale and retail, generating a 37% gross margin.
Also, you pay your workers $32,000, the national median salary. In addition, you spend $50,000 on rent per year. All other overheads account for 10% of sales.
Below is your business's projected income and profitability potential, considering the industry benchmark revenue per employee and the above three scenarios.
Scenario 1:

You generate $210,278 in sales, making a gross profit of $63,084 and a net profit of $52,570.

Scenario 2

: You generate $946,253 in sales, making a gross profit of $350,114 and a net profit of $185,145.

Scenario 3

: You generate $4,2025,568 in sales, making a gross profit of $1,556,060 and a net profit of $797,503.
What barriers to entry are there?
The biggest barriers to entry for a candy-making business are the strict legal and compliance requirements at the state and federal levels.
You'll need to get a food permit from your state and have your packaging approved by the FDA.
Also, you must register your production facility as required by the FDA. On top of that, you'll need to obtain several permits and licenses. You can read more about these requirements on the FDA's website.
Other barriers to entry include:
Stiff competition from already established local and regional candy makers.
Some brands have a loyal customer base which is almost impossible to win over for a new entrant.
Step 2: Hone Your Idea
The next phase of starting a candy store involves validating your business idea. Market validation enables you to predict if people will buy your product accurately.
It also allows you to understand how your product does or doesn't meet your potential customer's pain points.
The insights can help you create an offering that suits your market segment needs and place you on the right path to winning your first paying customer.
Some things you should address at this stage include:
Why? Identify an opportunity
You can identify a business opportunity to sell candies in your area by narrowing down on local market research.
You will be selling your candies to supermarkets, local convenience stores, and specialty food stores. You shall, therefore, visit these places and gather their inputs.
While you're at it, research the best-selling candies to understand what makes standout. Also, find out about your competition to help you figure out what you're up against.
Other strategies you can use to identify an opportunity include:
Analyzing big companies and their products.
Drawing a parallel between two major competitors to understand what they share and how you can be different.
Understanding local consumers by studying their buying behavior and interest in candy.
What? Determine your products and services
Candies come in a variety of textures, from soft to chewy, brittle, and hard. They are also available in different sizes.
Deciding the type of candies you want to sell is essential because, by extension, it enables you to define your target market.
Some popular candy options in the United States include:
Caramels
Brittle
Chocolate
Gumdrop
Jelly Tots
Hard Candies
Licorice
Lollipops
Sours
Chewing Gums
Skittles
Toffee
Cotton Candy
How much should you charge for your candies?
Candy prices vary depending on the size and type. The average price of chocolate candy is $2.752https://www.fda.gov/food/food-industry/how-start-food-business. Non-chocolate candy goes for an average of $1.41 per piece3https://www.statista.com/statistics/643624/average-unit-price-private-label-candy-and-chocolate-us-by-segment/.
Who? Identify your target market?
Pinpointing your target market enables you to concentrate on the market segment that's likely to purchase your candies. It also allows you to allocate your marketing budget to prospects with the highest profit potential.
For a candy making business, you can target B2B and B2C prospects.
B2B customers include:
Convenience stores
Hypermarkets
Supermarkets
Specialty food stores
Bakeries
Candy distributors
Online candy stores
B2C prospects include:
The locals in your area
Adults aged 18 to 50 years
Further, you can partner with wedding planners, event organizers and florists, bridal shops to hook you up with customers who may want to buy candy to be eaten during celebrations and festivals.
Where? Choose your business premises
The location of any business plays a significant role in attracting customers. It also has a big impact on costs and revenues.
You can run your candy making business from home during the early startup days as you focus on winning your first customers.
As your business grows, you'll want to move to a commercial facility. That way, you can accommodate your employees and handle the expanding candy production capacity. Depending on how fast your business grows, you may also need to rent out shops to set up brand specialty stores.
You can use services like Loopnet, Craigslist, Crexi, and Commercial Cafe to help you find the perfect location for your business.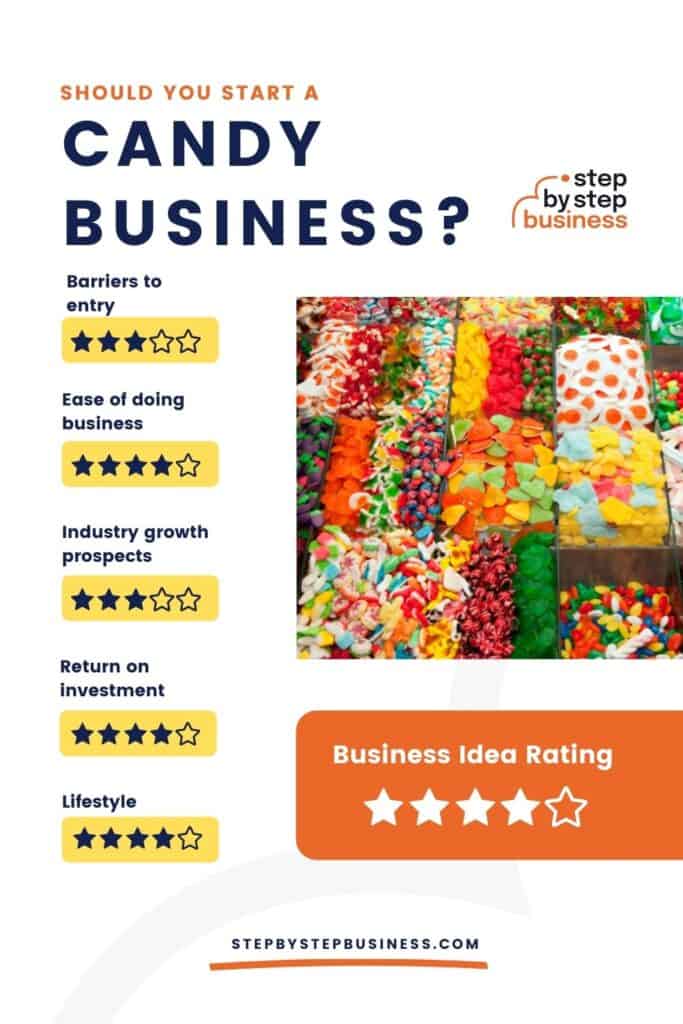 Step 3: Choose a Business Name
When choosing a business name, you want one that reflects what your business does. An appealing and memorable business name can help build brand recognition.
Here are some tips to help you choose the perfect name for your business:
Avoid hard-to-spell names
Avoid names that could be limiting as your business grows
Pick a name that's easy to pronounce and spell
Pick a name that's consistent with your brand
Choose a name that's unique to your business
Avoid a name that's too similar to your competitor's name
Choose a name that's easy to remember
Once you've got a list of potential business names, run them through websites like NameChk to see the availability of domain names and on the USPTO website to check if they are available for trademark registration.
While choosing the perfect name for your business can be daunting, you can leverage tools like Step By Step Business Name Generator to get the wheels turning.
Step 4: Create a Business Plan
Writing a business plan and reviewing it regularly enables you to determine what you need to do to achieve your goals and find success.
Business planning is about regularly setting goals, tracking those goals, and making changes whenever necessary.
Some elements of a good business plan include:
Executive summary – Outlines your company's mission statement. Experts recommend that you write the executive summary last.
Market analysis – shows that you have an in-depth understanding of the market. It includes industry trends, prospects, and market segments.
Competitive analysis – Breaks down your competitor's strengths and weaknesses. Shows how your business will stack up against the competition.
Sales and marketing – Describes how you intend to get your products and services in front of your prospects.
Management team – Provides an overview of the management team, their qualifications, and roles.
Operations plan – Outlines your company's operation plan, including business hours, location, equipment, and office management.
Financial plan – Breaks down your financial goals and expectations based on market research.
Step 5: Fund Your Business Plan
Your business plan will help you determine how much money you need to raise to start your business. If you don't have the money on hand, you'll need to borrow. Some of the ways you can raise startup capital include:
Government grants
Bank loan/overdrafts/credit card
Incubators and accelerators
Equity firms
Venture capital (equity and debt)
Angel investors
Crowdfunding platforms
Personal
Savings

Business liquidation (other non-performing businesses)
Property sale
Friends and family
Step 6: Register Your Business
The most critical step to starting a candy making business is registering with the government and the Internal Revenue Service (IRS).
Without completing this step, your business won't be considered a legal entity. Further, you won't be able to source funding or pay taxes.
Some steps to follow when registering your business include:
Choose where to register your company
Your business location is one of the most important decisions you'll make. Whether you're setting up a brick-and-mortar business or launching an online store, the choices you make could affect your taxes, legal requirements, and revenue.
Choose your business structure
The legal structure you choose for your business will impact your business registration requirements, how much you pay in taxes, and your personal liability.
Some popular business structures in the United States include:
Sole proprietorship
A sole proprietorship is owned and run by a single person. If you decide to operate your candy store as a sole proprietor, you'll have complete control over your business and financial decisions.
And, as long as you file your personal taxes, you're good to go since your business isn't separate from the owner.
On the downside, however, you're personally liable for your business's debts and obligations.
Partnership
A partnership is owned by two or more individuals. They are two types of partnerships: general and limited partnership.
In a general partnership, profits and losses are shared equally. On the other hand, only one partner has control of the business in a limited partnership while the other individual(s) contribute to and receive part of the profits.
In a general partnership, everyone shares financial and legal liability equally. Some individuals have limited liability in limited partnerships and are not at risk if one partner is sued.
Corporation
A corporation is a separate entity from its owners. It has its own legal rights, independent from the owners.
A corporation can sue, be sued, sell its own property and auction the ownership rights in the form of stocks.
Some advantages of running a corporation include limited liability for stockholders, ease of raising capital, and indefinite continuity.
Limited Liability Company (LLC)
We recommend running your candy making business as a Limited Liability Company (LLC), especially if you want to separate your personal assets from business assets.
In an LLC, your profits and losses are recorded as personal income. Therefore, you won't be required to pay corporate tax. However, you're regarded as being self-employed, so you'll have to pay self-employment taxes.
We recommend that most new business owners form an LLC as it offers liability protection and pass-through taxation while being simpler to form than a corporation. You can quickly and cheaply form an LLC using ZenBusiness's online LLC formation service (it can take as little as 5 minutes). They will check that your business name is available before filing, submit your Articles of Organization and be on hand to answer any questions you have about the company formation process.
Step 7: Register for Taxes
You'll use your employer identification number (EIN) for important steps to start and grow your business, like opening a bank account and paying taxes. It's like a social security number for your business. Some — but not all — states require you to get a tax ID as well.
In general, you'll need to do the following:
Apply for the EIN. You can apply for the EIN online or by mail.
Register and comply with state tax regulations. The IRS has a guide on tax compliance laws in your area.
Familiarize yourself with legal and tax requirements for your business structure.
Select a tax year – this is the accounting period for keeping records.
Pay your taxes depending on your business structure.
Step 8: Apply for Licenses/Permits
Compliance is crucial when starting any business. So be sure to check with your county and local government to find out which licenses and permits grant you the right to run a candy making business in your area.
In addition to local and county governments, several state and federal agencies may require you to have specific licenses and permits.
While licenses and permit requirements vary from state to state, you may need the following licenses and permits in almost every state.
Seller's permit
Health department permit
Your business will also be subject to FDA regulations.
Step 9: Open a Business Bank Account
Operating a business account can help you keep track of business expenses. It also allows you to take advantage of credits and tax deductions available to small business owners.
You can open a bank account as soon as you start transacting. Arrange for a meeting with a business banking expert to help you determine the best account for your business.
Cross-reference with the bank's recommendation with your accountant to determine which account will benefit your business.
Generally, you'll want to open an account for the following:
Checking account
Credit card account
Savings account
Merchant service account
Some benefits that come with operating a business account include:
You're perceived as a professional.
With a credit card, you can easily buy equipment or inventory for your business.
It is easy to file your taxes with all your business transactions in one place.
You can separate personal and business funds.
Step 10: Get Business Insurance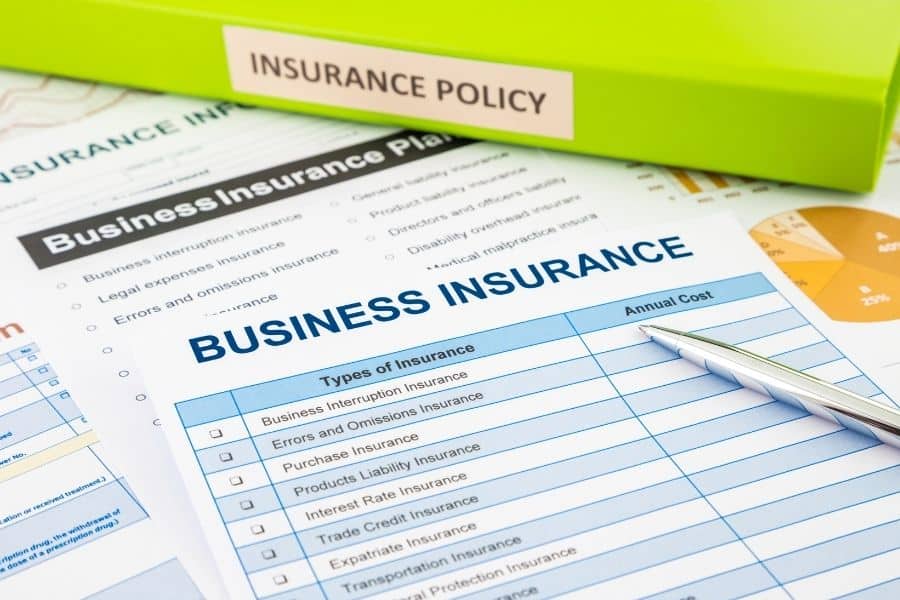 Even with a solid business plan, your startup will always face unforeseen risks. It is therefore crucial that you buy insurance before you launch.
Some insurance covers you may consider purchasing include:
General liability: Covers common business risks such as customer injury, advertising injury, or customer property damage.
Workers' compensation: Covers your employees for work-related injuries or illness. It compensates your employees for lost wages, medical bills, and rehabilitation costs.
Property: Enables your business to recover if a storm or fire damages the inventory, furniture, or equipment. It also covers your business against theft.
Commercial auto: Buying comprehensive auto insurance protects you if your business vehicles are involved in accidents or injuries.
Professional liability: Covers your business against lawsuits for damages caused by-products.
Business owner's policy (BOP): Combines property and liability into one bundle. The package is sold at a price that's relatively less than the total cost of individual covers.
Step 11: Prepare to Launch
Launching your candy business to your prospects requires adequate preparation. Ideally, you want everything to run smoothly once you open your doors to the public.
Below is a rundown of what you should get to help you prepare for a perfect launch:
Website
Over 230 million Americans shop online4https://www.statista.com/statistics/183755/number-of-us-internet-shoppers-since-2009/. Without a website, you can't claim your share of customers who buy candy online.
Having a professional business website offers several benefits including:
It helps build trust with your customers
It increases your online credibility
It helps improve customer interaction
It provides an effective way to showcase your products
It helps you reach more customers by breaking geographical barriers
Your website's insights can help you determine your customer's behavior
It can help boost your branding efforts
To build a website, you'll need to do the following:
Register your domain name on registrars like GoDaddy, Domain.com, or Squarespace.
Choose a web host. Popular web hosts include BlueHost, NameCheap, and DreamHost.
Build your pages
Test and publish your website
Optimize your site for search engines
For more information, you can read this detailed guide on how to make a website.
Essential software and tools
You may need to invest in Enterprise Resource Planning (ERP) software to help you manage your candy making business. Popular ERP solutions for the candy business include:
CSB System: From process control to front office business intelligence, yield management, and production planning, the CBS System has got all aspects of your business covered. Top features include document management, lot tracking, and bills of material.
ProcessPro: With this as your ERP solution, you can solve critical needs of batch processing, including management of complex formulas and recipes, forward and backward lot traceability, sales visibility, and quality control.
BatchMaster: This solution supports Research and Development, recalls, costing, production, scheduling, industry compliance, and warehousing. It is also compatible with other business software like QuickBooks, SAP Business One, and Microsoft Dynamics.
Deacom: One of the most comprehensive ERP platforms on the market, Deacom offers a set of rich capabilities suited for a growing candy business. Notable features including distribution management, bank reconciliation, expense tracking, forecasting, and production scheduling.
Marketing
EngageBay: Boasting an easy-to-use drag and drop function, EnageBay is a one-stop solution for creating emails and managing your email marketing campaigns. You can use it to create newsletters, ongoing offers, new additions to your product line, and more.
Moosend: This cloud-based email marketing tool offers beautiful templates to enable you to share your seasonal offers, discount coupons, and recipes. And the beauty of it is that you can add your candy store's branding to your emails or personalize them for your clients.
Sender: This email marketing platform comes with compelling functionality to enable you to engage with your local customers better. It offers an integrated image editor to let you show off your candies and ongoing offers. What's more, you can embed videos into your newsletters and emails.
Accounting
Wave: With Wave, you can access your data from anywhere and work on your business financial processes from a single login. Plus, you can integrate it with your payroll, payment processing, receipt scanning, and invoicing.
Poster: An all-in-one Point of Sale (POS) software for a candy store, Poster comes with a variety of handy features, including financial accounting, inventory management, Customer Relationship Management (CRM), front office management, and more.
Xero: Available on computer and mobile devices, Xero updates your cash flow and business finance in real-time. The software can integrate with 1000+ third-party business apps. Further, it can support multiple currencies, and you can access data through a single ledger.
Equipment
You don't need a lot of equipment to start a candy business. However, you must have basic office equipment like chairs, a laptop, a table, and a telephone. Also, you will need the following equipment for candy production.
Molds
Icing
Food coloring
Decorator tools
Decorating bags
Candy thermometer
Candy flavoring
Decorating pens
Lollipop sticks
Packaging (e.g., cellophane bags, boxes, and ribbons)
Step 12: Build Your Team
You can run your candy business alone during the early startup days. However, as your operations intensify, you'll need to hire employees including:
Production workers: Roles include monitoring the production line to ensure maximum efficiency.
Production Manager: Duties include planning and organizing production schedules and assessing resource requirements.
Procurement Manager: Roles include managing and directing the purchasing of ingredients. Procurement managers are also responsible for identifying potential suppliers.
Sales and marketing manager: Duties include researching and developing marketing opportunities and implementing new sales plans.
Salespersons: Roles include providing information about your products to customers and answering specific questions regarding your candies.
You can scout for talent using two methods; free and paid.
Free options include:
Posting on Facebook groups
Publishing on classified sites
Contacting your LinkedIn network
Asking for recommendations from your friends and family
Paid options include:
Step 13: Start Making Money
It's all systems go! Your candy making business is now ready to start generating some revenue. Below are some strategies you can implement to help you win your first customer:
Focus on USPs
To successfully brand your candy shop, you must perfect your Unique Selling Proposition (USP).
Your USP should be at the center of everything that happens for your candy making business. It's an effective tool you can leverage to help you focus on your marketing goals.
Further, pinpointing your USP can help determine how to outmaneuver your competitors. It is also an effective strategy to build customer loyalty and, most importantly, bring in your first paying customers.
For a candy shop, some USPs would include:
Showcasing your unique recipes
Telling your company's inspiring story
You can also consider giving out free samples to get your prospects hooked. You can limit the samples to B2B prospects. Or, you can give free samples ahead of festivities such as Halloween.
Whatever your USP, make sure you're using it to draw customers toward your brand.
Kickstart Marketing
Having a solid marketing campaign will help increase your brand's visibility. It'll also enable you to place your business in front of your customers. On top of that, good marketing allows you to gain insights into your customers to be more targeted in your strategy.
Focus on local marketing during the early days of operating your candy making business to keep your budget in check. You can do this by networking with relevant local business owners. You can also join industry associations.
Other marketing strategies for a candy-making business include:
Creating and distributing flyers
Handing out free samples to retail outlets
Painting colorful images on your candy store's windows to attract foot traffic
Sponsoring local events to gain exposure
Connecting and engaging with your target customers on social media
Creating an e-commerce store for your online customers
Candy Business FAQs
Is a candy business profitable?
Yes, primarily due to the high demand for candy. According to statistics, Americans spent about $25 per year on candies a couple of decades ago. Now, they spend $25 for Halloween alone! That's exceptional demand right there!
How much money can a candy business make?
A candy business's revenue depends on the size and your business model. If you start a successful candy business, your annual net profit could range from around $50,000 to over $700,000. It is important to note that this revenue may vary depending on whether you manufacture your own candy or not.
How can I legally sell homemade candy?
Selling homemade candy isn't illegal in the United States. However, you must comply with the state and federal licenses and permits requirements. Check with your state for specific regulations. Also, you'll need to abide by FDA's requirements for food businesses.
Is it illegal to resell candy?
No, it's not illegal to resell candy. You're at liberty to do whatever you want with your candy once you've bought it from a retailer or wholesaler. However, rebranding or relabeling candy is illegal unless you have the manufacturer's consent.
Do candy shops make money?
Yes, they do. Candy shops generate revenue by buying stock from manufacturers at a competitive price and reselling it to consumers at a profit. What's more, candy shops adopt a relatively simple business model. As a result, they don't incur high labor or production costs, further improving their bottom line.