Back to Business Ideas Categories
17 Business Ideas that Help the Community
Written by: Esther Strauss
Esther is a business strategist with over 20 years of experience as an entrepreneur, executive, educator, and management advisor.
Edited by: David Lepeska
David has been writing and learning about business, finance and globalization for a quarter-century, starting with a small New York consulting firm in the 1990s.
Updated on October 2, 2023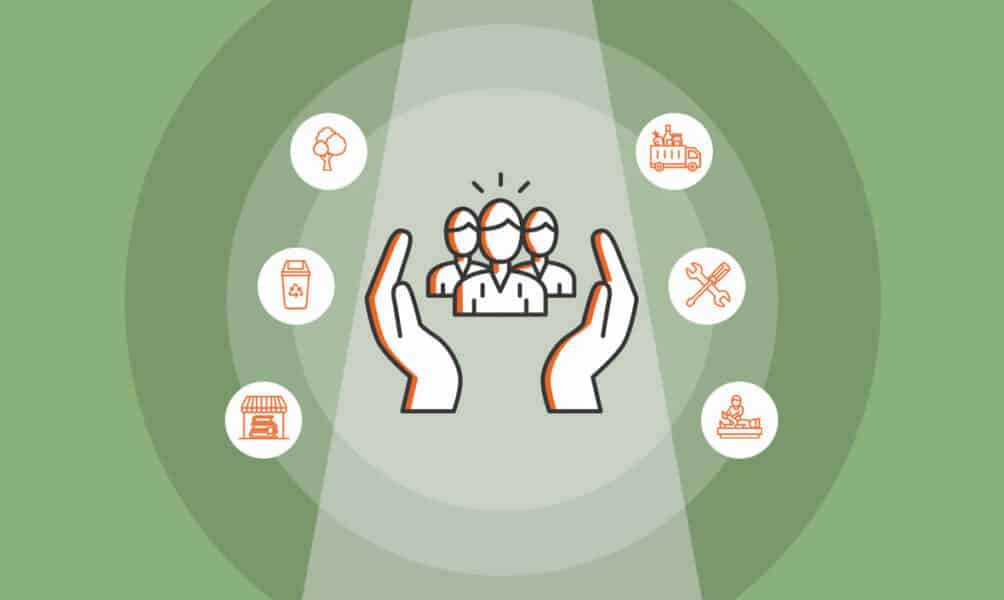 17 Business Ideas that Help the Community
Recycling Service
Daycare
Non-medical Home Care
Bookstore
Farmers' Market
Clinic
Handyman Business
Dollar Store
Crowdfunding
Grocery Delivery
Tree Farm
Car Repair Shop
Home Building
Pharmacy
Life Coaching
Professional Organizing Service
Botanical Garden
Just about everybody wants to live in a warm, welcoming close-knit community, and you can help build one by starting a business that helps people live better, more fulfilling lives. Maybe it's recycling or daycare, a clinic, a tree farm, or a bookstore.
The location of your business will be crucial — somewhere it will be noticed and make a real impact on the town. Check out our list of strong community-building business ideas to jumpstart your entrepreneurial thinking.
1. Recycling Service
Are you all about going green and saving the environment? Then why not start a recycling business and turn your passion into your livelihood. You could fight climate change, help locals get rid of their waste and make good money all at the same time — now that's a win-win!
Getting started won't be cheap, as you'll need a vehicle to collect and transport the recyclables and a sizable processing facility, as well the appropriate licenses. But you should see a relatively quick return on that initial investment as the US recycling industry is worth billions and growing fast. You'll just need to decide which types of recyclables you'll focus on, such as collecting glass to melt down into jars.
Before you dive in, you might want to check the recycling rates for your state, as some states are much more profitable when it comes to recycling.
2. Daycare
Do you love spending time with young children? If so, a daycare business could be the perfect venture for you. Busy parents often need childcare services while at work, so you would be providing a crucial service while spending your day with toddlers.
You'll need to acquire daycare certification, which usually entails a relevant or at least two years caring for children. You'll also need to find a good-sized space, preferably in a residential area with minimal competition. And you should outfit it with lots of toys, drawing materials, high chairs, cribs, and more, and get yourself some good insurance, because little kids tend to find trouble.
Once all that's done, you'll just need an appealing website and a decent marketing campaign, and you'll be off and running and helping to build a strong community.
3. Non-medical Home Care
As Baby Boomers age and need more daily assistance, the non-medical home care market is growing fast. It's already worth nearly $300 billion globally and expected to see strong 8% growth in the coming years. If you like helping people, you could start your own home care business and improve people's lives while also making a good living.
Of course, you'll need to do a bit of work to get there. First, your state may not require licensing for non-medical home care. Check with your state for details. If you don't need a license, it's still a good idea to get a bit of training, even from an online platform like Care Academy.
Next, your business will definitely need reliable insurance in the event of any incidents, so be sure to get that. Finally, just register your business and start offering your services on home care platforms and services sites like Angie's List. With a bit of luck, determination, and strong marketing, you'll be caring for people in no time, and building a strong community and a successful business.
4. Bookstore
Do you love reading? If so, opening your own bookshop could be a great way to encourage reading in your community while making a living doing what you love. Even in the age of Amazon and e-books, independent bookstores have been making a comeback, increasing by more than half in recent years, to 2,5000 in the US alone. People have begun to appreciate bookstores not only as a good place to buy a new book, but as a community gathering place and event space.
You'll need to find a great location, and build a sizable inventory of books, with your selections based on your personal tastes and preferences. You'll also need to decide what other products you might offer — literary knickknacks, coffee and snacks, reading accessories? Beyond that, it's relatively easy to get started. And if you do it right, the customers will surely come, and keep coming back.
5. Farmers' Market
Every community needs a great farmers' market to boost local diets and local producers. So why not start your own farmers' market? It's a great way to begin your entrepreneurial journey and promote a healthy and nutritious diet. You'll also be helping local farmers earn bigger profits by giving them a venue to sell their produce directly to consumers and eliminating the middlemen.
The number of farmers markets has been increasing. As of 2019, there were more than 8,000 farmers markets across the US, based on the National Farmers Market Managers survey. Some markets sell only fresh fruits and vegetables while others also carry meat, eggs, baked goods, dairy products, and flowers.
First, it's important to link up with the local farmers. It's easy to find them; just ask the US Department of Agriculture for a list of farmers in your area. It's also important to find a big area. If you plan this carefully, your farmers market can be very rewarding.
6. Clinic
Starting a clinic can be a fantastic way to help people in your community, boost your reputation and build a career. It's a fast growing US industry, driven by an aging population. Total spending on physician and clinical services exceeded $800 billion in 2020. Even retailers are building walk-in clinics to provide convenience to customers.
The first step in starting your clinic is to choose a niche. Will you focus on urgent care, or primary and preventive care? Is it going to be a mobile clinic? Who is your target market? You will find the answers to these questions as you do your research. Make sure to comply with licensing and insurance requirements. You will also need to be innovative in marketing your services to reach more prospective patients and achieve success.
7. Handyman Business
If you're good with your hands and enjoy fixing things, starting a handyman business could be a smart move. For one thing, you'll be doing what you love and taking care of people's problems. For another, the US handyman industry has been growing steadily for years, and by 2026 the broader home services market is expected to double! So there's clearly a real opportunity out there.
A key first step will be determining which services you will offer. In addition to repairs, you could offer maintenance, painting, cleaning, drywall, carpentry, minor renovations and more. Read about the handyman business opportunities here. Next, buy all the necessary tools and start advertising your services on online platforms like Angie's List.
You could also reach out to landlords, developers and residential complexes offering to provide your services at a discount. Once you've delivered great work in your first few jobs, you can bump up your rates. With any luck, you'll soon be helping the whole community live more comfortably.
8. Dollar Store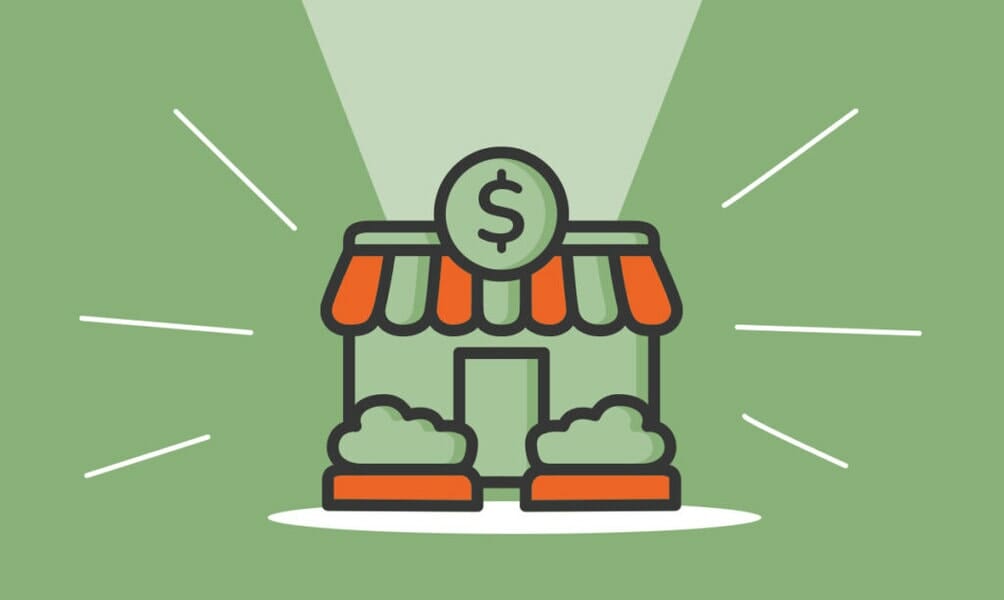 Think all dollar stores are the same? You might be surprised just how many different types there are. From party supply to variety stores, there's a dollar store out there for everyone. So, if you're thinking about starting your own dollar store, what are you waiting for? Dollar and variety stores were on an upward trend before the pandemic, growing more than 3% per year. With consumers becoming more price conscious, dollar stores are expected to thrive again now that restrictions have been lifted.
Starting your own dollar store business can be fun. But how to go about it? You might consider a niche to differentiate your business. You can set up a small convenience store, a do-it-yourself shop or a bookstore. You can start by buying products from other dollar stores and reselling them. An option is to start as an online retailer, and use your website and social media accounts as your storefront.
9. Crowdfunding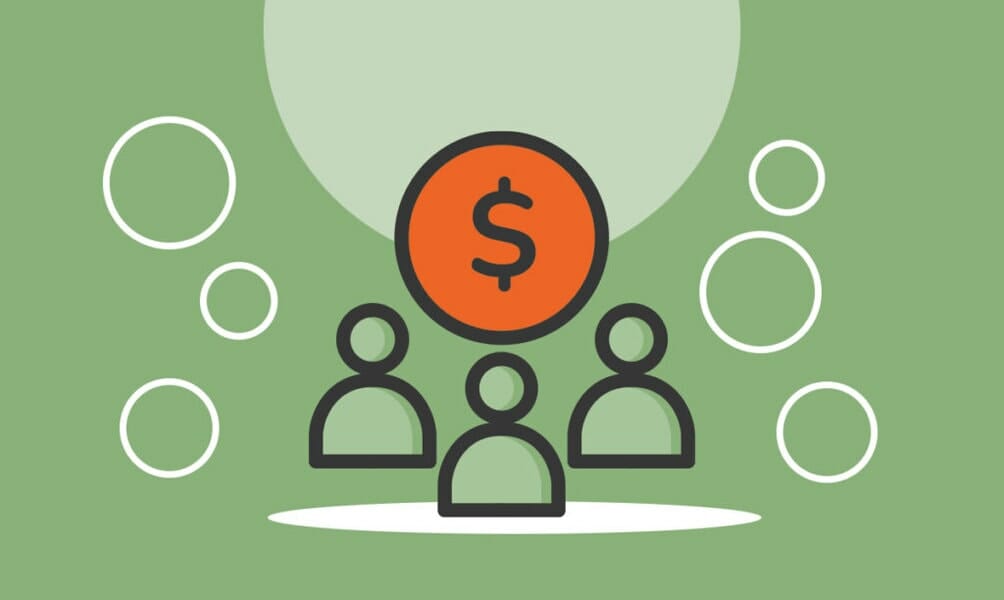 The US crowdfunding market is projected to be stable in the next five years, reaching nearly $580 million by 2026. So why not start your own crowdfunding business?
Get started by developing a website that will enable interaction between those looking to raise funds and those looking to donate. Through this crowdfunding platform, the crowd may make financial pledges to support a startup or help someone in need. Among the more popular crowdfunding platforms are Kickstarter, Patreon, GoFundMe and Indiegogo.
You could review them to inform your site and decide what kind of platform you'll create. You could set up an equity-based crowdfunding platform and help raise capital for startups while providing investors a financial return. Regulated crowdfunding is also equity-based, but is regulated by the US Securities and Exchange Commission because it deals with securities.
10. Grocery Delivery
Global online grocery delivery sales have grown almost 30% since the pandemic began. This stellar performance is expected to continue through 2024 as a lot of people continue to stay or work from home even with the lifting of protective measures. With online grocery shopping, consumers no longer have to spend time queuing in supermarkets. They simply browse through a retailer's website or app, shop and check out, pay for the items online, and have these delivered right to their doorstep.
If you're thinking of starting a grocery delivery business, now's the time to do it. You have at least three options: operate your own delivery service, work with a franchise, or sign up with an established retailer. Consider carefully the pros and cons of each option before deciding on which business model to choose. Assess the competition as well and identify possible clients if you're going to give it a go on your own. Whatever your decision is, plenty of opportunities await.
11. Tree Farm
Growing trees helps fight climate change. But did you know it's also a great way to earn money? The $6 billion tree and shrub farming industry in the US is already bouncing back from the pandemic. An increase in housing starts and rising demand for food products will drive growth in the next three years. Trees take a long time to grow, so it's best to start your tree farm business now.
You can start small and establish a tree farm within your property, or you can go all in and purchase or lease acreage for a larger operation. Among the ways to earn from your tree farm business is to focus on high-value fruit trees. Another is to select trees that produce specialty wood for furniture or fiber for clothing. You can also establish a nursery and sell tree seedlings. By choosing the right trees and promoting your tree farm business, you can make a fortune in farming.
12. Car Repair Shop
At least 70 million US vehicles are more than 15 years old and in need to repairs. This means growth opportunities for car repair shops across the country. If you're looking to start a car repair shop, now is the time to do it. The US automotive repair industry has seen steady growth and is predicted to earn nearly $60 billion by 2024.
One of the challenges to starting a car repair shop is the high startup cost. You'll need to invest in some tools and equipment like hydraulic lift, diagnostic machine, air compressor, jack and jack stands, and more. You'll also need to undergo training in auto service and repair, a prerequisite for a National Institute for Automotive Service Excellence (ASE) certification. This certification will give you an advantage and make it easier for you to obtain liability insurance and find financing. With proper training and a lot of hard work, you should be able to give your community better, safer vehicles.
13. Home Building
Starting a home building business is no walk in the park. There are many hurdles to jump, and it takes a lot of time, effort, and resources to make it happen. One of the most important elements for any potential builder is finding the right land for development.
You have some options on that count. You can purchase land that has already been developed or will soon be developed. Or you could buy undeveloped land that is more affordable but may require more work on your part before it's ready for construction.
The important thing is that, before you start building, you make sure your business has all the required licenses and permits and complies with all regulations. Then you can start giving your community gorgeous homes that boost families and property values.
14. Pharmacy
People everywhere need their meds! Of course, US drug store revenue increased during the pandemic, growing a steady 3% annually since 2017. The industry is expected to grow further and surpass $350 billion in 2022 as the aging US population boosts demand for prescription drugs and other maintenance medications. If you're a licensed pharmacist, this could be your opportunity to set up your own business and start a pharmacy.
It's important to find a good location and reliable suppliers of medicines before you get started. It's also a good idea to scope out the market and see what existing pharmacies are offering so you can devise ways to make your pharmacy stand out. Some pharmacies offer blood pressure tests, vaccinations, and delivery services. Most carry both branded and generic medicines, which are priced lower, is a wise choice. It's important to keep these and other trends in mind when you create your marketing strategy. With a lot of hard work and a bit of creativity in promoting your business, your pharmacy will soon be up and running.
15. Life Coaching
If you're good at helping people navigate major changes in their lives, you might consider becoming a life coach. US demand for life coaching is increasing, with the total number of US life coaches set to exceed 18,000 in 2022 as the economy improves.
A life coach provides counseling services and helps clients explore possibilities in the areas of personal development, financial issues, career path, relationship issues, and more. There is no licensing requirement for life coaching, but it's to your advantage to obtain certification that will let potential clients know you underwent training.
There are many certifications you can apply for, but the most prestigious is the certification from the International Coaching Federation (ICF). Besides undergoing training, it's also important to have empathy for your clients. With these, your life coaching business can be truly rewarding as you coach your community toward success!
16. Professional Organizing Service
All of us could use a bit of Marie Kondo now and then, which is why the US home organization market has doubled in the past 15 years to $12 billion and is still seeing steady growth. If you have a knack for organization, you should know that right now is an excellent time to start your own organizing business. You could work from home for a minimal investment and make good money while helping people go from chaos to calm.
Some professional organizers focus on closets, others on garages and storage spaces, while still others focus on at-home workspaces. Some organizers even go corporate and help businesses organize their desk set-up, filing systems and office supplies. It's important to establish the services you'll offer before you begin your marketing efforts. Once you know which type of organizing you'd like to do, you could start offering your services on a platform like Angie's List and start helping people simplify their lives. Ahhh, I feel less stressed already.
17. Botanical Garden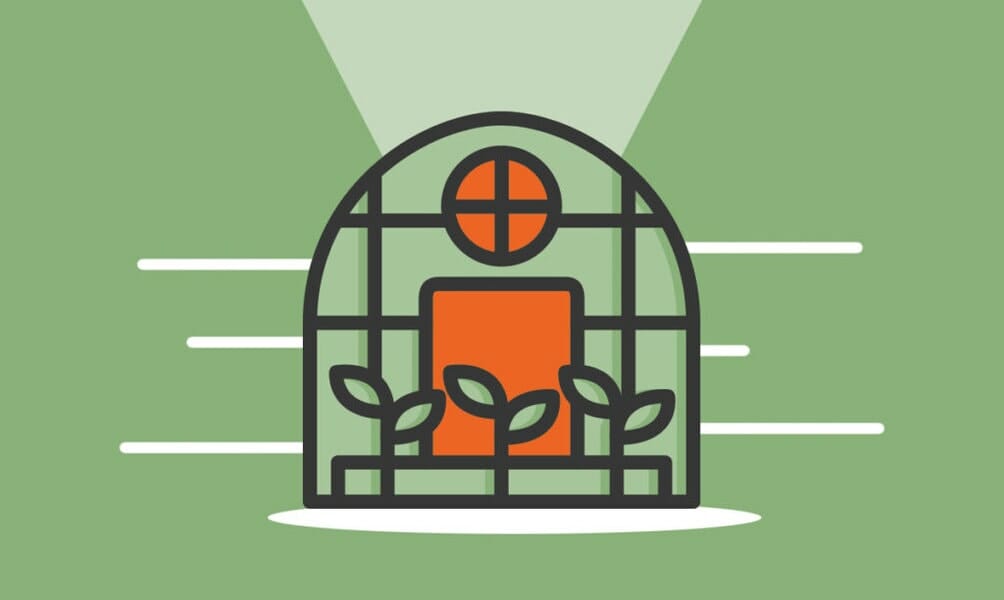 Starting a botanical garden as a business idea presents not only an opportunity for entrepreneurial success but also offers immense benefits to the community. A well-maintained botanical garden can serve as an educational hub, introducing community members to diverse plant species, their uses, and importance in the ecosystem.
Schools and institutions can collaborate for educational tours, workshops, and hands-on experiences, promoting environmental education among students and adults alike. The garden can also offer training sessions on sustainable gardening practices, plant identification, and the importance of biodiversity, thus fostering a community that is more environmentally conscious.
Moreover, botanical gardens offer a serene escape from urban hustle, providing a space for relaxation, meditation, and connection with nature. Such green spaces are known to improve mental health, reduce stress, and promote physical activity.
Comments