Back to Business Ideas Categories
26 Christmas Business Ideas
Written by: Carolyn Young
Carolyn Young is a business writer who focuses on entrepreneurial concepts and the business formation. She has over 25 years of experience in business roles, and has authored several entrepreneurship textbooks.
Edited by: David Lepeska
David has been writing and learning about business, finance and globalization for a quarter-century, starting with a small New York consulting firm in the 1990s.
Published on July 21, 2022
Updated on October 2, 2023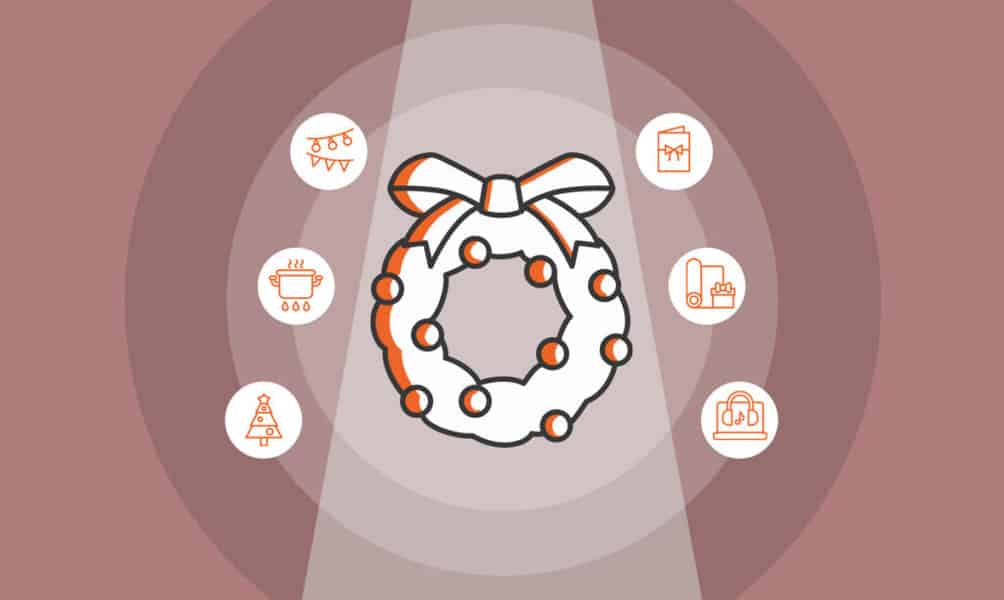 There's a reason they call Christmas the most wonderful time of the year! Because it's a great time to be an entrepreneur. Business and retail sales typically surge during the holidays as consumers spend more on gifts and parties. In 2022, holiday retail sales in the United States were forecast to reach about 942.6 billion U.S. dollars.
You can take advantage of the heightened demand with a gift wrapping, gift basket, or greeting card business, or get into event planning and party rental. Check our below list of brilliant Christmas business ideas to jumpstart your thinking. If you do it right, you could have Christmas all year-round!
1. Cooking Class
A Christmas-themed cooking class is a fantastic business idea because it plays into the festive spirit of the holiday season and addresses a genuine need. During the holiday season, many people are keen to prepare special meals for family and friends but may lack the necessary skills or recipes. Offering a cooking class focusing on traditional holiday dishes, baking festive cookies or crafting food gifts can attract a broad range of participants.
Moreover, in an age where experiences are becoming more valued than material possessions, gifting a cooking class can be seen as a thoughtful, unique present. People appreciate gifts that offer memorable experiences and the chance to learn something new. Businesses can offer gift certificates for their cooking classes, making it a win-win for the giver and the receiver. A well-marketed Christmas-themed cooking class can be a successful venture during the holiday season.
2. Home Decor
The holidays are a time for family gatherings and the hosts need to make sure their home is warm and welcoming. Starting a home decor business may seem daunting, as you'll be competing with big companies like IKEA, Wayfair, and Bed Bath & Beyond, but you can make it if you play your cards right. The US home decor industry has seen steady growth, with revenue set to hit $200 billion by 2024.
This business can sell a variety of items, from Christmas tree decorations, wreaths, table centerpieces, to outdoor light displays. There's a consistent demand each year as consumers seek new and unique items to refresh their holiday aesthetic or replace old decorations. In addition, many people enjoy personalizing their home decor, so offering customization options can add value and uniqueness to your business.
3. Christmas Tree Farm
Who doesn't love Christmas trees? You can supply your community with holiday cheer by starting a Christmas tree farm and letting locals choose their own pine, spruce, or fir. Up to 30 million real Christmas trees are sold every year in the US, across all 50 states.
Real trees are renewable and recyclable, unlike fake trees which contain non-biodegradable plastics. Live trees cost less too, although artificial trees may come out cheaper in the long run because they last years. The tree shortage due to the global supply chain crunch in 2021 presents an opportunity for you.
The location of your farm is crucial. It has to be accessible to your potential customers. It's also to your advantage to come up with a business plan, including sharp marketing, after complying with the legal requirements. Once your Christmas tree farm is up and running, you'll be making money real fast.
4. Music Production
The holidays just aren't the holidays without all the classics, from "All I Want for Christmas" to "Silent Night" and more. Starting your own music business could be a great way to spread cheer. Music helps people shake off the blues and cope, improving the mood and promoting relaxation, and saw record sales during the pandemic. The US industry saw record sales of nearly $15 billion in 2021.
This business could involve creating original Christmas tunes or producing innovative arrangements of classic holiday songs. With numerous Christmas concerts, plays, and other festivities happening during the season, there's a high demand for festive music. You could cater to a variety of clients, from choirs needing backing tracks, businesses seeking jingles for holiday marketing campaigns, to consumers looking for new Christmas tunes to add to their holiday playlist.
5. Hot Sauce
Hot sauces can be made from a variety of ingredients and can be tailored to various levels of heat, which can attract a broad range of customers. Creating a Christmas-themed hot sauce, perhaps using festive ingredients like cranberries or packaging it in holiday-themed bottles, could make your product stand out in the market. It could be the perfect gift for foodies or for those who enjoy a bit of heat in their holiday meals.
Moreover, hot sauces have a long shelf life, which is beneficial from a business standpoint, as it allows for production in large quantities without the concern of the product spoiling quickly. You can also consider offering a gift set of a variety of hot sauces, making it an attractive present for spice lovers. Another reason why this can be a good business idea is that it is scalable. You can start locally, selling at farmers' markets or online, and as demand grows, you can consider distribution to local grocery stores or specialty food stores. This type of business can be a fun and fiery way to spice up the holiday season!
6. Gift Wrapping
It's hard to match the excitement of a present wrapped in gorgeous paper and ribbons. If you're looking for a profitable venture that will spread holiday cheer, starting a gift wrapping business is a strong option. The US gift wrapping market is expected to double to $7 billion by 2025 as people spend more not only during the holidays but for every special occasion throughout the year.
To get started, you'll have to decide whether to just provide gift wrapping services at home or set up a shop. You should also unleash your creativity and offer unique gift wrapping styles. Keep up with the latest trends and techniques to stay relevant and differentiate your business.
Just be sure to stock up on wrapping materials and tools to make sure you can deliver what your customers want. With retailers constantly thinking about ways to make each day special, there will always be someone who will need your gift wrapping skills.
7. Balloon Business
Balloons bring a lot of joy and excitement, and they can be customized to fit any theme, making them versatile and attractive. For Christmas, balloons can be designed or colored to match the holiday's traditional red, green, gold, and white hues. Think of balloon arches for holiday parties, giant Santa-shaped balloons, or even an advent calendar made from balloons. Businesses or individuals may hire your service to help decorate their Christmas parties or events, adding a festive and fun atmosphere.
Moreover, a balloon business can also tap into the trend of balloon gift deliveries. Instead of traditional flower deliveries, people can send festive balloon arrangements or balloon surprise boxes as a unique Christmas gift. This could appeal to those looking for a novel way to send holiday cheer, especially to kids or the young-at-heart adults.
8. Gift Basket
Gift baskets can be tailored to suit various tastes and interests, from gourmet food and wine, books and cozy winter items, to spa products, making it a versatile gift for family, friends, or colleagues. Christmas is the perfect time to introduce festive themes to these baskets, such as including Christmas cookies, holiday-themed mugs, or seasonal fruits and spices. The personalization aspect adds a unique touch, often making the receiver feel special and cared for.
In a business context, companies often look for suitable gifts for their employees or clients during the holiday season, making corporate gifting a potentially profitable market. High-quality, personalized gift baskets can leave a lasting impression and promote goodwill. Moreover, with the growth of online shopping, a gift basket business can operate with an e-commerce model, allowing you to reach a larger audience beyond local customers.
9. Greeting Card Business
People often send cards to friends and family to convey their warm wishes and maintain connections, especially if they can't be together in person. Greeting cards have a personal touch that digital messages can't quite replicate, making them a cherished tradition. A business can stand out by offering customizable or handcrafted cards, adding a unique, personal element that mass-produced cards lack. Your designs can also reflect various holiday themes, from religious to whimsical, to cater to a wide range of customers.
Furthermore, greeting cards are lightweight and easy to ship, making them ideal for an e-commerce business model. This allows the business to reach a broad customer base beyond a physical store's local area. While the demand for greeting cards spikes during the holiday season, it's a business that can adapt to other occasions throughout the year, such as birthdays, Valentine's Day, or Mother's Day, ensuring year-round relevance and revenue.
10. Glitter Business
Glitter adds a festive and glamorous touch to a variety of items and is used extensively in decorations, crafts, gift wrapping, and even cosmetics. For Christmas, you can offer glitters in traditional holiday colors like red, green, gold, and silver, and in shapes like stars, snowflakes, or Christmas trees. These products can be used by consumers looking to add a sparkle to their holiday decor, as well as businesses in industries like event planning, cosmetics, or retail.
Moreover, in response to increasing environmental concerns, you could consider offering biodegradable glitter, which decomposes naturally over time, as an eco-friendly alternative to traditional plastic-based glitter. This could appeal to environmentally-conscious customers and set your business apart from competitors. Glitter products are light and easy to ship, making this a business well-suited for e-commerce.
11. Party Planning
Many individuals and companies hold parties around this time of year, but may lack the time or expertise to plan them. That's where your business comes in, providing end-to-end planning services including venue selection, catering coordination, decor planning, and entertainment arrangements. You can provide thematic parties with unique Christmas elements, from traditional, cozy holiday gatherings to fun, Santa-themed parties, catering to a wide range of client preferences.
Moreover, corporate clients could be a lucrative market segment. Many companies host holiday parties for their employees but might not have the in-house resources to manage the logistics. A party planning business can offer tailor-made solutions to make their event memorable and enjoyable. Additionally, this business model offers room for creativity and innovation, which are key to standing out in the market.
12. Bakery
Is Christmas really Christmas without delicious cookies and other homemade baked goods? If you often find yourself elbow-deep in flour, now's a great time to take the next step and open a bakery. Despite the anti-carbs trend, the US baking industry has been growing for years and is now worth more than $12 billion. You could open your own bakery, or start a home-based baking business, and share your culinary creations with the world while making a good living.
But starting a bakery can be tricky, and there are several hurdles before you can start. You'll need to nail down a handful of absolutely fantastic baked goods that will keep people coming back. You'll want to outfit your kitchen, or new bakery, with all the right equipment and ingredients. And you'll need to pass health checks and government licensing required for food businesses.
After that, you'll just need to start marketing your tasty treats and, with a bit of luck, you'll soon be raking in the dough!
13. Jewelry
People often gift jewelry to express love and appreciation, making it a lucrative business opportunity. Christmas-themed jewelry, such as charm bracelets with festive pendants or necklaces with snowflake designs, can be unique offerings that differentiate your business. You can also offer customization, allowing customers to personalize their gifts with engravings or by choosing specific elements of the design, adding a personal touch to your products.
Beyond individuals, corporate clients could also be targeted. Businesses often look for elegant, meaningful gifts for their employees or important clients, and customized jewelry can be a perfect choice. To further enhance the festive appeal, consider special Christmas packaging and the option to include personalized messages.
14. Catering
Many people host gatherings for family, friends, or colleagues but may not have the time, resources, or culinary skills to prepare food for a large group. Providing a holiday-themed catering service with festive menus, including traditional Christmas dishes, desserts, and drinks, can be a great solution. You can also offer customizable menus to cater to various dietary preferences and needs, such as vegan, gluten-free, or nut-free options, thereby reaching a wider customer base.
Additionally, corporate holiday parties can be a significant market for a Christmas-themed catering business. Many businesses, big or small, celebrate the end of the year with a festive gathering and require reliable and professional catering services. Offering corporate packages, potentially including not just food but also services like event planning, decor, or entertainment, can help you stand out in this market.
15. Photography
Families often get together during Christmas, providing the perfect opportunity for family portraits. Offering special holiday-themed sessions, complete with festive backdrops and props, can be a unique selling point for your business. In addition, many people love sending out personalized Christmas cards featuring their family photos, which your business could provide.
Furthermore, corporate holiday events also present a profitable opportunity. Companies often host parties or functions during the holiday season and need professional photographers to capture these moments. Providing event photography services along with options for corporate headshots or team photos with a festive twist can cater to this market.
16. Party Rental
Let's get this holiday party started! As the pandemic recedes, lockdowns are being lifted and people are getting out and about again, which is good news for gatherings and and group events. US party rentals is a $5 billion industry that expects sharp growth in the coming years.
This business could offer rental items that are essential for parties such as tables, chairs, linens, dinnerware, and more, all tailored with a festive twist. You could offer special Christmas-themed packages that include red and green linens, holiday-themed table centerpieces, or even Christmas tree rentals. This service can save hosts time and effort in sourcing and setting up their party decor, allowing them to focus on their guests.
17. Cookie Business
Are you a baking whiz? Well then maybe the holidays are the perfect time to turn your incredibly tasty cookies into a money-making machine. Everybody loves Christmas cookies! And the cookie and cakes market is huge and growing fast, in the US and around the world, so you could start your own cookie business, put smiles on a lot of faces and make a good living, all at the same time.
Christmas cookies are a cherished tradition in many homes, and they're also popular as gifts and party treats. Your business could offer a range of traditional Christmas cookies like gingerbread, sugar cookies, or shortbread, possibly with festive shapes or decorations. You might also consider innovative flavors or designs that set your offerings apart from those available in grocery stores. Offering customizable options, such as personalized messages or specific decorations, can add a unique touch that customers appreciate.
18. Makeup
Offering a range of makeup products and services tailored to the holiday season can attract customers who want to enhance their beauty and embrace the spirit of Christmas.
Your business can curate holiday-inspired makeup collections featuring shades that reflect the festive atmosphere, such as rich reds, shimmering golds, and icy silvers. These collections can include themed eyeshadow palettes, highlighters, lipsticks, and nail polishes. Additionally, offering limited edition holiday-themed packaging can create a sense of exclusivity and excitement.
In addition to selling makeup products, your business can also provide makeup services for special occasions. Many individuals attend holiday parties or events and seek professional makeup application to achieve a glamorous and festive look. Offering makeup tutorials or workshops on creating holiday makeup looks can also be a valuable service, as customers may want to learn how to achieve their desired festive looks at home.
19. Cake Business
Nearly six out of 10 Americans eat dessert after a meal at least once a week, and cakes are among the favorites — particularly around Christmastime! Cake consumption is growing steadily in the US despite the increasing preference for healthy food — those with a sweet tooth always find an excuse to indulge.
Offering a variety of Christmas-themed cakes can be a great way to bring joy and deliciousness to customers during the holiday season. You can create custom-designed cakes with festive decorations, such as snowflakes, Santa Claus, reindeer, or Christmas trees. Additionally, you can offer traditional flavors like gingerbread, peppermint, or eggnog, as well as innovative combinations that capture the essence of the holiday spirit.
Your business can cater to individual customers who want a special cake for their Christmas gatherings, as well as corporate clients who may need cakes for their holiday parties or client gifts.
20. Candle Business
Candles play a significant role in creating warm and inviting spaces during Christmas, making them a sought-after decorative item and a popular gift choice.
Your business can offer a variety of Christmas-themed candles, such as scented candles with fragrances reminiscent of holiday spices, fresh pine, or warm vanilla. Additionally, you can create candles in festive shapes, colors, or designs, such as Christmas tree-shaped candles, snowflake patterns, or candles with holiday-inspired motifs. Offering customizable options, such as personalized labels or gift sets, can add a special touch for customers seeking unique and thoughtful gifts.
21. Craft Business
A Christmas-themed craft business is a wonderful idea, as the holiday season is a prime time for DIY projects, handmade decorations, and personalized gifts. Your craft business can offer a range of Christmas-themed craft kits, supplies, and finished products that enable customers to create their own festive ornaments, wreaths, stockings, or gift items. Providing unique and creative craft ideas, along with step-by-step instructions, can inspire customers to engage in hands-on holiday crafting.
Moreover, you can offer personalized or customized products that customers can order for themselves or as gifts. This could include items like custom-made holiday cards, hand-painted ornaments with names or personalized messages, or even custom-designed holiday clothing or accessories.
22. Candy Business
Got a sweet tooth? Then you probably know that candy is big business, especially during the holidays. The global candy market has seen steady growth and will soon be worth a whopping $200 billion. No wonder everybody wanted to see Willy Wonka's chocolate factory! People are crazy for candy.
Offering a variety of Christmas-themed candies and confections can bring joy and indulgence to customers during the festive period.
Your candy business can create a range of holiday-inspired treats such as peppermint bark, gingerbread cookies, chocolate truffles, candy canes, or festive-shaped chocolates. Consider offering unique flavors or combinations that capture the essence of Christmas, such as cranberry-infused chocolates or eggnog-flavored caramels. You can also package your candies in festive wrapping or gift boxes, making them perfect for gifting or personal enjoyment.
23. Cupcake Business
The great cupcake boom is here! Cupcakeries, or bakeries that specialize in cupcakes, are popping up everywhere, while reality shows like Cupcake Wars draw massive viewership. The $43 billion global cake industry is expected to see steady growth through 2027, which means now is the perfect time to get in the kitchen and start whipping up your next batch of Christmas cupcakes!
Your business can offer a variety of Christmas-themed cupcakes, such as flavors inspired by traditional holiday desserts like gingerbread, eggnog, or peppermint. You can decorate the cupcakes with festive designs like snowflakes, reindeer, or Santa hats, using vibrant colors and edible decorations to create a visually appealing and joyful product.
In addition to individual customers, your cupcake business can target corporate clients who may want to provide sweet treats for their holiday parties, employee gifts, or client appreciation. Offering customized cupcakes with company logos or festive messages can be a great way to personalize the experience and cater to their specific needs.
24. Coffee Shop
For most people, getting through the cold, dark winter is impossible without hot, invigorating coffee!
Nearly 200 million Americans drink coffee every day, which is why you'll find a coffee shop or cafe on just about every street. Your coffee shop can offer a variety of holiday-inspired drinks like peppermint mochas, gingerbread lattes, or eggnog coffees. You can also create signature holiday blends or flavored coffees to enhance the festive experience for your customers.
Decorating your coffee shop with Christmas lights, ornaments, and cozy seating areas can help create a welcoming and enchanting ambiance. Consider playing festive music and offering holiday-themed pastries, cookies, or cakes to complement the seasonal drinks. Special touches like serving coffee in holiday-themed cups or offering coffee gift sets can add to the overall experience and make your coffee shop stand out during the Christmas season.
25. Food Delivery
The holiday season is a busy time when people often seek convenient food options for gatherings, parties, or simply to enjoy delicious meals without the hassle of cooking. Your business can offer a range of Christmas-themed menus, including traditional holiday dishes, festive desserts, and even ready-to-heat meals that customers can enjoy with their loved ones.
By providing food delivery services, you can cater to individuals hosting Christmas parties or events who want to focus on entertaining rather than spending hours in the kitchen. Additionally, your business can target corporate clients who may need catering services for their holiday parties or employee appreciation events. Offering specialized menus or packages tailored to these occasions can be an attractive proposition.
26. Party Decorating
The holiday season is filled with celebrations and events that require festive and visually appealing decorations. Your business can provide comprehensive party decorating services, transforming venues into enchanting and joyful spaces.
You can offer a wide range of Christmas-themed decorations, including but not limited to elegant centerpieces, festive table linens, eye-catching backdrops, twinkling lights, and themed props. By curating unique and creative decor ideas, you can provide clients with customized options to suit their specific preferences and event themes.
Your expertise in party decorating can extend to various types of events, including private Christmas parties, corporate gatherings, community celebrations, or even retail store displays. Collaborating with event planners, venues, or party rental companies can expand your network and generate more opportunities for business.
26 Christmas Business Ideas
Cooking Class
Home Decor
Christmas Tree Farm
Music Production
Hot Sauce
Gift Wrapping
Balloon Business
Gift Basket
Greeting Card Business
Glitter Business
Party Planning
Bakery
Jewelry
Catering
Photography
Party Rental
Cookie Business
Makeup
Cake Business
Candle Business
Craft Business
Candy Business
Cupcake Business
Coffee Shop
Food Delivery
Party Decorating
Subscribe to Our Newsletter
Join our exclusive community! Subscribe to our newsletter
and gain insider access to cutting-edge business insights and trends.
Thank you for subscribing! We can't wait to share our latest news and updates with you. Get ready for exciting content in your inbox.