Back to Business Ideas Categories
26 Christmas Business Ideas
Written by: Carolyn Young
Carolyn Young is a business writer who focuses on entrepreneurial concepts and the business formation. She has over 25 years of experience in business roles, and has authored several entrepreneurship textbooks.
Edited by: David Lepeska
David has been writing and learning about business, finance and globalization for a quarter-century, starting with a small New York consulting firm in the 1990s.
Updated on April 26, 2023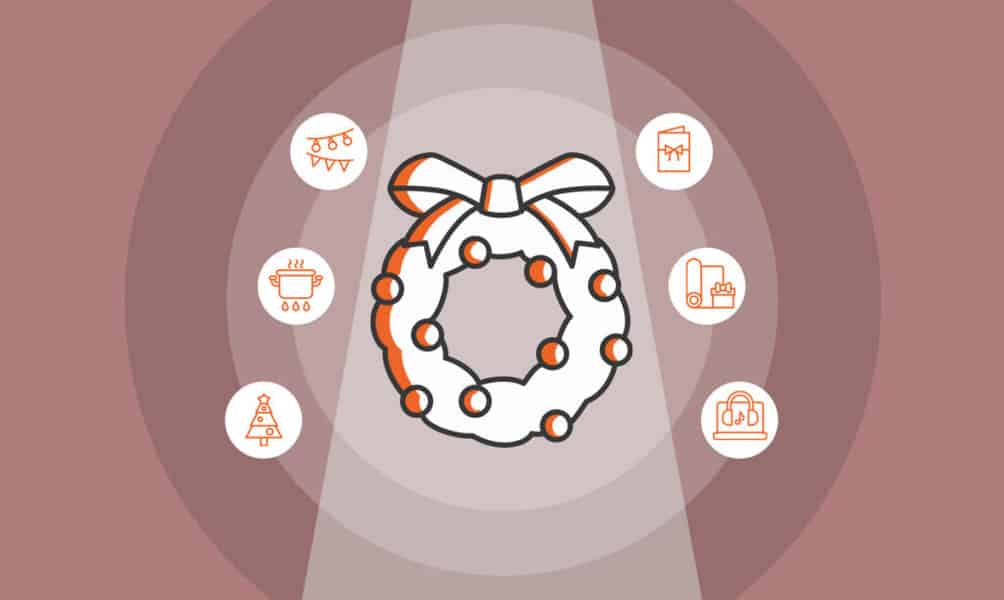 26 Christmas Business Ideas
Cooking Class
Home Decor
Christmas Tree Farm
Music Production
Hot Sauce
Gift Wrapping
Balloon Business
Gift Basket
Greeting Card Business
Glitter Business
Party Planning
Bakery
Jewelry
Catering
Photography
Party Rental
Cookie Business
Makeup
Cake Business
Candle Business
Craft Business
Candy Business
Cupcake Business
Coffee Shop
Food Delivery
Party Decorating
There's a reason they call Christmas the most wonderful time of the year! Because it's a great time to be an entrepreneur. Business and retail sales typically surge during the holidays as consumers spend more on gifts and parties. In 2022, US Christmas retail sales are expected to surpass $800 billion.
You can take advantage of the heightened demand with a gift wrapping, gift basket, or greeting card business, or get into event planning and party rental. Check our below list of brilliant Christmas business ideas to jumpstart your thinking. If you do it right, you could have Christmas all year-round!
1. Cooking Class
Are you a skilled chef? You could start a cooking class and help others do wonders in the kitchen during the holidays — and make good money doing it. The US cooking class industry is worth $2 billion and expected to rebound strongly from the pandemic. Globally, the industry is expected to soar 450% by 2029, driven by demand from Generation Z and millennials.
Before you launch your business, it's important to obtain relevant certifications to increase your value as a brand. If you conduct classes online, you can just set up a DIY studio in your kitchen but you'll need tools and equipment. You'll also need a high-resolution camera, microphone, lighting equipment, fast internet connection, and live streaming software if you're doing it in real time. Keep in mind that you'll be competing with culinary schools, so it's a good idea to get creative with your marketing. With careful planning and some market research, you can achieve success with your cooking class business.
2. Home Decor
The holidays are a time for family gatherings and the hosts need to make sure their home is warm and welcoming. Starting a home decor business may seem daunting, as you'll be competing with big companies like IKEA, Wayfair, and Bed Bath & Beyond, but you can make it if you play your cards right. The US home decor industry has seen steady growth, with revenue set to hit $200 billion by 2024.
You'll need to make a significant investment if you decide to open a brick and mortar shop. Another option is to run your business from home and sell your merchandise through online marketplaces to reduce your startup and overhead costs. You'll still need to register your business and comply with other legal requirements. It's important to keep up with the latest trends and be innovative in promoting your products to make them stand out in a crowded marketplace. With a creative marketing strategy and a lot of hard work, your home decor business can be very rewarding.
3. Christmas Tree Farm
Who doesn't love Christmas trees? You can supply your community with holiday cheer by starting a Christmas tree farm and letting locals choose their own pine, spruce, or fir. Up to 30 million real Christmas trees are sold every year in the US, across all 50 states.
Real trees are renewable and recyclable, unlike fake trees which contain non-biodegradable plastics. Live trees cost less too, although artificial trees may come out cheaper in the long run because they last years. The tree shortage due to the global supply chain crunch in 2021 presents an opportunity for you.
The location of your farm is crucial. It has to be accessible to your potential customers. It's also to your advantage to come up with a business plan, including sharp marketing, after complying with the legal requirements. Once your Christmas tree farm is up and running, you'll be making money real fast.
4. Music Production
The holidays just aren't the holidays without all the classics, from "All I Want for Christmas" to "Silent Night" and more. Starting your own music business could be a great way to spread cheer. Music helps people shake off the blues and cope, improving the mood and promoting relaxation, and saw record sales during the pandemic. The US industry saw record sales of nearly $15 billion in 2021.
Starting a music business can be a fun and rewarding experience, but it's important to determine what kind of music you will focus on. Artists can make money by selling their music, using social media, or creating branded content for clients. But first, you will need to build up an audience. Be creative and think of ways to attract a large following in social media and get them to view your videos. You'll be competing with the best, but with some patience and hard work, it can be done!
5. Hot Sauce
Are you a chili head? If so, you've probably already got your favorite spicy holiday recipes. But you may not know that you could start your own hot sauce business and share your spicy passion while earning good money. The global hot sauce market is worth $4.5 billion and expected to post moderate annual growth through 2026 due to the increasing popularity of Pan-Asian and Latin American cuisines.
Anyone can start a hot sauce business. All you need is a willingness to experiment, some food science, and of course, chili peppers! You'll need to comply with licensing requirements and other regulations, and study the market to see how you can innovate or develop a new recipe. Once you've developed your own brand of hot sauce — maybe a Christmas fire sauce? — implement an aggressive marketing and advertising campaign to make an impact and gain a following.
6. Gift Wrapping
It's hard to match the excitement of a present wrapped in gorgeous paper and ribbons. If you're looking for a profitable venture that will spread holiday cheer, starting a gift wrapping business is a strong option. The US gift wrapping market is expected to double to $7 billion by 2025 as people spend more not only during the holidays but for every special occasion throughout the year.
To get started, you'll have to decide whether to just provide gift wrapping services at home or set up a shop. You should also unleash your creativity and offer unique gift wrapping styles. Keep up with the latest trends and techniques to stay relevant and differentiate your business.
Just be sure to stock up on wrapping materials and tools to make sure you can deliver what your customers want. With retailers constantly thinking about ways to make each day special, there will always be someone who will need your gift wrapping skills.
7. Balloon Business
For holidays, graduation, birthday parties, baby showers and much more, balloons are always a big hit. They make a great gift and can make even virtual parties more fun and exciting. The global party balloon market is expected to grow 5% annually through 2030, so if you're looking for a lucrative business idea, this could be it.
The first step is to pick the type of balloons that you want to create, whether latex or foil. Latex balloons are more commonly used and considered the gold standard, while foil balloons offer more diverse options in size, shape and color. They also last longer than latex, although they're less elastic and more vulnerable to heat damage. Whichever you choose, be sure to actively promote your business to attract customers and generate the repeat business that will spell success.
8. Gift Basket
It's hard to go wrong with a great gift basket of wine, fruits, food, or flowers, whether for family, friends, or colleagues. It's the perfect choice if you don't know what the recipient likes or if you're sending to multiple recipients.
The versatility of gift baskets has kept demand high, especially from the corporate sector. The US corporate gift market is predicted to hit $300 billion in revenue by 2024. If you're a creative entrepreneur, why not grab this opportunity and start a gift basket business? It's a great way to use your creativity and sell something that people will love.
Before you get started, it's to your advantage if you choose a niche and craft your marketing strategy. Having a strong online presence is crucial to your success, so it's a good idea to start developing your website and social media accounts as soon as you decide on your branding strategy. Of course, your business needs to be legally compliant so you should also consider regulatory requirements.
9. Greeting Card Business
Although digital cards are more convenient, many Americans still prefer traditional greeting cards — and holiday cards are of course among the most popular options! If you have a creative streak and a way with words, a greeting card business may be the right move for you.
Demand has fallen somewhat, but the US greeting card industry is still worth around $7 billion, so it's a huge market with many opportunities. To minimize overhead, you could start off with only online sales and later open a brick-and-mortar store. Branding is important, so be sure to develop your own brand personality and be consistent with quality. A greeting card business can be rewarding and lucrative if you put in the work.
10. Glitter Business
Do you love glitter? Well then, now is a great time to turn your passion into a business. Starting a glitter business offers a great opportunity to showcase your creativity and make real money, and not only during the holiday season. Glitter is a key part of the arts and crafts market that exploded during the pandemic and sees strong sales all year-round.
To get started, you'll need to find a reliable, affordable glitter wholesaler to partner with. Once you've got your supply, it's time to start expressing yourself and creating your own styles. Experiment and decide which glitter products you like best. Makeup, hair applications and nail polish are hot right now, as are glittery fashions. Once you've made your choices, share them widely on social media and offer your goods for sale on Etsy.
Just remember to have fun and believe in your creations. Australian entrepreneur Sophia Rizzo started Glitter Girl at age 10 and by age 13 was raking in $350,000 in annual revenue. If a pre-teen can do it, you can too!
11. Party Planning
Ready for good times? As the pandemic recedes, parties are coming back, big time. The US party and event planning industry is worth more than $3 billion and growing as more and more people plan the big blow-outs they've been delaying for so long — Christmas parties, weddings, birthday bashes and more. If you're well organized and know how to have a good time, you could start your own party planning business and ride this wave to a major payday.
With minimal investment, you can run your business from home to keep costs low and charge a commission of 15-20 percent of the event's budget. The biggest hurdle will be getting those first few clients, and for that you'll probably want to set up an appealing website and launch a strong marketing campaign. Once you're able to provide those early customers with excellent service and unforgettable gatherings, you might want to start partying yourself, to celebrate your success.
12. Bakery
Is Christmas really Christmas without delicious cookies and other homemade baked goods? If you often find yourself elbow-deep in flour, now's a great time to take the next step and open a bakery. Despite the anti-carbs trend, the US baking industry has been growing for years and is now worth more than $12 billion. You could open your own bakery, or start a home-based baking business, and share your culinary creations with the world while making a good living.
But starting a bakery can be tricky, and there are several hurdles before you can start. You'll need to nail down a handful of absolutely fantastic baked goods that will keep people coming back. You'll want to outfit your kitchen, or new bakery, with all the right equipment and ingredients. And you'll need to pass health checks and government licensing required for food businesses.
After that, you'll just need to start marketing your tasty treats and, with a bit of luck, you'll soon be raking in the dough!
13. Jewelry
Jewelry always ranks among the most popular holiday gifts. That's one reason the $300 billion global jewelry industry is growing fast and now is a fantastic time to get in on the action. You could start your jewelry business from home and provide stunning, high-quality goods to discerning clients around the world while making a good living. Best of all, you'll be able to express your creativity, with brilliant designs for bracelets, rings, necklaces and more.
You'll probably need to develop your jewelry making skills, and there's a wealth of online instruction that can help with that. You will also need to find a reliable wholesale supplier of gems and valuable metals, and acquire the proper equipment. Finally, once you start producing brilliant jewelry, you'll need to hit on a strong marketing campaign in order to stand out in an increasingly competitive marketplace.
But if you're able to check all these boxes, diamonds might soon be your best friend!
14. Catering
Do you have great culinary skills? The holidays are the perfect time to start a catering business, because of all the corporate and office parties. The US catering industry is seeing strong growth as the pandemic recedes and more and more people plan major events.
The crucial first step will be nailing down an initial menu. Do you favor traditional American dishes? Are you obsessed with Italian? Or maybe Mexican, Thai or Middle Eastern food is more your thing. Once you decide, fill out the menu with appetizer options, second courses, soups and salads, and a selection of entrees and desserts. And don't forget Americans' dietary issues — be sure to include low-fat, gluten-free, vegetarian and vegan options.
Next you'll want to nail down your product offerings. For example, some caterers today are providing box lunches for in-office events. You should also consider embracing technology, as today's top event planners often use apps to book the best caterers. Lastly, it's crucial that you acquire all the necessary licenses and permits, as food businesses are strictly regulated.
Now you're ready to get in the kitchen and start making a lot of smiling faces, and a lot of money.
15. Photography
Are you an amateur photographer who loves snapping great images? Photography in the US is an $11 billion industry expected to see steady growth in the coming years, so now would be a great time to stretch your entrepreneurial wings and give it a shot. You could start your photography business from home and give the world beautiful photos while also making a good living. Few times of the more year are more photogenic than the holidays — with all the parties, family gatherings and winter scenery.
A crucial step will be finding your photographic niche. There's a wide array of subjects to choose from. You could focus on personal portraits, fashion and culture photography, news and celebrities, or travel, nature and wildlife. Assuming you already have a professional-level camera, you'll just need some great editing software and to build a website showing off your portfolio and listing your prices and services. With a bit of talent and determination, you could be snapping your way to success in no time!
16. Party Rental
Let's get this holiday party started! As the pandemic recedes, lockdowns are being lifted and people are getting out and about again, which is good news for gatherings and and group events. US party rentals is a $5 billion industry that expects sharp growth in the coming years.
You could start a party rental business, grab a share of that vast market and help people have fun by providing tents, bars, bouncy houses, karaoke machines and more to people looking to have a good time. You could also offer more standard party supplies such as tables, chairs, tents, food and beverage carts. Whichever route you choose, buying the equipment will require a significant investment, but that's the only major hurdle standing in your way. After that, you'll just need to register as a business, set up an appealing website and let the good times roll!
17. Cookie Business
Are you a baking whiz? Well then maybe the holidays are the perfect time to turn your incredibly tasty cookies into a money-making machine. Everybody loves Christmas cookies! And the cookie and cakes market is huge and growing fast, in the US and around the world, so you could start your own cookie business, put smiles on a lot of faces and make a good living, all at the same time.
The key, of course, is being able to whip up fantastic cookies, preferably in a variety of unique and appealing flavors. If you can already do that, you're halfway there. You'll just need to outfit your kitchen for industrial-level baking and build a website showing off your baked goods and you'll be open for business. And thanks to the internet, your potential market is billions of people. You could sell to the family around the corner, or college kids on the other side of the globe. So maybe it's time to get out those cookie sheets and start making some real dough.
18. Makeup
Four in 10 Americans between 30 and 59 wear makeup every day, according to a 2017 survey. The number is probably higher now as more men, perhaps inspired by Kpop idols, are also wearing a bit of makeup. And considering all the social gatherings, the holidays tend to be a time of peak makeup use.
So if you've been considering starting a makeup business, now is a great time to do it. This type of business can be fun and rewarding. You will not only be making some cash, but you will also be helping clients improve their looks and boost their self-confidence.
If you're coming up with your own product line, you will need to strictly follow Food and Drug Administration regulations. The rules make sure that any cosmetics sold in the market are not adulterated or misbranded. These should also meet ingredient labeling requirements. An easier way to start a makeup business is by being a distributor of established brands. With careful planning and aggressive marketing, your makeup business can be a success.
19. Cake Business
Nearly six out of 10 Americans eat dessert after a meal at least once a week, and cakes are among the favorites — particularly around Christmastime! Cake consumption is growing steadily in the US despite the increasing preference for healthy food — those with a sweet tooth always find an excuse to indulge. If you're a cake baking whiz, starting a cake business might be the perfect career choice.
This type of business can be run from home so you can minimize your overhead cost. Once you've registered your business, you should find a reliable supplier of ingredients and supplies. Besides offering unique birthday cake designs, you might also want to introduce gluten-free and sugar-free cakes to cater to all kinds of customers. Keep yourself updated with the latest market trends and consider coming up with cakes in a box or tin can cakes. A cake business will require a lot of creativity, hard work and an effective marketing plan.
20. Candle Business
If you're a budding entrepreneur with a creative streak, custom-made candles represent a great combination of a fast-growing market with a business that's relatively easy to start. With a small investment you can start making candles from home and sell them online to help countless people set the mood while making good money.
Best of all, you can express your creativity. Some of today's trendier candles include calming scents, wild colors, organic ingredients and a variety of shapes and sizes, including a $65 candle shaped like a hand! Of course, you could also embrace a holiday theme, and make all variety of Christmas and New Year's candles, and more.
The first key step will be brushing up on your candle-making skills, and there are many online courses to get you up to speed. After that, you'll just need to purchase all the key materials and equipment, set up an account at an online platform like Etsy and start selling your goods. Once the money starts rolling in you can create your own website, start giving tutorials to build your reputation and even open your own candle shop!
21. Craft Business
Do you have a creative hobby? If it involves some sort of craft, you might want to consider turning your favorite at-home pastime into a business, and potentially a major revenue stream. With people stuck at home for months on end looking for something creative to do or something interesting to buy, the arts and crafts industry has exploded since the start of the pandemic.
In 2020 alone, the revenue of the leading online arts and crafts marketplace Etsy more than doubled, to $1.72 billion. That means right now is a great time to start your own craft business, provided people with wonderful products and ride this wave to prosperity. And craft goods are increasingly popular as gift items, during the holiday season and all year-round.
You'll be your own boss, working at home at times that are best for you. You'll be able to embrace and express your creativity, producing goods that could be sold around the world. But you will need to decide which products to focus on. This could be anything from crocheted blankets and clay jewelry to embroidered handkerchiefs and knit hats. Whatever you choose, be sure to research what's already out there and offer a unique twist on existing products. Building a strong brand will be key to the success of your craft business.
22. Candy Business
Got a sweet tooth? Then you probably know that candy is big business, especially during the holidays. The global candy market has seen steady growth and will soon be worth a whopping $200 billion. No wonder everybody wanted to see Willy Wonka's chocolate factory! People are crazy for candy.
If you're thinking of starting a candy business, it might not be as difficult as you think. In the early days you could run your business from home, sell your candies online and save up to open your own candy store. The key is producing a uniquely appealing product and standing out from the competition in an increasingly saturated market. It could be chocolate, jelly beans, lollipops, jawbreakers or something entirely new! As long as it's delicious, the sky's the limit for you and your candy business.
23. Cupcake Business
The great cupcake boom is here! Cupcakeries, or bakeries that specialize in cupcakes, are popping up everywhere, while reality shows like Cupcake Wars draw massive viewership. The $43 billion global cake industry is expected to see steady growth through 2027, which means now is the perfect time to get in the kitchen and start whipping up your next batch of Christmas cupcakes!
If you have legit baking skills, you could start your own cupcake business and ride this wave to success while bringing smiles to countless faces. There will be a good deal of work involved. You'll need to decide which sort of cupcakes to make, though at the start it might be best to specialize in the cupcakes you make best and then expand the choices as you grow. The next stop will be renting out an appealing shop space, or a commercial kitchen, if you decide to sell online rather than direct. Finally, be sure to get all necessary licenses and permits, as the last thing you want is for your food business to be shut down just as starting to draw the cupcake crowds.
24. Coffee Shop
For most people, getting through the cold, dark winter is impossible without hot, invigorating coffee!
Nearly 200 million Americans drink coffee every day, which is why you'll find a coffee shop or cafe on just about every street. Like many industries, coffee shops took a hit during the pandemic, but now it's on the rebound and expects to steady growth in the years ahead. You could take advantage of this trend by starting your own coffee shop and providing a nice pick-me-up to countless people everyday while making a good living.
Of course, opening a coffee shop will take some real work. The best coffee shops offer excellent pastries and other foods, and create a comfortable atmosphere for people to linger and enjoy. So you'll need to make smart choices in terms of your product offerings, furniture and overall design, as well as your location. You'll also want to be careful in choosing your coffee source, to make sure it's eco-friendly and fair trade. But if you're passionate about coffee and have the drive to see your business succeed, it can be an incredibly rewarding and profitable experience.
25. Food Delivery
The US food delivery industry experienced a boom in the past two years, thanks partly to pandemic lockdowns. The industry has shown no signs of slowing down, and of course, demand tends to increase in the winter as people stay inside more. The online food delivery market is set to reach $66 billion in 2022 and grow an impressive 10% annually through 2026. So if you've been thinking about starting a food delivery business, now's the time to act.
As this is a fiercely competitive industry, you'll have to carefully research the market in your chosen business location and decide on a niche. Once you've complied with the regulatory requirements, it's a good idea to put together a digital marketing plan, develop a website, acquire the software that best fits your business, and pass the word around. With a good marketing plan, you'll soon be receiving bookings for delivery and well on your way to success!
26. Party Decorating
Everybody loves a good holiday party, but a lot of people are too busy to deal with all the details.
As the pandemic recedes, parties are bouncing back big-time, boosting demand for party supplies. So if you're looking to start a party decorating business, now is the time to put your plans into action. According to data analyst Allied Market Research, the global party supplies market is expected to grow 9% annually through 2027, and North America accounts for the biggest market share.
Before you start your party decorating business, it's a good idea to scope out the competition and see what they're offering to determine what kind of products and services you're going to provide. Identifying a niche is also important. After you comply with the regulatory requirements of starting a business, developing your website and social media presence is to your advantage, especially if young adults are among your target markets. With careful planning and creative marketing, your party decorating business can be very successful.