Back to Business Ideas Categories
20 Catering Business Ideas
Written by: Esther Strauss
Esther is a business strategist with over 20 years of experience as an entrepreneur, executive, educator, and management advisor.
Edited by: David Lepeska
David has been writing and learning about business, finance and globalization for a quarter-century, starting with a small New York consulting firm in the 1990s.
Published on July 21, 2022
Updated on October 2, 2023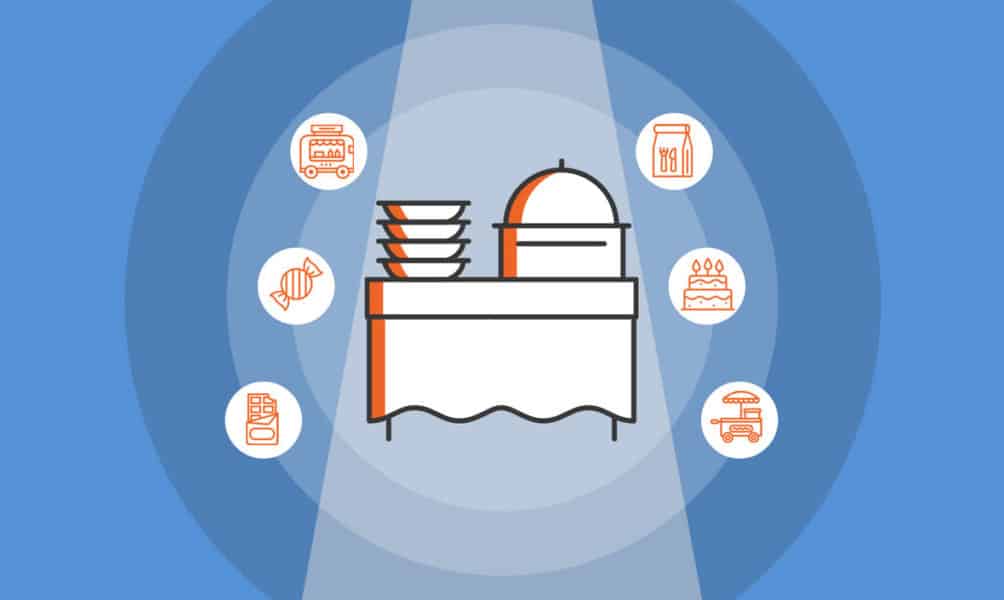 Everybody needs to eat, so demand for food — especially good food — will never go away. This helps explain why the food industry continues to attract entrepreneurs. Opportunities abound in catering and meal preparation, in food trucks and more. Opening a restaurant requires a significant investment, but it can also be financially rewarding.
Check out our list of great catering business ideas below and your culinary skills might soon give off the sweet smell of success!
1. Catering Service
Best to begin at the beginning, right? If you have serious kitchen skills and have always dreamed of making tasty meals for hundreds of people, now is a great time to start a catering business. The industry is seeing strong growth as the pandemic recedes and more and more people plan major events, like weddings and corporate affairs.
The first step will be nailing down an initial menu. Do you favor traditional American dishes? Are you obsessed with Italian? Or maybe Mexican, Thai or Middle Eastern food is more your thing. Once you decide, fill out the menu with appetizer options, second courses, soups and salads, and a selection of entrees and desserts. And don't forget dietary issues — be sure to include low-fat, gluten-free, and vegan options.
Next you'll want to nail down your product offerings. For example, some caterers today are providing box lunches for in-office events. You should also consider embracing technology, as today's top event planners often use apps to book the best caterers. Lastly, it's crucial that you acquire all the necessary licenses and permits, as food businesses are strictly regulated.
Now you're ready to get in the kitchen and start making a lot of smiling faces, and a lot of money.
2. Candy Making
Got a sweet tooth? Then you probably know that candy is big business. The global candy market has seen steady growth of late and will soon be worth a whopping $200 billion. No wonder everybody wanted to get a glimpse of Willy Wonka's chocolate factory! People are crazy for candy.
If you're thinking of starting a candy business, it might not be as difficult as you think. In the early days you could run your business from home, sell your candies online and save up to open your own candy store. The key is producing a uniquely appealing product and standing out from the competition in an increasingly saturated market. It could be chocolate, jelly beans, lollipops, jawbreakers or something entirely new! As long as it's delicious, the sky's the limit for you and your candy business.
3. Chocolate Business
Global consumption of chocolate is growing fast and set to hit $200 billion by 2028. That's a lot of candy bars! And it's a great opportunity for a new chocolate business. Chocolates has been found to boost levels of serotonin, which is also known as the happy chemical because it lifts mood. Dark chocolate has even been found to prevent depression. No surprise there.
But before you start a chocolate business, it's a good idea to decide which segment you'll focus on. Will you sell chocolate bars, chocolate-covered snacks or chocolate-based candies? You can make the chocolates yourself, but you'd have to know the materials and the processes and set production goals. As long as you offer something new and delicious, and market your chocolates well, you should be in for some sweet success.
4. Cake Business
Nearly six out of 10 Americans eat dessert after a meal at least once a week, and cake is among the favorites. Cake consumption is growing steadily in the US despite the anti-carbohydrates trend. Those with a sweet tooth always find an excuse to indulge! So if you're fond of baking up delicious treats, a cake business might be the perfect career choice.
This type of business can be run from home so you can minimize your overhead cost. Once you've registered your business, it's important to find a reliable supplier. Besides offering unique cake designs, you could also offer gluten-free and sugar-free options to attract all kinds of customers. Stay up to date on the latest trends and be willing to consider new ideas, like tin can cakes. A cake business requires creativity, hard work and a strong marketing plan, but the opportunity is real.
5. Cupcake Business
The great cupcake boom is here! Cupcakeries, or bakeries that specialize in cupcakes, are popping up on every major shopping artery, while reality shows like Cupcake Wars draw massive viewership. The $43 billion global cake industry is expected to see steady growth through 2027, which means now is the perfect time to get in the kitchen and start whipping up your next batch.
If you have legit baking skills, you could start your own cupcake business and ride this wave to success while bringing smiles to countless faces. There will be a good deal of work involved. You'll need to decide which sort of cupcakes to make, though at the start it might be best to specialize in the cupcakes you make best and then expand the choices as you grow. The next stop will be renting out an appealing shop space, or a commercial kitchen, if you decide to sell online rather than direct. Finally, be sure to get all necessary licenses and permits, as the last thing you want is for your food business to be shut down just as starting to draw the cupcake crowds.
6. Food Trailer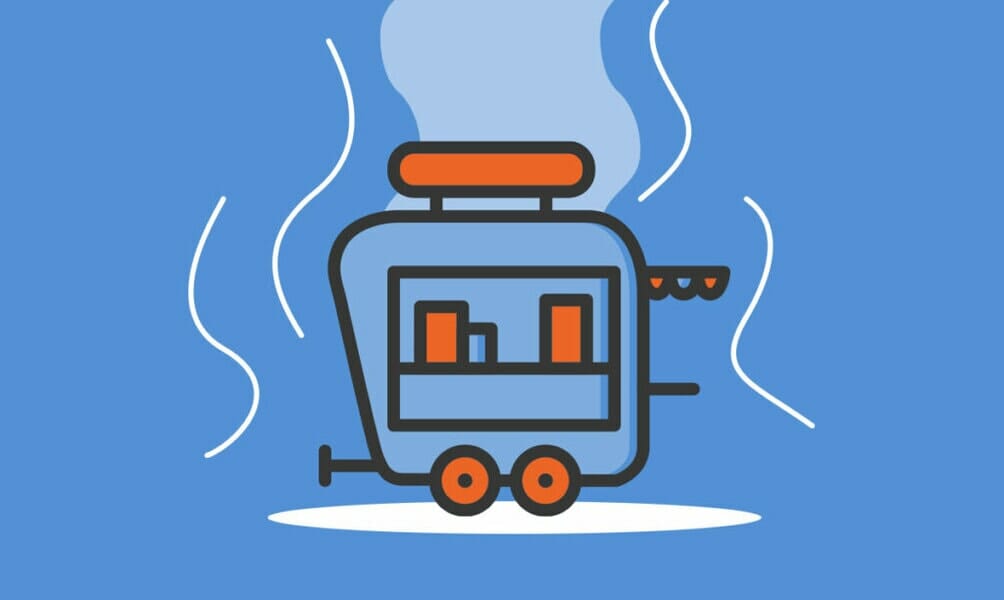 The US is home to more than 35,000 food trucks and trailers, and the number is expected to rise as the pandemic recedes. These mobile restaurants offer burgers and sausages, tacos, noodles, sushi, vegan dishes and more, and can be found on sidewalks, in alleyways and parks and at all variety of major events. If you're an entrepreneur with a love of food, a food trailer might be just the ticket.
Before you get started, it's wise to research the market and see which street foods are doing well in your area. This will help you choose your own offerings and possibly find a niche market. It would be easy to market your business if you come up with a unique offering or a fresh take. Keep in mind that you'll need to comply with federal and state regulations. But once you're ready, haul your truck or trailer over to the park or the local farmers' market and start cooking!
7. Meal Prep
People are busy these days and constantly on the look-out for greater convenience. That's why meal prep is one of the US fastest-growing industries. If you're good in the kitchen and want to share your smart culinary creations with the world, you might consider getting into meal preparation.
It doesn't cost a great deal of money; you can cook the food at home and sell online with your own website. You could offer on-demand dishes, for people just looking for a healthy dinner they can pop in the oven. You could offer goal-oriented meal plans, for people with dietary concerns and limitations. Or you could offer fully prepared meals, such as sandwiches and burritos, that people can store and eat whenever they choose. Or you could get really ambitious and offer all of the above!
The key, of course, will be creating tasty and healthful dishes that appeal to your local market. If you can do that, you'll be well on your way to meal prep success.
8. Food Truck
Who doesn't love food trucks? They seem to be everywhere these days, at parks and street fairs, music festivals, beaches, private parties and community events. Industry revenue in the US tripled in the years before the pandemic, and now food trucks are coming back strong as the pandemic recedes. As a result, now's a great time to start your own food truck and provide your community with delicious meals while grabbing a share of this growing market.
The first step, of course, will be settling on a menu. The possibilities are endless, from burritos to barbecue, from burgers to sausages, and from smoothies and milkshakes to pad thai and pizza. You could even go seasonal and offer frozen desserts in summer and gourmet soups in winter, and be able to draw a crowd year-round. The next major hurdle will be acquiring the necessary licenses and permits, which are absolutely crucial for any food-related business.
Last but not least, you will need the food truck itself. It's sure to be a significant investment, but you might be able to find a reasonably priced used truck to keep costs low. With a little luck, soon enough you'll be up and running and making a nice return on that investment.
9. Food Cart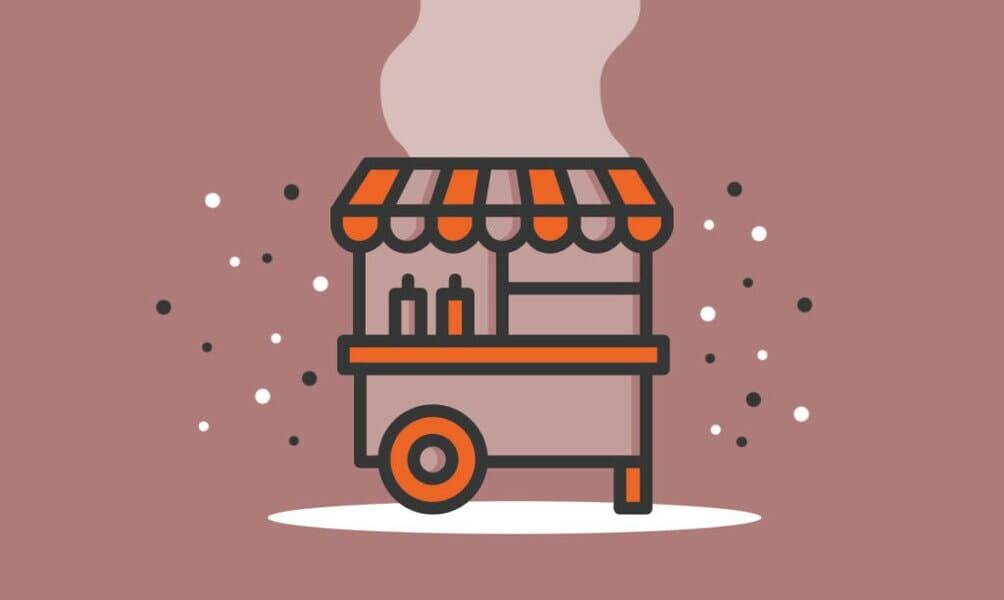 Do you love food, and being your own boss? Food trucks and carts represent one of the US' fastest-growing industries, tripling in size over the past decade. As the pandemic recedes, people are again getting out more and the industry is expecting to expand further in the years ahead. If you have some kitchen skills and enjoy meeting new people, you could start your own food cart business and make good money while providing tasty treats to people on the go.
It won't be as easy as turning on the oven. First, you'll need to get a sturdy cart with refrigeration. Next, you'll need to decide what will be on the menu. The best approach is to keep it simple and focus on one item, or one group of items. For instance you might offer hotdogs, brats and Italian sausage, or tamales, tacos and burritos, or chicken and pork curry. Once you've made a big batch of your dishes, stock up your cart and head to the park on a lovely afternoon.
As long as your culinary creations are quality, the customers will start lining up — and you'll soon be moving up to a food truck, and from there to your very own restaurant!
10. Cottage Food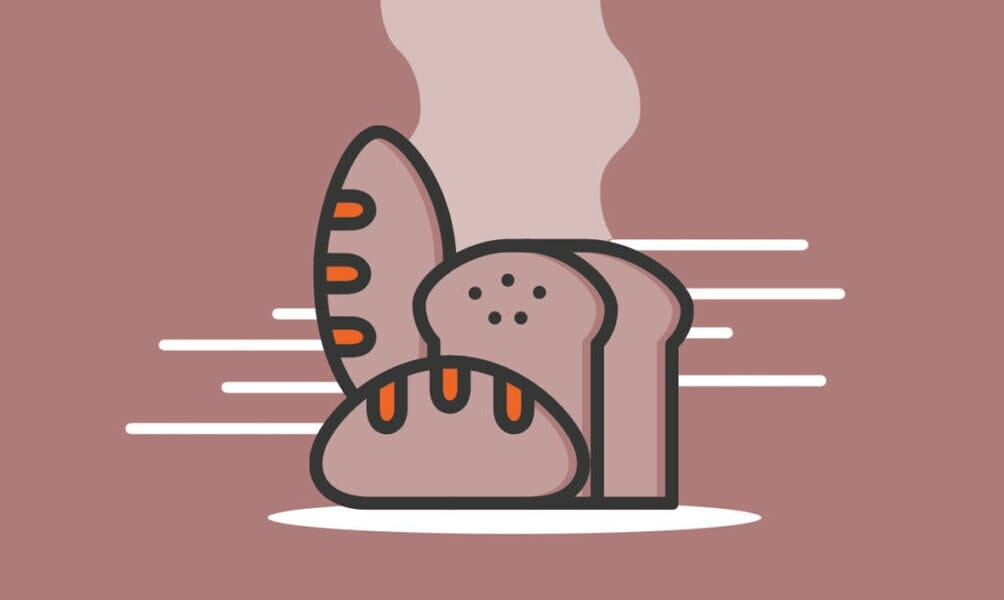 If you have great cookie and bread recipes, why not consider starting your own cottage food business? It is a great way to turn your love of cooking into a career. The cottage food industry is booming in the wake of the pandemic, spurring greater interest in healthy foods. The US food industry is growing steadily and set to earn $900 billion in 2022.
You could get started by selling to your neighbors and friends. The FDA allows only foods that don't spoil easily — like bread, cookies, jams, honey, and pickles — to be sold as cottage food. Some states also don't require cottage food businesses to get a permit as long as revenues don't exceed a certain amount, but be sure to check with local authorities.
If you're looking for a fun way to earn good money and boost the health of your community, roll up your sleeves and turn on the oven!
11. Donut Shop
Popular donut shops never seem to run out of new flavors. Besides the original glazed donuts, these sweet treats are sprinkled with cinnamon sugar, dipped in icing, topped with KitKat, filled with strawberry jam, and more. If you can think of new and unique varieties that could challenge Dunkin or Krispy Kreme, then it's time for you to start your own donut shop. Plenty of opportunities await you as the US donut industry, which is valued at $7.5 billion, is expected to continue growing.
While you're complying with the legal requirements, you'll need to identify sources of funds so you can invest in donut making equipment and find a good location for your shop. Your biggest challenge is how you can overcome the growing healthy food trend which discourages people from eating donuts. It's daunting, but not impossible. Creating a realistic business plan with an innovative marketing strategy can spell the difference for your business. Once you've hurdled these, it's time to put on your apron and start making donuts!
12. Coffee Shop
Nearly 200 million Americans drink coffee every day, which is why you'll find a coffee shop or cafe on just about every street. Coffee shops took a hit during the pandemic, but now they're on the rebound and expect steady growth in the years ahead. You could take advantage of this trend by starting your own coffee shop and providing a pick-me-up to countless people everyday while making a good living.
Of course, opening a coffee shop will take some real work. The best coffee shops offer excellent pastries and other foods, and create a comfortable atmosphere for people to linger and enjoy. So you'll need to make smart choices in terms of your product offerings, furniture and overall design, as well as your location. You'll also want to be careful in choosing your coffee source, to make sure it's eco-friendly and fair trade. But if you're passionate about coffee and have the drive to see your business succeed, it can be an incredibly rewarding and profitable experience.
13. Food Delivery Service
US food delivery has boomed in the last few years thanks to Covid. And the industry shows no signs of slowing despite the easing of pandemic restrictions, with revenue set to hit $66 billion in 2022 and grow 10% annually through 2026. So if you've been thinking about starting a food delivery business, now's the time to act.
This is a fiercely competitive industry, so you'll want to carefully research the market in your area and choose a niche. Once you've complied with the regulatory requirements, it's a good idea to put together a digital marketing plan, develop a website, and get the software that best fits your business. With a good marketing plan, you'll soon start taking orders and be well on your way to success!
14. Hot Dog Cart
In summertime, Americans consume more than 800 hot dogs per second. That's a lot of dogs! Even so, the market is expected to continue to grow as more Americans show a preference for high-protein foods and manufacturers offer more enticing reduced-fat and vegan options. If you're looking for a new venture, consider a hot dog cart.
Setting up this business may look easy, but you will have to comply with permit and license requirements, acquire the necessary equipment, find suppliers, and decide on your product line. Competition will be tough as there are countless hot dog carts across the country so it's to your advantage to find a good location with high foot traffic and promote your business aggressively.
Once you've established your brand, customers should be lining up to buy your hot dogs. What are you waiting for? Get yourself a cart and take a bite out of this huge market.
15. Pickle Business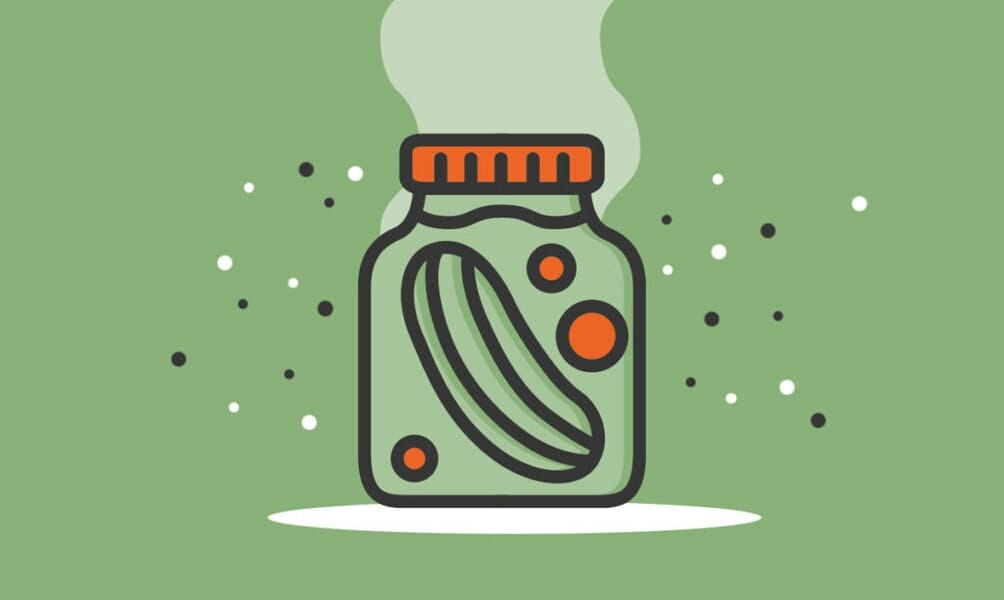 Most people think of pickles as a minor side dish, but they can also be a lucrative main attraction! The US pickles market, valued at around $3 billion in 2021, is slated to grow steadily through 2026 on the back of strong demand for healthy, nutritious foods. Pickles are full of antioxidants that boost immunity and probiotics that are good for gut health. They are fat-free and low in calories, supporting weight loss. So, why not start your own pickle business?
With a bit of food science, you can develop your own recipe or improve an existing recipe. But first, you will need to pick a niche market. Will you be making pickles from fruits or vegetables? Your production cost and selling price would depend on the ingredients that you will use. Visit local farmers to get a good deal and ensure regular supply. You will also need jars and a refrigerator or freezer for storage. Be ready to compete in a saturated market. You will need to be very creative in marketing your products.
16. Frozen Food
Frozen foods are a growing $35 billion industry, and there's no reason you can't grab a piece of the pie. Get it? Pies will likely be part of your product line, along with cakes, ice cream, pizzas, sausages, and seafood. Or you might decide to focus on a single segment or market niche, such as healthy dinners.
Either way, a crucial step to getting your frozen foods firm up and running will be ensuring you obtain all the necessary licenses and permits for a food business. The last thing you want is to rack up hefty fines and possibly face being shut down for violations.
One great advantage of a frozen foods business is that you can run the business almost entirely from your home. With delivery apps, the groceries will come straight to your door. You can cook up all your offerings in your kitchen before freezing them, lay out the full menu on your appealing website and finally ship your goods directly to customers. The hard part will be standing out from the competition, and that's where the entrepreneur in you will need to make her mark.
17. Food Packaging
Americans with busy lifestyles don't have the time to prepare their meals so they are consuming more packaged convenience foods like fast food, restaurant meals, and ready to eat foods from grocery stores. In fact, the US is a major consumer of packaged foods worldwide. This presents huge growth opportunities for the food packaging industry, a $300 billion global market anticipated to grow more than 40% by 2028. If you're looking for a highly lucrative venture, then consider starting a food packaging business. 
First, you'll need to invest in food packaging machines and find a suitable location for your business. Once you've complied with the legal requirements, it's to your advantage to pick a niche market. Food packaging uses glass, paper and paperboard, wood, plastics, and metal. Paper and paperboard would be a wise choice because they're recyclable and versatile. It's important to come up with innovative packaging ideas to attract more customers in this competitive market. Keeping track of the latest trends while you prepare to launch your food packaging business will give you an edge.
18. Pizza Shop
If you're like most people, pizza is one of your favorite foods. You can either go to the nearest pizza restaurant, or you can just pick up your phone and order. Better yet, you can fix one yourself, get creative with your toppings, and even start a business. In the US, the pizza industry is worth nearly $54 billion and growing, so right now is a good time to take a bite of this mouthwatering pie.
But first you'll need to learn the basics of starting a pizza business, from licensing and permits to branding and marketing. It's also important to study the competition — find out how many restaurants are already doing business in the area, what kind of pizza they're making, and how they're promoting their brand. Choosing the right location is critical. You have to be where your target market is. Once you hurdle these, you'll be well on your way to success!
19. BBQ Business
With apologies to vegetarians, just about everybody loves tasty grilled meats. That's why barbecue has been growing steadily and is now a more than $4 billion US industry. If you've got legit grill master skills, you could start your own BBQ business and cook up fantastic grilled meats along with strong profits.
There are, however, a few hurdles to overcome. First you'll need to decide whether you want to do Kansas City or St. Louis-style BBQ, an exotic flavor or something entirely new. You could also focus exclusively on chicken, pork, or beef, or dive in and do all of the above. Next, you'll need to find a great location with steady foot traffic and acquire the necessary equipment. After that, you'll just need to put out some strong marketing and start cooking up some meaty success.
20. Liquor Business
The great thing about getting into the liquor business is that it's economy-proof. When the economy is doing well, people celebrate with wine and champagne. When recession hits, people drown their sorrows with a drink or two. That explains why the liquor industry has seen steady growth in recent years and is expected to continue to expand.
It's always a good time to start a liquor business, and you could start yours now and help people celebrate the end of the pandemic while setting yourself up for a good living. You'll need to find a reliable distributor to partner with, preferably with a wide range of alcoholic drinks at reasonable prices. And you'll also need to get your required licenses and permits and rent out a shop space in a location with good traffic.
Once that's all sorted, have a drink on the house because you'll soon be on Easy Street.
20 Catering Business Ideas
Catering Service
Candy Making
Chocolate Business
Cake Business
Cupcake Business
Food Trailer
Meal Prep
Food Truck
Food Cart
Cottage Food
Donut Shop
Coffee Shop
Food Delivery Service
Hot Dog Cart
Pickle Business
Frozen Food
Food Packaging
Pizza Shop
BBQ Business
Liquor Business
Subscribe to Our Newsletter
Join our exclusive community! Subscribe to our newsletter
and gain insider access to cutting-edge business insights and trends.
Thank you for subscribing! We can't wait to share our latest news and updates with you. Get ready for exciting content in your inbox.