How to Start an ATM Business
Decide if the Business Is Right for You
Hone Your Idea
Brainstorm a Business Name
Create a Business Plan
Register Your Business
Register for Taxes
Fund your Business
Apply for Licenses/Permits
Open a Business Bank Account
Get Business Insurance
Prepare to Launch
Build Your Team
Start Making Money!
One automated teller machine, or ATM, can provide its owner with a small stream of passive income. A collection of ATMs placed in heavily trafficked areas, on the other hand, can provide a small business owner with a tidy profit.
Even in today's digitized world, people still need cash. At the same time, ATM machines have evolved with the addition of improved security measures, foreign currencies, and even cryptocurrencies.
Of course, starting any new business takes time, knowledge, and patience. Read on, move through the launch and development process step by step, and soon you'll have your own successful business.
Fast Facts
Revenue potential
$50k-$100k+ p.a.
Profit potential
$40k-$90k+ p.a.
Step 1: Decide if the Business Is Right for You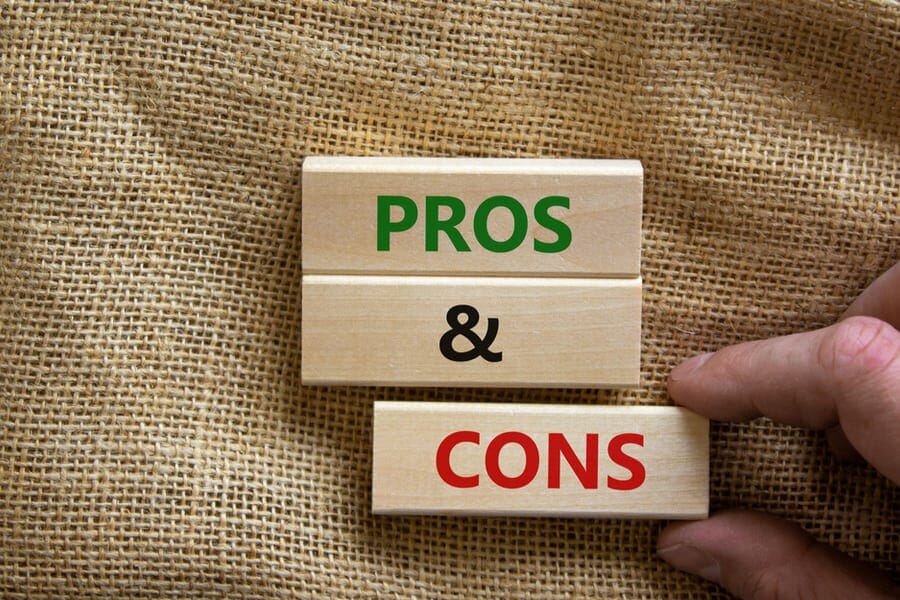 The first step is to determine if starting an ATM business is viable for you. Think of it as a way to test the idea's true potential.
At this point you'll want to consider the following:
Pros and Cons
What are the downsides and benefits of launching an ATM business? As a rule of thumb, any viable business idea has more advantages than disadvantages.
Below are some pros and cons of an ATM business:
Pros
Passive, undemanding work – One of the most passive business models out there. Just put your machines in place, maintain them and collect your profits.
Client and location choice – As an ATM operator you choose who you work with and where you place your machines.
Steady income – Assuming steady foot traffic, ATM use is relatively steady and predictable, and available 24/7.
Relatively recession-proof – No matter the economic climate, people need to get cash — perhaps even more so during a recession.
High retention – Many customers regularly use ATMs, providing steady repeat business for you and the location owner.
Cons
Repetitive work – Running an ATM business can be monotonous.
No real strategy – Besides adding new machines and locations, there's little strategy involved in the ATM business.
High liability – Given the involvement of significant amounts of cash, insurance rates will be relatively high and there is always the risk of theft.
Industry trends
Market analyst Grand View Research valued the global ATM market at about $20 billion in 2020 and expects annual growth of 5% through 2028.[1]https://www.grandviewresearch.com/industry-analysis/atm-market
In many countries around the world, customers still choose cash as their favored payment option due to convenience. Technological advancements mean customers expect faster and more secure withdrawals. Thankfully, the latest machines feature improved security and smart ATMs offer new functions, such as facial recognition technology or flight booking capability, that helping drive industry growth. Processor giant Intel believes smart ATMs could be the future of banking, mainly due to greater efficiency and protection against fraud.[2]https://www.intel.com/content/www/us/en/financial-services-it/cloud/smart-atms.html
Increased automation in banking and more ATMs in emerging economies also contribute to industry growth, while mobile ATMs for major events, such as festivals and sports, have become much more common.
How much does it cost to start an ATM business?
Startup costs for an ATM business range from $3,500 to $11,000. On average, an entrepreneur spends about $7,300 to get an ATM business up and running.
The majority of this initial capital will go towards purchasing your first ATM, which can range from $3,000 to $10,000 each, depending on functionality. Additional fees and marketing costs will also be in order to start your business entity and build your initial branding.
The table below shows a more detailed initial cost breakdown.
| Startup Costs | Ballpark Range | Average |
| --- | --- | --- |
| ATM | $3000-$10000 | $6,500 |
| LLC or other entity fees | $100-$200 | $150 |
| Licenses and Permits | $150-$300 | $225 |
| Insurance | $200-$400 | $300 |
| Marketing costs | $100-$200 | $150 |
| TOTAL | $3550-$11100 | $7,325 |
Source: Step By Step Research
How much can you earn from an ATM business?
Most ATMs charge a user fee of $1 to $3 per transaction, which is the sole source of revenue for the business owner. An ATM business's earnings depend on the number of ATMs it manages and where they are deployed.
Gaming industry veteran Lieberman Companies estimates that one-third of US consumers use an ATM at least once a week, and that ATMs average 6-10 transactions per day. At about $2.50 per transaction, that would mean $20 in daily revenue per ATM. Thus, a well-placed ATM can earn more than $600 every month, or $7,200 in a year. This means that your first ATM machine, assuming it's well placed and functional 24/7, should pay for itself in less than a year.
With ten such machines, your ATM business could earn more than $70,000 in annual revenue. Your profits will depend on whether you own or lease the machines and how much of the fee goes to the owners of the businesses at which you place your ATMs. If you give the local business $0.50 per transaction, your annual profit would be around $57,000, or $43,000 if you give the local business $1.00.
Ultimately, your earnings will be determined by the scale of your business: how many ATMs will you be able to purchase and operate?
What barriers to entry are there?
Barriers to entry for an ATM company are relatively low. Significant challenges for new entrants include:
Competition – Many of the best locations already have ATMs, as the industry is already relatively mature, due to low barriers to entry.
Tech complexity – The rise of biometrics, "Internet of Things"-functionality, and other high-tech capabilities mean a prospective business owner may need further IT education to learn how to best use the latest ATMs.
Security and compliance – Storing and transporting large amounts of cash always poses a risk, and the ATM industry is heavily regulated, with new bills introduced all the time.
Rise of digital – Increased use of credit cards and smartphone payments may curb ATM usage in the coming years.
Step 2: Hone Your Idea
Why? Identify an opportunity
A prospective ATM business owner should observe their local area and retail outlets to record where ATMs tend to be located and how often people use them.
You should consider possible untapped markets in your area. Maybe there are a few big box stores that have no in-house ATMs? Also, maybe your town is dominated by older ATMs and would respond to an influx of newer, more advanced models with broader functions?
If you plan on placing your ATMs throughout the city, it's a good idea to map out in advance the route you will take to service them and estimate the frequency of your maintenance. Additionally, you should consider the security measures you plan to include on your ATMs' digital interface and on the lockbox you'll use to transport the cash to your bank. Most ATMs require a minimum weekly balance of around $2,000, which is refilled as needed. A new business owner should perform thorough research on cash requirements and likely demand at the machine's location.
Finally, think about why you are entering the ATM business. Your main objective should be based on the value of a good ATM: ease of use, efficiency, and security.
What? Determine your products or services
There are many different types of ATMs to consider: online or offline, white-label or brown, onsite or offsite, standalone or networked. Industry advisor Greenstar ATM provides a summary, with a short description of each:
Online ATMs – Always connected to internet; real-time transactions and monitoring
Offline ATMs – Connected only to bank's database, fewer functions
White Label ATMs – Operated by non-bank entities
Brown Label ATMs – Owned by ATM providers but managed by the bank whose brand is on the machine
Onsite ATMs – ATMs in a bank or retail outlet and operated by that business
Offsite ATMs – ATMs operated by a third party but placed in malls, hospitals
Standalone ATMs – ATMs unconnected to a bank network, with limited services
Networked ATMs – ATMs connected to the network of the ATM provider
Industry advisor ATM Depot outlines the convenience and flexibility of another type of ATM, mobile ATMs, which can be installed almost anywhere. Your ATM business model could include taking several mobile ATMs to local fairs, festivals, sporting events, and other major gatherings to take advantage of temporary intense demand.
Lieberman Companies provides this short guide of ATM types, including a list of the top brands and how to buy your machines. A new ATM business owner would do well to look into the latest in biometric technology and cloud-based functionality concerning ATMs. For your ATM business, you could also consider a leasing or rental operation. ATM businesses like ATM Money Machine and Goldstar ATM, among others, provide ATMs for purchase or lease.
How much should you charge for ATM transactions?
In general, ATM fees are not really a strategic choice for the business owner to make. Their fee levels, as detailed here by market analyst Value Penguin, are determined and restricted to a small range of options by federal laws and regulations. The standard fee is $2-3 per domestic transaction, or $5 plus 3% of the transaction value for international activity.
Who? Identify your target market
As a new ATM business owner, consider where cash is the most needed in modern business and entertainment spaces. Beyond banks, consumers need cash at casinos, festivals, concerts, traditional bars, sporting events, hobby shops, and other older retail spaces.
These are some of the most lucrative locations for an ATM, but you might research specific opportunities and markets in your area.
Where? Choose your business premises
In the early stage of business development, you may want to operate your business from home as it will help you keep costs in check. But as your business grows, you may need to hire workers for various job roles and rent an office or storage space. You can find commercial space to rent in your area on Loopnet, Craigslist, Crexi, and Commercial Cafe.
When choosing a commercial space, you may want to follow these four rules of thumb:
Central location accessible via public transport
Ventilated and spacious, with good natural light
Flexible lease that can be extended as your business grows
Ready-to-use space with no major renovations or repairs needed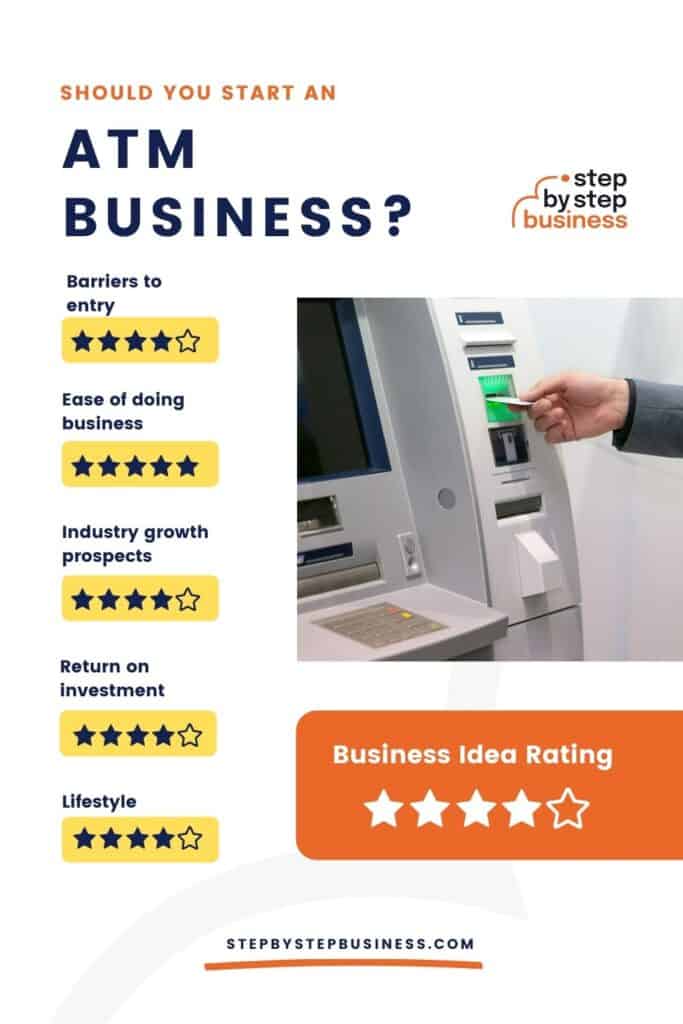 Step 3: Brainstorm a Business Name
Your business name is the identity of your business, so you must choose one that can represent your objectives, services, and mission well in just a few words.
Creating a business name is a very important part of starting a business. When thinking of a name for your ATM business, you'll want something that is easy to remember and catchy, since a lot of your business will come via word-of-mouth referrals.
Here are some ideas to brainstorm a business name:
Make it short, unique, and catchy so it can easily stand out.
Make it relevant by choosing a name that creatively encompasses what you do.
Make it easy to spell and say out loud so it's easy to remember.
Make it scalable so it grows with your business.
Survey your family and friends, asking for their input and suggestions.
Have the word "ATM", "Cash" or other related keywords in the name to improve your SEO.
Make sure the name is unique to your business. You don't want to get caught out by copyright laws!
Avoid location-based names if you can, as this may hinder expansion in the future. But if you decide to include a location, there are ways to change your business name with a little bit of extra effort.
Brainstorm a lot of ideas and then choose the best one. Tools like the Step by Step Business name generator are perfect for this.
Once you've got a list of potential business names, run them through websites like NameChk to see the availability of domain names and on the USPTO website to check if they are available for trademark registration.
If any of the names on your list pass your screening, you can proceed to using it as your social media usernames and registering it as the domain name for your website. Using ".com" or "org." domain names will increase your website's credibility, so try to use these as much as possible.
And if you've exhausted all your creative juices but still don't have a business name, don't stress! Instead, you can check out our business name generator. All you need to do is type in your chosen keywords, hit generate, and choose from the ideas it gives you.
Step 4: Create a Business Plan
Every business needs a business plan. This rough outline helps guide you through the process of starting up and running your business, and also gives potential investors and partners what they need to know about your company before they invest:
Executive Summary: Provide an overview of the entire business plan over 2-3 pages. This should be written at the end, once the rest of your business plan is complete.
Business Overview: Provide an overview of the company, vision, mission, ownership and corporate goals.
Product and Services: Describe the company's products and services, and classify them into a handful of segments.
Market Analysis: Assess the market trends, demand variations, industry prospects, and target market segments, and do a SWOT analysis.
Competitive Analysis: Analyze your main competitors and assess their strengths and weaknesses. Also provide a list of your competitive advantages.
Sales and Marketing: Prepare your USPs, sales, marketing and promotional strategies.
Management Team: Provide an overview of the management team and describe their individual roles. You should also create a corporate hierarchy for the company.
Operations Plan: Lay out the company's operational plan, including procurement, location, business hours, facility/office management, equipment and other logistics.
Financial Plan: Create three years of financial planning for your company, including start-up cost requirements, break-even, profit and loss, cash flow and balance sheet.
Appendix: Provide monthly financial statements, as well as any other supporting documents for the business plan.
Step 5: Register Your Business
Registering your business is an important step because it is a prerequisite to raising capital, opening a business bank account, paying taxes, and other steps to get a business up and running.
This can also be a big step and make it all feel official! It's definitely an exciting and important step in creating your ATM business.
Choose where to register your company
Your business location is an important decision because it can affect your taxes, legal requirements, and revenue. Most people will register a business in the state they live in, but if you are planning on expanding it, you might consider looking elsewhere.
Consider where a good place is to open a ATM business, and if you're willing to move, you might be able to really maximize your business!
Choose your business structure
There are different ways to structure a business, and each has some pros and cons. The legal structure you choose for your business will impact your business registration requirements, how much you pay in taxes, and your personal liability.
Here are the four main options:
Sole proprietorship – The most common structure for small businesses. There is no legal distinction between the owner and the company which means you get to keep all the profits, but you're also personally liable for any debts.
Partnership – Similar to sole proprietorships, but in this case set up by two or more people. Again, they keep the profits, but are personally liable for any losses.
Corporation – In this structure, the business is a separate legal entity from the owner or owners, and therefore the owners are not personally liable to cover any debts. They take their profits through shareholder dividends rather than directly.
Limited Liability Company (LLC) – Combines the characteristics of corporations with those of sole proprietorships or partnerships. Again, the owners are not personally liable for debts.
We recommend that most new business owners form an LLC as it offers liability protection and pass-through taxation while being simpler to form than a corporation. You can quickly and cheaply form an LLC using ZenBusiness's online LLC formation service (it can take as little as 5 minutes). They will check that your business name is available before filing, submit your Articles of Organization and be on hand to answer any questions you have about the company formation process.
Step 6: Register for Taxes
At this point, you'll want to get an Employer Identification Number (EIN). You can file for your EIN online, by mail, or by fax. Visit the IRS official website to learn more about how to apply for an EIN.
Once you have your EIN, which can be applied for via the IRS website, you'll need to choose your tax year. This means you either operate on a calendar year (January–December) or a fiscal year, which is a 12 month period that can start in any month. This will determine your tax cycle and when to pay. The structure of your company will also determine what taxes you need to pay.
All tax information is available through the IRS website and taxes can be filed online. It is important to consult an accountant or other professional to help you with your taxes to ensure you are completing them correctly.
Step 7: Fund your Business
Securing your funds is your next step and there are plenty of ways you can raise the capital.
Bank loans: This is the most common means entrepreneurs fund their businesses. However, getting approved will require you to have a very compelling business plan and credit history.
SBA-guaranteed loans: If you get rejected by the bank, you can try to have the SBA as a guarantor. An SBA-guaranteed loan can help get that elusive bank approval.
Government grants: There are plenty of government financial assistance programs that you can explore and apply for. Just head on to Grants.gov to see which one you're eligible for.
Venture capital (equity and debt): You can try to approach high-net-worth individuals and offer them a percentage of business shares in exchange for funds. Just keep in mind that this option will give investors some degree of control over your business.
Crowdfunding: The low-risk option that most business owners prefer. Through crowdfunding, individuals will pool their funds as support without asking for shares. Crowd funders are usually repaid through tokens or gifts.
Personal: You can self-fund your business by taking a portion from your savings, liquidating underperforming businesses, selling a property, or raising support from family and friends.
Step 8: Apply for Licenses/Permits
To start a new business, you will have to obtain a number of licenses and permits from the local, state and federal government.
Federal regulations, licenses and permits associated with starting an ATM business include doing business as (DBA), health license and permit from OSHA, trademarks, copyrights, patents and other intellectual properties (IPs), as well as industry-specific licenses and permits.
Additional permits may be required by your state to allow your ATM business to function legally, such as a general business permit and basic business license. The license requirements and how to obtain them may vary from state to state. Hence, you shall check your state's official site or contact the appropriate person to enquire about licenses and permits that you need to run an ATM business.
Your city, town or county may also have legal and compliance requirements for an ATM business, such as sign permit, fire department permit, building and home occupation permit and planning and zoning permit. You shall speak to the designated representative of your local government and enquire about the licensing requirement for your business.
Failing to comply with the legal requirements enforced by the federal, state or local government can result in hefty penalties. If you are doing it by yourself, you may consider using the SBA guide to identify licenses and permit requirements in your state.
If you feel inundated by this step or don't know how and where to start from, we recommend you to hire a professional aide to help you fulfill the legal and compliance requirements. You may consider buying the license compliance package from a filing company such as MyCorporation and MyCompanyWorks or hire an attorney through Avvo or FindLaw platforms.
Step 9: Open a Business Bank Account
In order to begin trading you will need to have somewhere to keep the money you make, and that requires opening a bank account.
Keeping your ATM business's finances separate from your own personal account makes it easy to track how your company is doing, and keeps things simple when it comes to filing taxes and a profit and loss statement when the time comes, so it's worth doing even if you're running your business as a sole proprietorship.
Opening a business bank account is not very difficult, and is similar to opening a personal one. Most major banks will offer business account options, so you can inquire at the local banks to understand the different rates and features.
It's important to look at a few options since they can vary quite a bit in what they offer and you will want to get the best rate.
Once you decide on the right bank, you just need to bring your EIN (or a Social Security Number if you decide on a sole proprietorship), and your articles of incorporation or other legal documentation showing that your business is registered.
Step 10: Get Business Insurance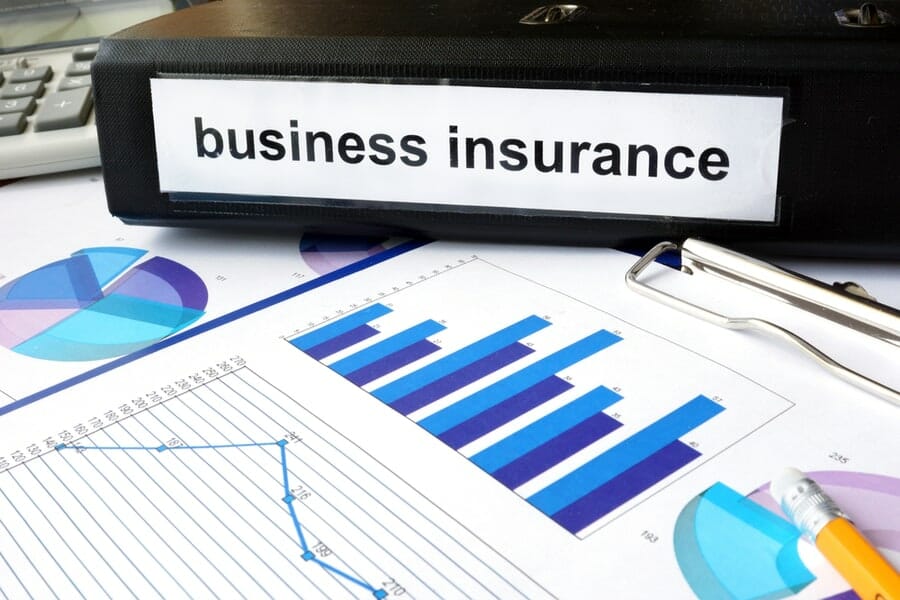 Business insurance is an area that often gets overlooked but is vital to your success as an entrepreneur. Insurance protects you from those unexpected events that can have a devastating effect on your life and business.
Here are some of the different types of insurance to think about and consider whether it is right for you and your business:
General liability: This is the most important type of insurance that acts as a catch-all for many things that should be covered. If you're only going to get one kind of insurance, this is it! It protects you against bodily injury and property damage.
Business Property: Provides coverage for your equipment and supplies as part of your shaved ice business.
Equipment Breakdown Insurance: Covers the cost of replacing or repairing your equipment that has broken down due to mechanical issues.
Worker's compensation: Provides compensation to employees who are injured on the worksite.
Property: Covers your physical space, whether it is a cart, food truck, or storefront.
Commercial auto: Protection for your company-owned vehicle.
Professional liability: Protects you against claims from a client who says they suffered a loss due to an error or omission in your work.
Business owner's policy (BOP): This is an insurance plan that acts as an all-in-one insurance policy, a combination of any of the above insurance types.
Step 11: Prepare to Launch
As you approach your opening day, there are a few ways to get prepared for the launch! These are some of the last steps to take to ensure you are ready to get started.
Develop your website
Developing a website is an important first step because it is how you will promote your business and clients will use it to learn more about your services.
You can create your own website using services like WordPress or Squarespace. This route can be very affordable but requires a bit of a learning curve to figure out how to make a website. If you aren't confident with technology, you can hire a web developer to create a custom website just for your business.
Essential software and tools
Being an entrepreneur can mean taking on a lot of different roles and functions, from marketing to accounting. It can get overwhelming and difficult to manage so many diverse activities! Luckily there are a lot of excellent software programs and tools to help you with specific business tasks. We have broken them down into different categories below.
Marketing
While a lot of your business will be walk-by customers, you should still spend time marketing yourself! Especially as a new business, it's important to get the word out so that customers are aware of you.
Social media is a particularly good way of promoting your business because you can create posts that advertise where you are setting up your mobile cart or truck for the day.
Facebook: Facebook is a great platform for paid advertising as it allows you to target specific customer demographics.
Instagram: Instagram offers the same benefits as Facebook but may reach different target audiences.
Website: Your website is the key marketing tool because that's how potential customers can learn more about your business.
Accounting
Quickbooks, Freshbooks, Xero: Popular web-based accounting programs for small and medium-sized businesses.
Note: If you are unfamiliar with basic accounting and bookkeeping, you may consider hiring a professional to complete your accounting, especially as you begin. The consequences for filing incorrect tax documents can be very significant, so it's important to be accurate.
Equipment
Outside of the ATM itself, you may need some tools and equipment to help you install and service them. Here is a list of items you may need to purchase to get started:
ATM(s) – used or new
Dolly / Furniture moving equipment
Truck
Toolbox
Lockbox
Step 12: Build Your Team
You may not need to hire any employees if you are starting out small from a home-based office. However, as your business grows, you will need to recruit full-time employees for various job roles. The potential employees for an ATM business include:
Driver
Installation specialist
Repair person
Maintenance person
HR
Accounting
The above given job titles are a reflection of some of the possible roles that an ATM business could create. Your business may need a few of them depending upon its size and HR requirements. You may also hire multiple workers for a single role, which again depends upon your business specific needs.
Free-of-charge methods to recruit employees include publishing a job post on LinkedIn, the company website, Facebook groups and classified sites.
Alternatively, you can try premium recruitment options, including advertising job posts on LinkedIn, Indeed, Glassdoor and ZipRecruiter.
You may also consider engaging the services of a recruitment agency to help you find the right talent.
Step 13: Start Making Money!
Focus on USPs
Unique selling propositions, or in short USPs, are the unique characteristics of your product that sets it apart from the competition.
Customers are inundated with the magnitude of buying options, so they want to quickly understand what's novel and different with your ATMs and whether it fulfills their wants.
You need to ensure that your USPs should pop-out on the website or other marketing collateral, stimulating the buyer's desire to buy from you.
Below are some signature USPs you could adopt as an ATM business:
Hi-tech ATM service provider – biometric security, "smart" or cloud-based functionality
Ease-of-use, responsive touch screen functionality
Forex ATMs
Lively or colorful branding
Mobile ATM specialist
Kickstart Marketing
Website and SEO – Create a website and optimize it for search engines.
Social media marketing – Create a strong social media presence especially on Facebook, Twitter and Instagram, and post there regularly.
Competitions and giveaways – Create interest and build an email list or social media following by offering prizes or giveaways for people who complete a certain action.
Optimize calls to action (CTAs) – Experiment with the text, color, size and position of calls to action such as "Buy Now". This can make a big difference to the percentage of web visitors who buy your product.
Signage – Put up eye-catching signage outside the store to make sure nobody misses it.
Flyering – Distribute flyers in the neighbourhood or at industry events and tradeshows.
In-Person Sales (IPS) – Visiting the B2B prospects in-person and presenting samples of your past transaction history.
ATM Business FAQs
How do ATM owners make money?
ATM owners make money off the transaction fees added to each ATM withdrawal from the machine. Each time a customer makes a withdrawal from the ATM, the customer agrees to a predetermined fee for the service. The fees vary based on the bank and ATM network, and are charged either at the time or as an item on the customer's bank statement.
How much passive income do ATMs provide?
The average ATM processes approximately 300 transactions monthly. At about $2.50 per transaction, the owner would stand to make approximately $750 per month per machine.
Who fills the money at an ATM machine?
The owner / operator of the ATM is responsible for filling the machine with cash on a periodic basis, either through their own team or by hiring a 3rd party provider. The typically minimum weekly balance is around $2,000.