How to Start a Pool Cleaning Business
Understand the Industry
Hone Your Idea
Create a Business Plan
Choose a Business Name
Register Your Business
Register for Taxes
Open a Business Bank Account
Organize Financing
Apply for Licenses/Permits
Rent/Buy Equipment and a Location
Get Business Insurance
Set up Website and Essential Software
Hire Staff
Start Making Money!
This is a one-stop resource that answers all your questions on how to start a pool cleaning business.
Think of it as the launch pad to help you set up a thriving pool service business while avoiding common mistakes people make when venturing into this industry.
The idea is to help you focus on the fundamentals and lay down a solid foundation for success.
For starters, there are over 10 million residential pools in the United States, according to the Association of Pool and Spa Professionals (APSP). Add the over 300,000 public swimming pools, and you have an industry beaming with opportunities.
That said, here's a step-by-step guide on how to start a pool cleaning business.
Step 1: Understand the Industry
There's more to being a pool cleaner than just showing up and wiping things down. Here are a few things you need to know for a successful launch.
Pros and cons
Like any business, pool cleaning isn't without pros and cons.
Pros
You can start with minimal investment
You get to work outdoors
The work is physical, helping you stay in shape
Cons
The work is seasonal – Cleaning pools flourishes only during summers
The job is tedious which can drain your motivation to work quickly and efficiently
You need training in pool cleaning techniques
Pool Cleaning Industry Trends
The pool cleaning services industry has experienced steady growth over the last five years. However, revenues dipped in 2020 primarily due to the Covid-19 pandemic.
While the future of the pandemic remains shrouded in mystery, market research firm IBISWorld predicts the recovery of this $6 billion market will be swift, with revenues reaching the pre-Covid 19 levels by 2025.
How much does it cost to start a pool cleaning business?
The startup costs for a pool cleaning company can vary depending on the pool care service you want to operate.
While the initial capital needed can be as little as $2,000, be sure to set aside at least $7,500 to $10,000 to get your business off the ground.
A significant portion of the capital goes toward buying equipment and supplies. Here's a minimum startup cost breakdown for a pool cleaning business:
Cleaning equipment: $1,500 – 2,000 (these include leaf rakes, water testing kits, brushes, hoses, vacuums, and skimmers)
Cleaning supplies: $500 – 1,000 (chemicals, filter cleaners, etc.)
Truck: $5,000. This may vary depending on whether you're using your truck or hiring one.
Insurance and permits: $500 – $1,000 per year.
Marketing: $500 per year
Recurring annual costs include insurance, permits, and marketing. You'll also need to replenish cleaning supplies. This can be monthly or weekly, depending on how soon they run out.
How much can you earn from a pool cleaning business?
You can charge $80 to $100 per hour as a pool cleaner and up to $200 per hour if you combine cleaning with maintenance and repair.
That said, your income goals, ability to complete jobs quickly, and the number of new inquiries and customers you win every month directly determine what your pool service can bring in per month.
Here's what we mean.
Let's say you want to gross $10,000 in revenue with your pool service business in a month.
With an average $80 hourly rate, you'll need to work for 125 billable hours per month to hit your target.
In essence, this means you'll have to win about 42 bookings per month, working an average of 3 hours per job to achieve your goal.
What barriers to entry are there?
Sure, starting a swimming pool cleaning business is pretty straightforward. However, in some states, you can't just decide to venture into the pool industry.
You'll need to be certified and undergo training before you're allowed to clean a residential or commercial pool. So, be sure to get technical and educational training before you venture into this industry.
If you're not a pool technician, you can start by offering maintenance services such as skimming debris out of the water as you continue to hone your skills.
What does running a pool cleaning business involve?
There are two major facets of pool cleaning, these are:
Pool maintenance
This includes tasks such as:
Testing water pH levels
Cleaning filter cartridges
Checking water levels
Vacuuming the bottom
Skimming debris floating on top of the water etc
Repair and replacement
This covers tasks such as:
Fixing cracks and leaks in the swimming pool structure
Fitting and repairing pipes in pools and spas
Replacing underwater light fitting
Fixing faulty pool cleaning equipment
Typically, pool cleaning is a 9 am to 5 pm business. However, the schedule may differ depending on your customer's availability. Most pool owners choose to hire pool cleaners and spa professionals who can come at scheduled times.
In essence, this means you should be open to working during weekends.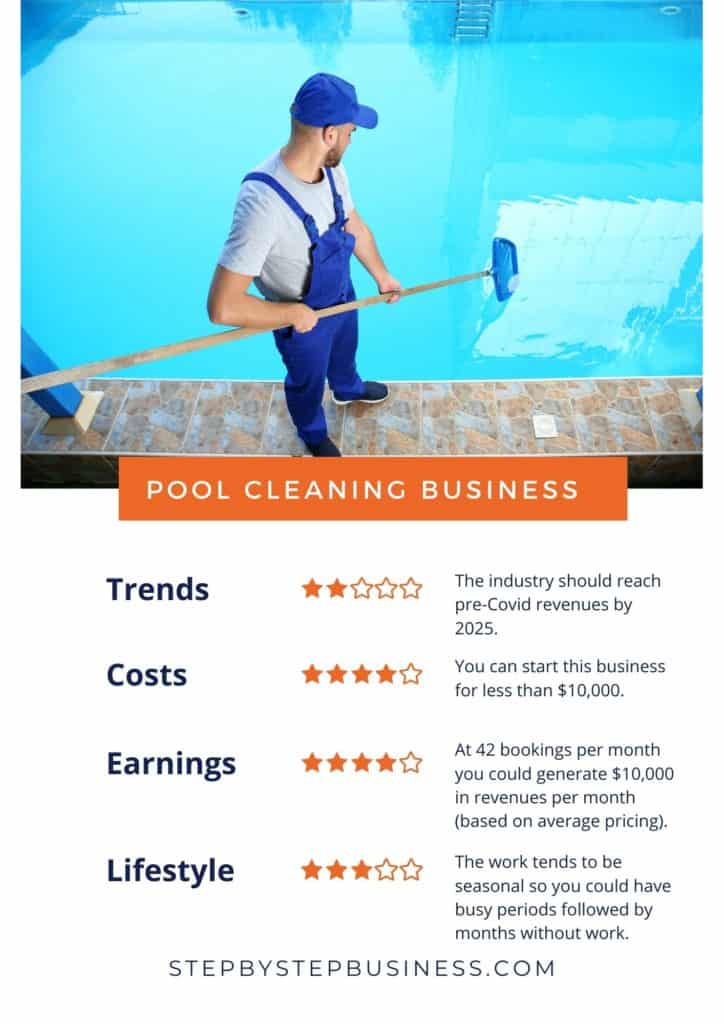 Step 2: Hone Your Idea
With the basics out of the way, it's time to lay the groundwork for a successful launch.
Choose your niche
The pool cleaning business falls into two broad categories – cleaning and repair/maintenance. It makes perfect sense to decide which one you want to pursue early on to increase your chances of success.
Niching-down makes it easier for you to describe your potential customer. It also enables you to determine the best marketing strategy to win prospects.
Identify your target market
Once you've decided which segment of the market you want to pursue, the next step is to identify your typical customer.
You'll choose your target market depending on your niche. Most pool professionals specialize in commercial or residential cleaning.
Residential pools include indoor and backyard pools. Examples of commercial pools include recreational and lap pools.
Your primary target market for residential pools is any homeowner with a pool. Potential commercial clients include recreation centers, hotels, gyms, apartment complexes, and spas.
Where will your business be based?
The location or service area of your swimming pool cleaning business affects your ability to draw customers.
For instance, if you're in Florida, you can offer maintenance services for indoor pools, hot tubs, spas, and above-ground pools due to the availability of these types of pools.
However, you may not get many customers for above-ground pools in New York since there aren't many such pools in the area.
So, as a rule of thumb, you're better off locating your cleaning business in an area with a high concentration of your target customers.
Who will be your competition?
Your direct competitors are other cleaning companies in your area. You can narrow down your competition by service or niche.
For instance, if you clean commercial pools, you'll be competing against other services targeting the same types of pools.
Research your competition to determine what you can do better to stand out. Ideally, you want to target an underserved segment of the market. Narrow your focus to increase the chances of dominating your niche.
Remember, a customer is likely to hire a niched-down expert who's more familiar with cleaning their type of pool than a generalist.
How Much Should You Charge?
Pool cleaning pricing may differ from one task to another. So, it would be best if you considered several factors before you determine how much you'll charge, such as:
The type of pool
The number of hours needed to finish the job
The location of the pool
Chemical costs
Fuel cost
As stated, the hourly charge to clean pools varies from $80 to $100 per hour.
We recommend you inspect the pool before giving a quote.
Step 3: Create a Business Plan
Putting together a business plan is one of the essential steps when starting a pool cleaning business. A well-thought-out plan is the backbone of your business and will assist you in outlining your operations.
On top of that, it will help you secure funding from lending institutions. A good pool service business plan should cover the following seven elements:
Executive Summary
Business Description
Market Analysis
Organization Management
Marketing and Sales
Funding Requirements
Financial Projections
Step 4: Choose a Business Name
The perfect business name for your swimming pool cleaning services should be short, memorable, and distinct. You're better off with a name that gives your customers an idea about your services and one that helps you stand out from the competition.
We suggest you add SEO signals to the name to help boost your business's ranking in Search Engine Results Pages (SERPs). Consider including phrases such as "pool cleaning Florida" or "swimming pool cleaner Maryland" in your business name to boost your local SEO efforts.
In addition, be sure to use third-party tools such as Namechk to check if the social media handles for your business name are available.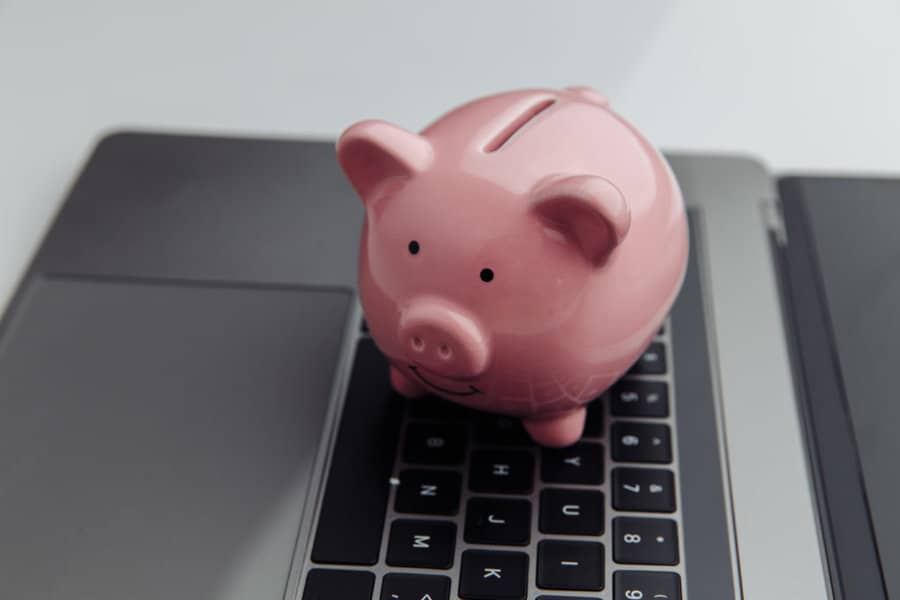 Step 5: Register Your Business
Registering your pool service startup involves picking a legal identity for your business. Here, you can choose from the following options:
Sole proprietorship
Sole proprietorships are the simplest to form and the easiest to start. On the flip side, while you have total control of your service, you're legally liable for your business's debts.
In essence, this means your assets can be sold if a customer successfully sues you for damages. A sole proprietor reports profit or loss on his/her tax returns.
Partnership
The dynamics of a partnership are more or less like those of a sole proprietorship, except that it involves two or more owners.
Partners are liable for the debts and liabilities of their business. Each partner reports profit or loss in his/her personal tax returns.
Corporation
Corporations have an unlimited number of shareholders. They're more expensive to form than sole proprietorships and partnerships. Even so, owners enjoy limited personal liability for business debts.
LLC (Limited Liability Company)
We strongly advise that you start your swimming pool business as an LLC. First, LLCs are easier to form than corporations. Moreover, you cannot be held personally liable for an LLC's debts—there are exceptions though.
Most importantly, running your business as an LLC allows you to avoid double taxation – meaning you'll report your LLC's profits and losses in your personal tax returns.
An LLC registration process varies from state to state. You can find more information about the process on your state's official website.
Step 6: Register for Taxes
Next, you need to register your pool service company with the IRS. This will allow you to receive your Employer Identification Number (EIN). The EIN is like your business's Social Security number, and you'll need it to file for taxes.
You can sign up for your EIN on the IRS official website.
Consider the following when registering for taxes:
State Income and Franchise Taxes – Forty-four states levy state income taxes. Some impose a franchise tax. California, for instance, collects at least $800 per year from every LLC doing business in the state.
Employment Taxes – If you have employees, you'll need to register for state payroll taxes. Again, this may vary from state to state.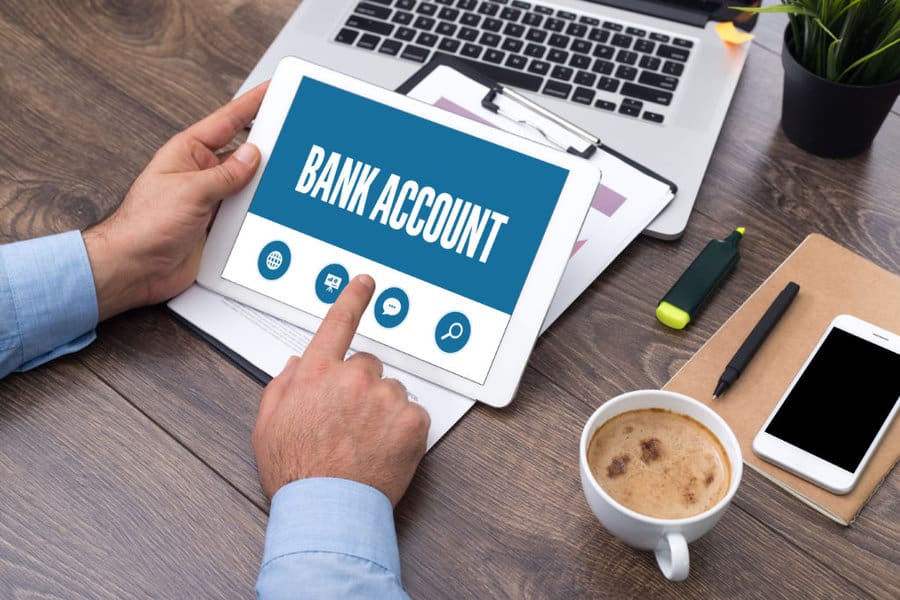 Step 7: Open a Business Bank Account
Operating a business bank account is crucial for personal asset protection.
Mixing your business and personal accounts means your assets such as car, home, and other valuables are at risk if your business is sued.
Besides, if you mix business and personal transactions, you'll have a problem trying to determine your profit margin.
On top of that, a business checking account enables you to file taxes accurately. Filing accurate tax returns can become problematic when you mix personal and business expenses in the same account. And, inaccurate tax reports can expose your pool service to IRS penalties.
Step 8: Organize Financing
As you prepare to launch your business, you'll need to get your finances in order. Some of the strategies you can use to fund your startup up include:
Savings – This should be your first option for funding your pool service
Bank Loans
Small Business Association (SBA) loans
Family and friends
Retirement fund – You can borrow against your 401(k) to start your pool service business.
Business incubators and accelerators
Step 9: Apply for Licenses/Permits
While swimming pool cleaning businesses are not subject to local and state licensing regulations, you'll need to apply for the licenses required to run a business in your state. These include:
Local business licenses
State registration
Tax registrations
If your business only offers water treatment services and doesn't repair, maintain or install pool equipment, you don't need any licensing.
However, if you're a commercial pool cleaner, you'll need to be a certified technician. In essence, this means you'll take a certification program consisting of 14 to 16 hours of training and an examination.
If you want to offer repair and replacement services for parts like pool railings, filters, or piping, you'll need to apply for a contractor's license.
Note – Licensing varies from state, county, and local levels.
Step 10: Rent/Buy Equipment and a Location
You don't need a lot of equipment to start a pool cleaning company. Still, to get your business up and running some of the must-haves include:
Skimmers and brushes
Water testing kit
Pool cleaning chemicals
Leaf rakes
Vacuum
A large truck or SUV to transport your equipment
A trailer if the truck doesn't have enough room for your equipment
Supplies – Invoice book, contract, and pricing sheets.
Most of these items aren't expensive, and you shouldn't have a problem buying new ones if you have adequate funding. Consider hiring a truck/trailer if you're on a tight budget.
You can find affordable pool cleaning equipment and supplies in places such as Amazon and HomeDepot.
As for the location, you can start your cleaning service at home or search websites such as Craigslist, CRExi, and Loopnet to find commercial renting space.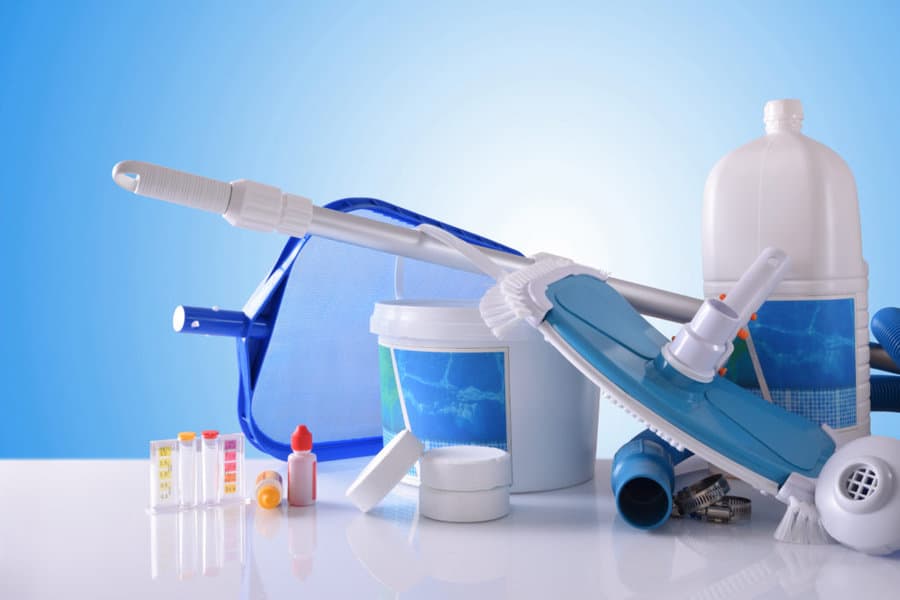 Step 11: Get Business Insurance
Your business needs insurance to run lawfully and safely. Business insurance safeguards your company's financial security if a covered loss occurs.
While there are several insurance policies created for pool cleaners, the most important coverage you need includes general liability, workers' compensation, and commercial auto insurance.
General liability
This protects your business against third-party risks such as a client who trips over a pooling net and sues your company.
Workers' compensation
Almost all states require pool cleaning businesses with employees to buy this policy. It covers your worker's medical bills for work-related injuries and partial lost wages.
Commercial auto
This covers property damage and injuries in an auto accident. It also caters for repairs to your vehicle caused by weather or vandalism.
Step 12: Set up Website and Essential Software
At this point, you'll want to create an online presence for your pool cleaning service and get the necessary software.
Website
A professional-looking website will allow customers to book your services from anywhere and, by extension, create awareness about your business.
When starting, your focus should be locking down the essentials. These include:
A website name for your pool cleaning business
Hosting
Branding – Company logo, business email address, etc. If you don't have experience with creating logos, you can consult services such as 99 Designs.
A business phone number
Business address – You can start with your home address or one that's close to your location, customers, and competition.
Note – Your company's proximity to customers, competition, and location determines where your pool service business ranks on Google My Business.
Software
The right software can help optimize how you run your pool cleaning business.
Good pool service software will include functions designed to improve customer service and manage your processes, from optimizing payments to scheduling technicians.
Some of the software your startup could benefit from including QuickBooks, powerful accounting software to streamline your accounting processes, and PoolTrac for scheduling and managing your employees.
Others include:
You'll also want to leverage Google Local Service Ads to help you generate leads in your service area.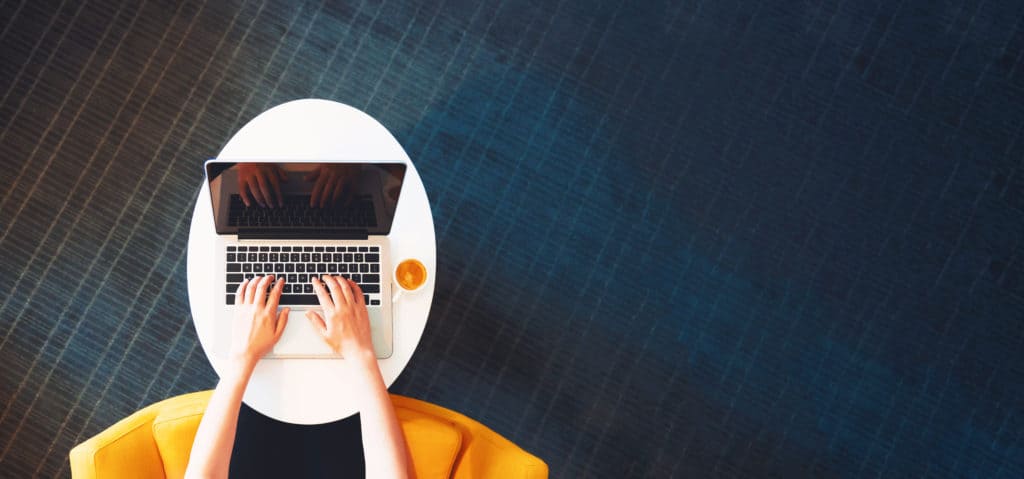 Step 13: Hire Staff
Hiring the right people is crucial to the success of your business. Ideally, you want hardworking employees committed to the success of your startup.
Some of the places you can look for workers include:
LinkedIn
Job boards like JobMonkey
Facebook groups
Shared economy sites
You can also ask for referrals from your friends and associates.
Step 14: Start Making Money!
While there are several strategies you can use to market and advertise your pool cleaning business, you're better off focusing on two to three channels to bag your first customers. These include:
Talking to your family, friends, and connections
The easiest place to start is your existing connections.
Talk to the people you know and request them to spread the word. Sure, you may not get many customers, but you can win one or two people to get your business off the ground.
Google My Business listing
Google My Business is an affordable way to make your swimming pool cleaning business discoverable online, both on maps and search.
Interacting and connecting with potential customers
With a Google My Business account, you can quickly connect with prospects. You can upload photos and offers on your profile to show target customers what makes your business unique and why they should work with you.
Besides, prospects can interact with your business via calls and direct messaging.
Google Local Services Ads
The biggest advantage of using Google Local Services ads is that you can run a laser-targeted campaign, allowing you to pinpoint your ideal customer.
Plus, you only pay for legitimate leads, and it costs a reasonable $6 to $30 per lead, depending on your location and service.
Tip – You can use Google Earth to locate pools in your area of service.
Pool Cleaning Business (FAQs)
How many pools can be cleaned in a day?
Well, this depends on several factors. You'll clean more swimming pools if you have several employees to complete jobs quickly.
The customer's cleaning requirements can also determine how many pools you can clean in a day. It'll take longer to complete a task if the pool requires repair and replacements.
What equipment do I need to start a pool cleaning business?
This depends on the services you're offering. You'll need more equipment if you're doing repair and replacement in addition to cleaning. However, you can get started with a skimmer, water testing kit, leaf rakes, cleaning brushes, and pool chemicals as the bare minimum.
How much should I charge to clean pools?
The chargeable amount depends on the work involved, type of cleaning, and pool size. However, standard rates start from $80 to $100 per hour.