Back to Business Ideas Categories
18 Cleaning Business Ideas
Written by: Carolyn Young
Carolyn Young is a business writer who focuses on entrepreneurial concepts and the business formation. She has over 25 years of experience in business roles, and has authored several entrepreneurship textbooks.
Edited by: David Lepeska
David has been writing and learning about business, finance and globalization for a quarter-century, starting with a small New York consulting firm in the 1990s.
Updated on October 2, 2023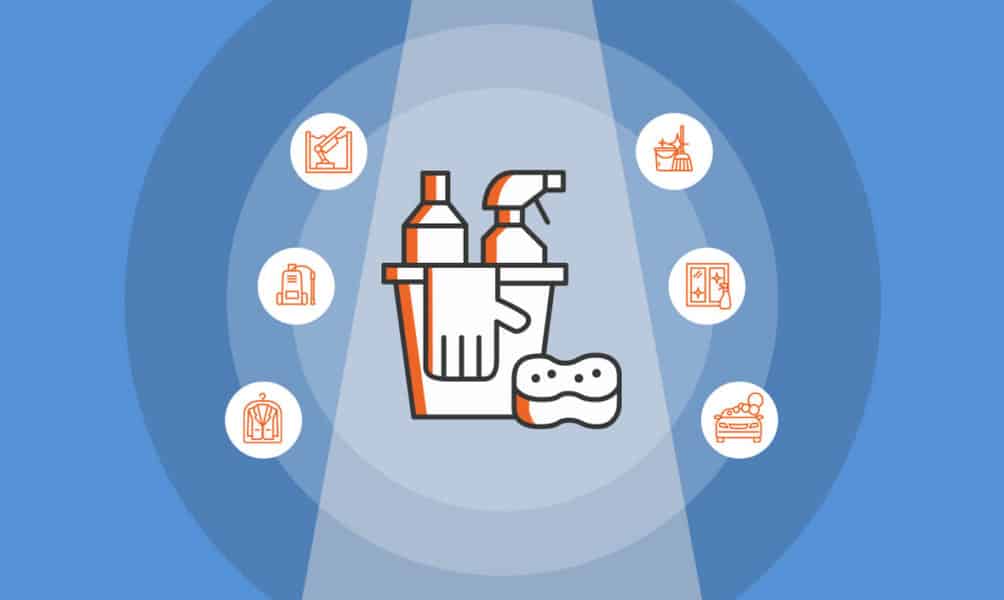 18 Cleaning Business Ideas
Cleaning Service
Pressure Washing
Car Wash
Hand Car Wash
Junk Removal
Snow Removal
Window Washing
Laundry Business
Laundromat
Janitorial Business
Pool Cleaning
Foreclosure Cleanout
Dry Cleaning
Commercial Cleaning Service
Wash and Fold
Crime Scene Cleanup
Gutter Cleaning
Carpet Cleaning
Demand for cleaning services in both homes and offices surged in the last two years because of the COVID-19 pandemic. It is expected to remain high as Americans adopt as norm the cleaning practices that were developed over the last two years.
Now would be a good time to start your own cleaning business. We've prepared a list of cleaning business ideas for you to consider. Among the possibilities are window washing, dry cleaning, and pool cleaning businesses. Take a look and see if anything seems viable to you.
1. Cleaning Service
Do you find yourself cleaning your home on the weekends? Do you have a knack for organizing and making things shine? If so, you might consider starting a cleaning business. It's one of the easiest businesses to start, and cleaning is a $76 billion industry that has seen steady growth in recent years, so the opportunity is there for the taking.
You just need some cleaning equipment and supplies and you could start offering your services on a popular app like TaskRabbit, until you set up your own website. You could offer a maid service, end-of-lease cleaning, carpet and upholstery service, or all of the above. You also have the option of working part-time at first to see how it goes before you jump in completely.
Keep in mind, cleaning is often a dirty business involving demanding work, so it's not for everybody. But if you enjoy making things look great, this could be the entrepreneurial niche for you.
2. Pressure Washing
If you've never heard of pressure washing, you might want to take a closer look because it's a growing industry with serious profit potential. Pressure washing, also known as power washing, involves the use of a high-pressure water stream to remove loose paint, mold, grime, mud, and other unwanted substances from buildings, vehicles, and other hard surfaces.
Because of its quickness and effectiveness, more and more people are starting to prefer a pressure wash to more traditional methods. And since demand is high, companies are able to charge a significant mark-up. Best of all, getting started is a snap. You don't need any licenses or certifications, just the right equipment and a good website and you'll be in business!
After that, you'll just have to decide whether you want to focus on residential customers or business clients, and start targeting them with strong marketing.
3. Car Wash
Some people REALLY love their cars, and need to keep them looking beautiful in and out. That's why the US is home to nearly 17,000 car washes and a growing $28 billion industry. With a decent-sized investment, you could start your own car wash business and make countless car owners beam with pride while making a good living.
One crucial element will be location, as few people drive out of their way for a good car wash. So it's important to find a location with ample space, steady vehicular traffic and easy access. Near malls and shopping centers, or alongside highway rest stops, are among the stronger options. Once you've nailed that down, you'll need to invest in top-of-the-line car washing machines and fine-tune your knowledge of car detailing. Soon enough, you'll be washing your way straight to the bank!
4. Hand Car Wash
If you're looking for a low-cost business idea, why not start a hand car wash business? It's easy to start, requires minimal investment, and a great way to make money. Americans wash or have their cars washed at least every two weeks, and many car owners still prefer the traditional method of washing by hand instead of automated car washing.
Hand car washes are more thorough as there are areas in the car that machines can't reach, can prevent premature rusting with the use of steam, and are more eco-friendly since there won't be any toxic runoffs.
A hand car wash business can be operated as a standalone business or as a part of a larger service business, such as an auto detailing shop. It is important to identify a target market and craft a marketing strategy to attract customers. It's also a good idea to get on social media, start offering your services to your family and friends, and establish a referral network.
5. Junk Removal
You've probably heard that real estate has been booming of late. But you may not realize that this also means the construction industry has been doing well, which consequently means that demand for junk removal services has been on the rise. The construction of new office buildings and residential properties creates massive amounts of waste and used materials. As a result, the US waste removal industry is now worth $60 billion and seeing steady growth, and if you don't mind a bit of heavy lifting, now is an excellent time to start your own junk removal business.
It's probably easier than you think. You'll need a truck, as well as the right tools and equipment — both of which you could find with a bit of online digging. Most likely, you'll also need a commercial driver's license, as some of the loads you haul are likely to exceed the weight limit allowed under a normal license. Finally, you'll want to reach out to contractors, construction firms, developers and property managers to offer your services.
A smart approach is to offer a discount to attract your initial clients. Then, once you've delivered fantastic service, the referrals, and the cash, should start rolling in.
6. Snow Removal
If you're looking to make some extra money during the winter months, consider starting a snow removal business. It may be seasonal, but it can be lucrative. It is also essential for everyone's safety. With the pandemic winding down, snow and ice removal professionals in the US reported an improvement in their financial performance. Nearly seven in 10 professionals surveyed in 2021 said they had bigger revenue than the previous winter.
When starting a snow removal business, it is important to comply with all legal and insurance requirements first. It's also a good idea to identify your target market and study the competition to find out what they're offering and how much they're charging. Having access to the latest technology and equipment is crucial in optimizing efficiency, so you should monitor market trends. Snow removal requires heavy machinery such as front-end loaders to remove snow, especially those that have accumulated from plowing. With careful planning, your snow removal business would be off to a good start.
7. Window Washing
Did you ever notice what happens to windows that don't get cleaned? They stop being windows because you can barely see through them! Window washing is always in demand, which is why it's a billion-dollar industry in the US, and a serious business opportunity.
Starting a window washing business is incredibly easy. All you need is the proper gear and reliable safety equipment and you can start offering your services on an online platform like Angie's List or TaskRabbit. You could also check out the going rates to ensure your prices are competitive and watch a few YouTube videos to make sure you're up on the latest techniques, but otherwise it really is that easy. Just always be sure to check all your gear and stay safe up there!
8. Laundry Business
It's a dirty job, but somebody's gotta do it! That's why laundry is a billion-dollar industry in the US, because there will always be clothes that need cleaning and people who don't want to deal with it. You can get in on the action by starting your own laundry business. Best of all, with the latest technologies, you can keep tabs on your machines via mobile app and keep your hands clean as you watch the money roll in.
Significant investment will be required, to buy at least a dozen machines and rent out a good-sized space in a high-traffic location. The next step will be to determine your services, whether you want to be a self-service-only laundry or offer drop-off services as well. You could also make an even larger investment and offer high-end dry cleaning. Whichever route you choose, your chances are good, as US laundromats have an impressive 95% success rate.
9. Laundromat
Laundry is one of the most annoying household chores. We usually don't do it because we want to, but because we are in desperate need of clean clothes! For precisely this reason, laundromats that provide drop-off services, cleaning customers' clothes as they go about their day, are always in great demand.
A laundromat can be a profitable enterprise that provides much needed convenience to the local community. But there are two key hurdles. The first is finding a good location, one with no nearby competition, lots of foot traffic, and enough space for a couple dozen machines. The next hurdle is, you guessed it, coming up with the money for all those machines! Starting a laundromat tends to cost about $100,000 at the low end, and some startups spend much more than that.
But recent advancements in washing machines mean that they accept all kinds of payment and you can keep track of your business via mobile app. These days, a laundromat is largely hands off, so once it's up and running there will be little for you to do besides count all that money rolling in.
10. Janitorial Business
Every large building in the country needs custodial services, which is why commercial cleaning in the US is worth $82 billion and growing fast. With a small investment, you could start your own janitorial business, help keep your town clean and grab a slice of that huge market. You don't even need any experience or expertise, because cleaning isn't terribly complicated. You do, however, need to be willing to do a bit of dirty work.
To get started, you'll need to buy some reliable cleaning equipment and supplies, from buckets and mops to brooms, washcloths and cleaning solutions. Next, you'll probably want to get some insurance to minimize the risk of any incidents or accidents. Finally, just register your business and begin offering your services to local schools, businesses, hospitals and government office buildings. You might want to use online platforms like Angie's List and TaskRabbit, which help expand your reach. Once you get those first few clients, and provide excellent service, you'll be on your way to cleaning up big time!
11. Pool Cleaning
Pool cleaning might not sound very glamorous, but it's honest work that pays well. Best of all, as pools have become less expensive in recent years, they have also become more popular, which means demand for pool technicians is at an all-time high.
Of course, pool maintenance involves a lot more than cleaning. The trouble could be anything from a leaky skimmer or malfunctioning pump to an algae bloom or clogged pipes. There's tons of pool-related servicing to be done. So you could start a pool cleaning business, ride the wave to serious success and soon you'll be sitting by the pool yourself, enjoying all the profits.
It helps to live in an area with a lot of pools, and somewhere that's warm year-round, like Florida or Arizona. You'll need to get all the appropriate equipment, from filters to cleaning chemicals, brushes, hoses, buckets, nets and more. Finally, enroll yourself in a two-day course to be trained and certified as a pool cleaning technician. All this done, you can start offering your services online while you build your website and launch your new pool cleaning business.
12. Foreclosure Cleanout
A foreclosure cleanout business involves the removal of all furniture, appliances and junk when a property has foreclosed. It can also cater to properties that have been abandoned. If you're looking for a new opportunity, then consider starting a foreclosure cleanout business. Foreclosure filings across the US declined at the start of the pandemic, but picked up in late 2021, with ATTOM reporting a 70% year-on-year increase in the third quarter. These are expected to rise further as hundreds of thousands of Americans are set to exit the foreclosure moratorium and mortgage forbearance program.
To start a foreclosure cleanout business, it's important to connect with prospective clients. You can do this by developing a website and establishing social media accounts to promote your services. You don't have to limit your target market. Your business can cater to single-family homes, apartments, and commercial properties. To keep up with the competition, you might want to offer cleaning and repair services after removing the junk. It would take a lot of hard work, but you could make a living off a foreclosure cleanout business.
13. Dry Cleaning
There are no hard and fast rules when it comes to dry cleaning your clothes. Some have their formal suits or gowns dry cleaned after the third wear while others do it after five or six wears. One thing is sure, though — as the economy improves and more social gatherings are held, the $8 billion dry cleaning industry is expected to bounce back from decline in the last two years. It would be wise to start your dry cleaning business now and position yourself for success.
Before you get started, it is important to identify your target market and decide what services you're going to offer. Besides individual consumers and corporate clients, other potential customers include hotels, restaurants and hospitals. You could provide full-service laundering and dry cleaning services as well as special services for certain types of garments such as fur, leather and suede. Once you've complied with all legal and regulatory requirements, you should embark on a marketing campaign to promote your business.
14. Commercial Cleaning Service
Living and working in a clean environment is good for mental health, but many Americans are too busy to clean their homes and offices. That's why starting a commercial cleaning business is an excellent choice.
The cleaning services industry in the US is projected to grow 10% in annual earnings over the next five years. The industry currently employs nearly two million people. More jobs are expected to be created because of the increase in demand, particularly among the single-person households.
When starting a commercial cleaning business, it is important to differentiate yourself from the competition. You can do this by offering eco-friendly services with the use of green cleaning products, tools, and techniques. Instead of chemicals, you can use baking soda, vinegar, lemons, and more. Green techniques include reusing old toothbrushes and plastic bottles, and upcycling magazines. You will also need to make sure your business is legally compliant before you can start accepting clients. If you plan carefully, your commercial cleaning business can provide you with a sustainable income.
15. Wash and Fold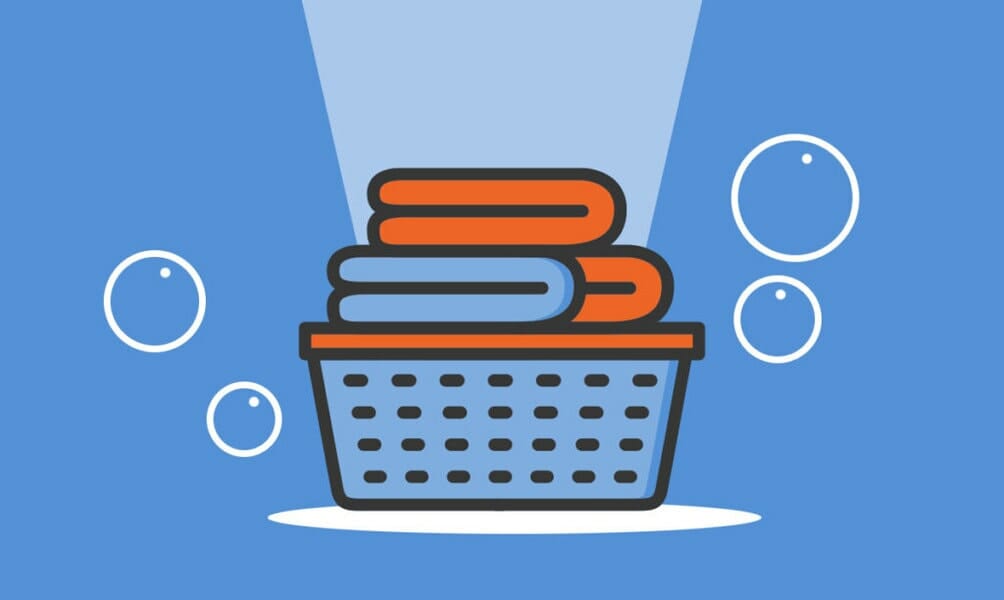 Are you looking to cash in on Americans' increasingly busy lifestyles? One way to do this is to start a wash and fold business. The broader US laundry facilities industry is expected to grow further and reach a market value of more than $14 billion by 2028.
To be viable, you will need to make a business plan, make sure you have a steady supply of electricity and water, and find reliable suppliers of detergent, fabric softener and other laundry supplies. You will need to study the competition and adopt the latest technology to be able to get a share of the market. Most laundry shops charge wash-dry-fold services per kilo. Some offer 24-hour drop-off and pick-up services through locker systems or automated kiosks. Others use smartphone applications. You can try to provide delivery and value-added services like button or zipper replacement to differentiate your business and gain more customers.
Keep in mind that your location is important. Demand is usually high in areas near universities, dormitories, apartments and offices.
16. Crime Scene Cleanup
Crime scene cleanup is a serious and often underrated business. It can be messy and dangerous, but somebody has to do it. There were nearly eight homicides for every 100,000 people in the US in 2020, a 30% increase from the previous year. It was the highest annual increase in the US homicide rate since the September 11 terrorist attacks. If you have the required skills and training, why not consider starting your own crime scene cleanup business?
In this type of business, it's important to be prepared for anything. Crime scene cleanup refers to the removal of blood, bodily fluids and other potentially infectious materials after a death, accident, or communicable disease outbreak. The objective is to make a home, office, or vehicle safe again. The requirements for this job may vary from state to state, so you should consult your local law enforcement agencies before you get started. Once you establish yourself as an expert in the industry, it would be easy to find clients.
17. Gutter Cleaning
Are you thinking about starting your own business? Consider a gutter cleaning business. Demand for gutter cleaning services increased as more people stayed home in the last two years. The US gutter services industry has grown steadily in the last five years and is expected to earn more than $700 million in 2022.
There are many ways to start a gutter cleaning business. You'll need some money upfront for buying cleaning supplies and tools. Before you launch your business, though, research the market and see what other gutter cleaning services providers are offering and what their rates are. You can differentiate your business by offering services using environment-friendly cleaning products and automated solutions.
Once you've decided on your niche market, start selling your services on social media channels like Facebook and Instagram, or seek referrals. Offer discounts to attract clients and provide additional services like painting over graffiti, or snow shoveling in the winter. Starting your own business can be a daunting task. But with a bit of research and planning, it can be an incredibly rewarding experience.
18. Carpet Cleaning
It's inevitable that carpets get dirty, which helps explain why carpet cleaning is a $5 billion industry in the US. It's also seeing sharp growth these days, thanks in part to greater concerns about cleanliness and sanitizing as a result of the pandemic. This means now is a great time to start a carpet cleaning business, help people live healthier cleaner lives and ride the wave to success.
Getting started is not as difficult as you might think. You'll need cleaning equipment and a vehicle in which to transport it from job to job. You'll also need to acquire the relevant licenses and permits. Once all that's done you can offer your services at online platforms and start marketing your new business. If you use the latest cleaning solutions, which are safe and environmentally-friendly, and promote this aspect of your business, you'll likely be cleaning up — literally and figuratively — in no time.
Comments