Business Plan vs. Business Model
Written by: Carolyn Young
Carolyn Young is a business writer who focuses on entrepreneurial concepts and the business formation. She has over 25 years of experience in business roles, and has authored several entrepreneurship textbooks.
Edited by: David Lepeska
David has been writing and learning about business, finance and globalization for a quarter-century, starting with a small New York consulting firm in the 1990s.
Updated on September 15, 2023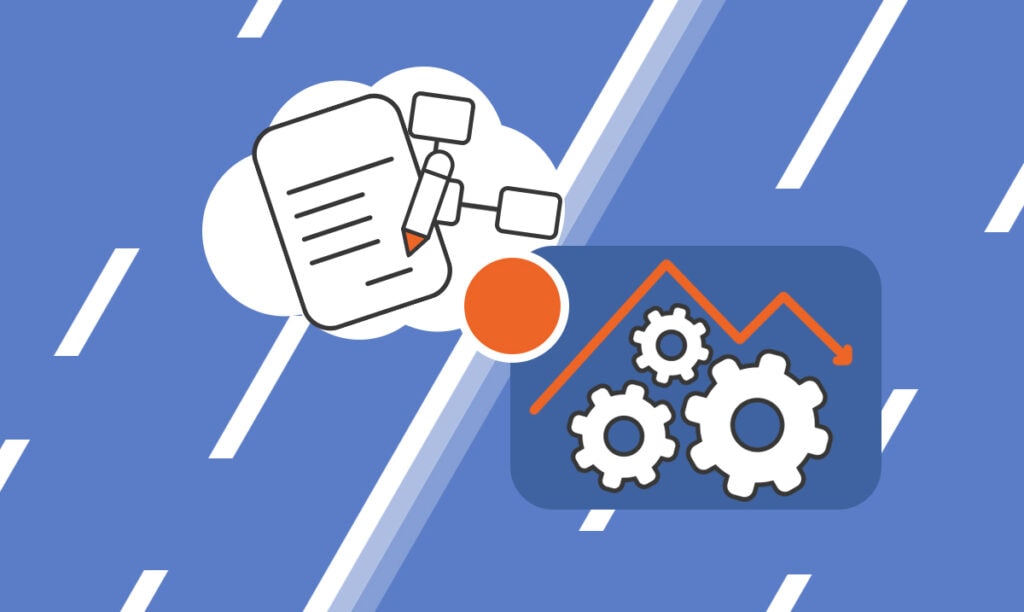 Business Plan vs. Business Model
Business Model
Business Plan
In Closing
If you're starting a business, you have a business model, whether you know it or not. A business model is the foundation of any business idea; it basically outlines how the concept offers value and potential for growth. Essentially, a solid business model ensures that business will make money.
A business plan, on the other hand, is the business owner's plan to put that model into action. It's much more detailed and includes financial projections, objectives, management decisions and further steps.
Still unsure? Have no fear, this handy guide lays out the differences between a business plan and a business model so that you know exactly what you and your business need to succeed.
Aspect
Business Plan
Business Model
Definition
A formal written document that elaborates on the operational, financial, and marketing details of a business. It is often used to secure funding or guide a business's growth.
A conceptual framework that defines how the business creates, delivers, and captures value. Often summarized visually with tools like the Business Model Canvas.
Purpose
To detail the company's strategy, milestones, financial projections, market research, and other specifics. Helps in providing direction, attracting investors, or guiding expansion.
To illustrate how a company operates, from sourcing raw materials to delivering the end product/service to customers, and how it intends to achieve profitability.
Components
Executive Summary
Company Description/Overview
Products/Services Offered
Market Analysis
Marketing and Sales Strategies
Operations and Management
Financial Plan
Appendices
Value Proposition
Key Activities
Cost Structure
Key Partners
Key Resources
Revenue Streams
Customer Segments
Customer Relationships
Channels
Duration
Typically covers a specific time frame (like 1, 3, 5 years).
Timeless as long as the business operations remain consistent, but needs revision when the model changes.
Target Audience
Investors, lenders, partners, and internal team members.
Primarily for internal stakeholders but can be used externally for partners and strategic collaborations.
Level of Detail
Detailed and comprehensive. Can be dozens of pages long.
High-level and summarized. The Business Model Canvas, for instance, fits on a single page.
Flexibility
Tends to be fixed for the time frame it covers but can be updated as needed.
Typically more fluid, with frequent updates as the business learns and pivots.
Main Focus
Planning the future based on research, forecasts, and assumptions.
Describing how the business operates in its entirety and how it creates value.
Business Model
In simple terms, a business model is how the business will make money. Selling ice to eskimos, for instance, is a bad business model. Selling team jerseys to rabbit sports fans, on the other hand, is a solid business model.
The components of a business model are best illustrated by Swiss entrepreneur Alexander Osterwalder's Business Model Canvas, which is a visual representation with nine sections. Four sections represent internal elements of a business that enable it to function and are related to costs.
Four other sections represent external elements that enable the business to bring in revenue and are related to the customer. The ninth section is the business' value proposition.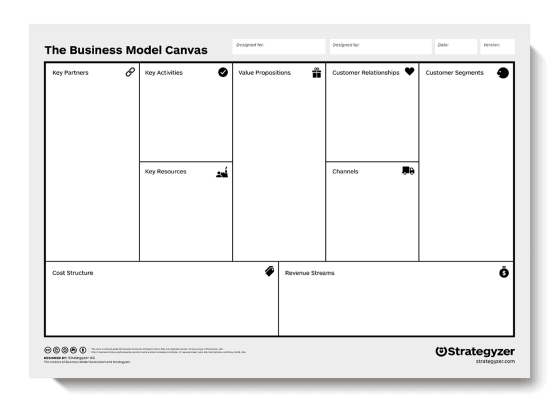 Value Proposition
The value proposition is at the heart of your business model. Your value proposition, which should be no more than two sentences long, needs to answer the following questions:
What are you offering
Whose problem does it solve
What problem does it solve
What benefits does it provide
How is it better than competitor products
Key Activities
Key activities are all the activities required to run the business and create the proposed value. These can include product development and distribution and any other necessary activities.
Cost Structure
The cost structure is a sum of all you'll need to spend to make the business function. It's the costs you'll incur to run the business and bring in revenue.
Key Partners
Key partners are external partners involved in delivering value, such as vendors and suppliers, or maybe a bank.
Key Resources
Key resources are any necessary practical elements that come with a cost. These might include your office space, employees, and equipment like computers.
Revenue Streams
Revenue streams are the ways in which you receive payment from customers. You may have more than one revenue stream, such as via direct sales and subscriptions.
Customer Segments
Customer segments are the groups of people to whom you provide goods or services. In other words, your target market. Maybe your products are aimed at younger women, for instance, or older men. Whatever your target segments, you should build customer personas of each group so that you know how and where to reach them with your marketing.
Customer Relationships
Customer relationships refer to how you interact with your customers to deliver value. Your interactions may be online only, by phone, in-person, or all of the above.
Channels
Channels refer to how you reach your customers, such as social media, internet search, direct sales calls, trade shows, and so on.
To Summarize
If you're just starting a business, the Business Model Canvas is a great way to understand and examine your business model. One thing to remember is that the elements you put in your Canvas will be based on assumptions that will at some point be tested in the market and adapted as needed.
Another thing to remember is that you do not need to do a Business Model Canvas. It's merely an exercise that can help provide insight into your business model.
Business Plan
A business plan is a detailed document that describes how the business will function in all facets. The key is in the "plan" part of the name. It will specify how you'll launch your business, gain customers, operate your company, and make money. A business plan, however, is not a static document.
The initial version will be based largely on assumptions, supported by research. As you run your business you'll constantly learn what works and what does not and make endless tweaks to your plan.
Thus, creating a business plan is not a one-time action – it's a dynamic and continuous process of crafting and adapting your vision and strategy.
You'll present your business plan to potential backers, though in recent years some investors have begun to embrace the Business Model Canvas as a tool to assess a business' potential.
A strong business plan includes eight essential components.
1. Executive Summary
The executive summary is the initial section of your business plan, written last, summarizing its key points. Crucial for capturing investors' and lenders' interest, it underscores your business's uniqueness and potential for success. It's vital to keep it concise, engaging, and no more than two pages.
2. Company Description/Overview
This section provides a history of your company, including its inception, milestones, and achievements. It features both mission (short-term goals and driving force) and vision statements (long-term growth aspirations). Objectives, such as product development timelines or hiring goals, outline specific, short-term targets for the business.
3. Products or Services Offered
Detail the product or service you're offering, its uniqueness, and its solution to market problems. Explain its source or development process and your sales strategy, including pricing and distribution channels. Essentially, this section outlines what you're selling and your revenue model.
4. Market Analysis
Industry Analysis: Research your industry's growth rate, market size, trends, and future predictions. Identify your company's niche or sub-industry and discuss adapting to industry changes.
Competitor Analysis: Examine main competitors, their unique selling points, and weaknesses. Highlight your competitive advantages and strategies for maintaining them.
Target Market Analysis: Define your target market, their demographics, needs, and wants. Discuss how and where you'll reach them and the potential for market shifts based on customer feedback.
SWOT Analysis: Break down your company's strengths, weaknesses, opportunities, and threats. Detail your unique attributes, potential challenges, market opportunities, and external risks, along with strategies to address them.
5. Marketing and Sales Strategies
Marketing and Advertising Plan: Use insights from your target market analysis to decide advertising channels, emphasizing platforms that best reach your audience, like TikTok over Instagram. Develop a concise value proposition to be central to all marketing, detailing how your product addresses specific needs.
Sales Strategy and Tactics: Define where and how you'll sell, such as online, in-store, or through direct sales calls. Sales tactics should highlight the customer's needs, presenting your solution without overly aggressive promotion.
Pricing Strategy: Decide on pricing based on market positioning, whether you aim to be a discount or luxury option. Ensure prices cover costs and yield profit, and position your product in a manner that aligns with the chosen price range. Justify your chosen pricing strategy in this section.
6. Operations and Management
Operational Plan: Outline daily, weekly, and monthly operations, specifying roles, tasks, and quality assurance methods. Include supplier details and order schedules, ensuring clarity on key business functions and responsibilities.
Technology Plan: For tech-based products, detail the development plan, milestones, and staffing. For non-tech companies, describe the technology tools and software you'll employ for business efficiency.
Management and Organizational Structure: Define who's in charge, their roles, and their backgrounds. Discuss your management strategy and forecast the development of your organizational hierarchy.
Personnel Plan: List current and future hires, specifying their roles and the qualifications necessary for each position. Highlight the significance of each role in the business's operations.
7. Financial Plan
Startup Costs: Clearly detail every anticipated cost before starting operations. This will be vital for understanding the initial investment required to get the business off the ground.
Financial Projections:

Sales Projections: Estimate monthly sales for the first year, with an annual forecast for the next two years.
Profit and Loss Statement: An overview of revenue minus costs, resulting in either a profit or loss.
Cash Flow Statement: Provides clarity on the business's liquidity by showing cash inflows and outflows over a specific period.
Balance Sheet: Displays the company's net worth by detailing its assets and liabilities.

Break-even Analysis: Understand at which point revenues will cover costs, helping to predict when the business will start making a profit.
Funding Requirements and Sources: Enumerate the required capital and the sources of this funding. This should also include the purpose for which these funds will be used at different stages.
Key Performance Indicators (KPIs): Identify the metrics vital for measuring the company's performance. Use these indicators to spot challenges, understand where improvements can be made, and pivot strategies as necessary. Ensure that each KPI aligns with the business's objectives and offers actionable insights for growth.
Remember, although the financial section might seem daunting, it is pivotal for understanding the economic feasibility of your business. Proper financial planning helps in making informed decisions, attracting investors, and ensuring long-term sustainability. Don't hesitate to engage financial experts or utilize tools and software to ensure accuracy and comprehensiveness in this section.
8. Appendices
The appendices section of a business plan is a repository for detailed information too extensive for the main document. This can include resumes of key personnel, full market research data, legal documents, and product designs or mockups. By placing this data in the appendices, it keeps the main plan concise while allowing stakeholders access to deeper insights when needed. Always ensure each item is clearly labeled and referenced at the relevant point in the main document.
In Closing
As you can see, business models and business plans have some similarities, but in the main they are quite different. Your business model explains the foundational concept behind your business, while a business plan lays out how you'll put that model into action and build a business.
When you're starting a business, it's best to have both, as the work of getting them done involves learning about your business from every angle. The knowledge you'll gain is likely to be invaluable, and could even be the difference between success and failure.