How to Make a Business Plan Presentation
Written by: Carolyn Young
Carolyn Young is a business writer who focuses on entrepreneurial concepts and the business formation. She has over 25 years of experience in business roles, and has authored several entrepreneurship textbooks.
Edited by: David Lepeska
David has been writing and learning about business, finance and globalization for a quarter-century, starting with a small New York consulting firm in the 1990s.
Updated on September 13, 2023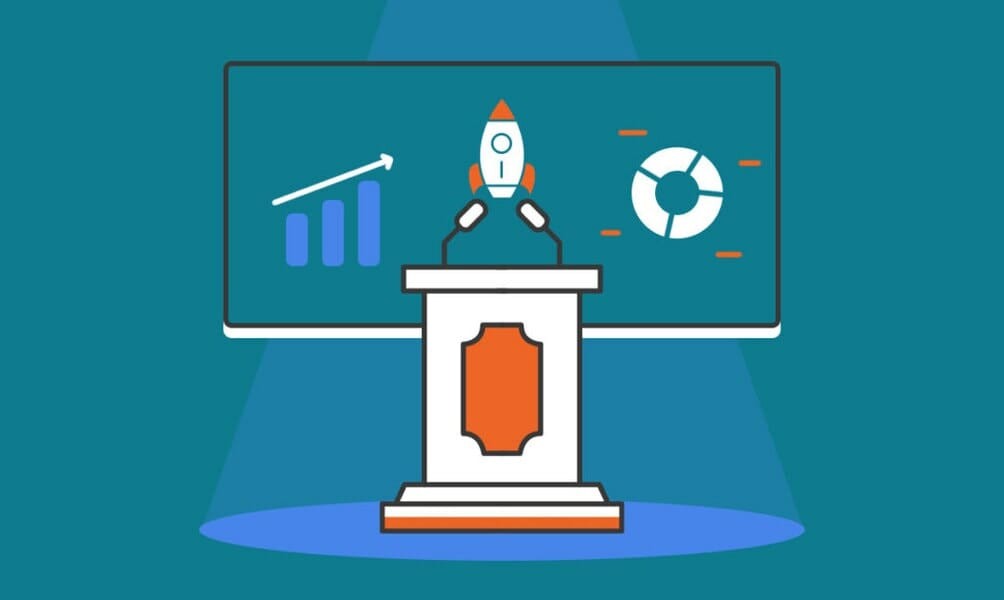 How to Make a Business Plan Presentation
Know Your Audience
The Pitch Deck
How to Present
In Closing
Congrats! You've tackled the arduous task of writing a business plan. Now comes the next big hurdle – presenting that plan to potential funders. It would be nice if you could just hand them the plan so they can read it, fall in love with your vision, and give you money. But that's just not how it works.
You and your partners, if you have any, will likely need to present your plan. Investors in particular tend to expect a presentation, with graphs and tables and persuasive projections of growth. Lenders, on the other hand, often just want to see the business plan, but you might prepare a presentation just in case.
A presentation relays the main points of your vision and gives potential backers a sense of who you are. Thus, making a great presentation is often crucial to securing investor financing. Fortunately for you, this handy guide shows you how to do just that.
Know Your Audience
Your business plan and presentation need to be tailored to your audience because they will have different goals. A lender, for example, wants to know that the business will have ample income and cash flow to make payments on the loan.
An investor, on the other hand, wants to be convinced that the business can grow significantly over three to five years. Investors typically want a five to ten times return on their money in that time period. That return will come from a successful exit of the business, which could be the acquisition of the business, a merger, or an initial public offering.
So if you're pitching to a lender, focus on income. If you're pitching to an investor, focus on growth.
The Pitch Deck
A pitch deck can be tricky because you need to highlight the key points of your business plan in 15 to 20 slides. Each slide should contain as few words as possible and quickly get to the point. Include visuals such as charts and graphs, but don't overdo it.
Here are the components of a good pitch deck.
Quick introduction of you and your partners. Don't go into detail; names and titles are enough.
The business opportunity: what problem are you solving and for whom? Be sure to start here.
Your product or service – what are you offering and why and how does it solve the market problem? Point out any differentiating features of your product or service.
Market summary – how big is the market, is it growing, and what trends are occurring?
Your competitive advantage – what will make your business stand out from the crowd? This is very important, so justify how you can create and sustain this advantage.
A summary of your marketing and sales strategy. Focus on value proposition, not tactics.
Any milestones you've achieved so far. If you've already had some big sales, be sure to spend some time highlighting them.
Management summary – who will manage what and why are they qualified? Discuss their education and experience. Investors are very interested in the management team. They won't invest in even the greatest idea if they don't think the managers can execute.
3-5 years of financial projections. Don't go into too much detail, which is a common mistake. A summary of the key numbers will suffice.
Your funding "ask:" how much do you need and for what? As a general rule, you should NOT talk about how much equity you're offering if the presentation is to an investor. You'll negotiate that later, and unfortunately, the investor tends to have the upper hand in that process.
Use your business plan as your guide to create the pitch deck. Be sure to highlight the most compelling points of your plan in your slides.
An important point is that you absolutely must write your business plan before creating your pitch deck. A business plan requires a great deal of time and research, and your presentation is merely a more concise, visual summary, so doing it the other way around is likely to fail.
If time allows, after your presentation you could give a brief demonstration of your product.
Be prepared for questions!
How to Present
First of all, you're likely to have a limited time frame to make your presentation, maybe 15 to 20 minutes. Practice your presentation over and over to nail down your timing as well as any tricky phrases or concepts. Do a run-through for a few people you trust and listen to their feedback.
When presenting, be confident but not arrogant. If you have areas that you need help with in your business, don't be afraid to mention them. When they invest, investors are generally happy to offer guidance as well.
Avoid tangents. Stay focused and be sure to get to all your important points.
Spend the most time on the elements investors are most interested in: the business opportunity, competitive advantage, management team, and financial plan and projections.
Remember, you're not just selling a business idea; you're selling yourself and your ability to execute. Convince them that you can get it done and deliver.
Answer any questions directly and honestly. Investors will know if you're just blowing smoke.
In Closing
Presenting a business plan is daunting – after all, your future is on the line! But if you take the time to prepare, there's no reason you can't deliver a fantastic presentation. After that, it's beyond your control.
You might not get the capital you seek, but the investors may just have other interests or are limiting their commitments at the moment. Don't take it too hard, and don't be afraid to fail.
Countless entrepreneurs were repeatedly denied funding before finally making the presentation that put them on the road to success! It's all about hard work, determination, and a dash of luck. And now you know just what you need to do to deliver a persuasive presentation.