Back to Business Ideas Categories
21 Business Ideas to Start Under $5000
Written by: David Lepeska
David has been writing and learning about business, finance and globalization for a quarter-century, starting with a small New York consulting firm in the 1990s.
Updated on April 26, 2023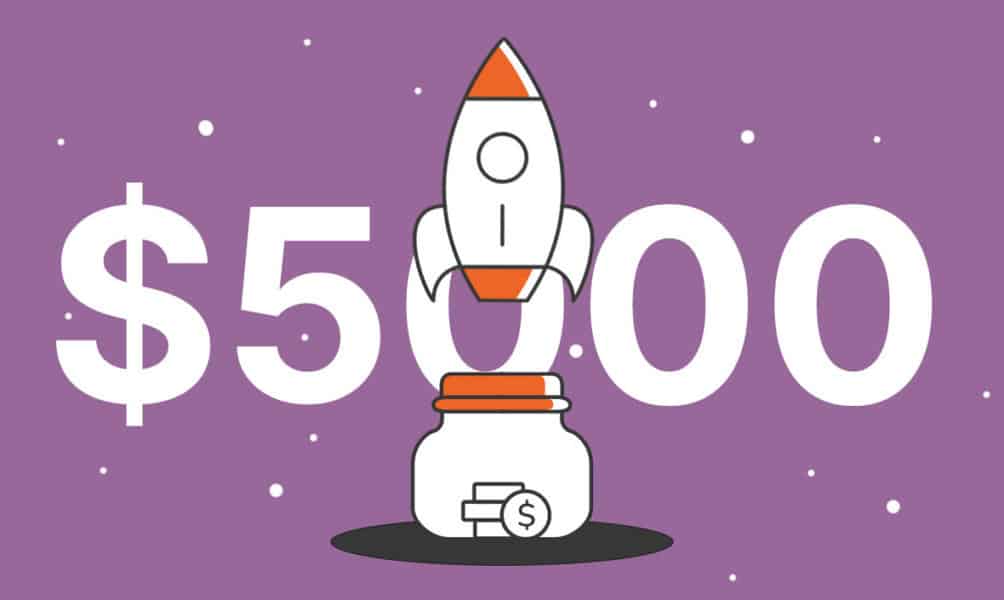 21 Business Ideas to Start Under $5000
Consulting Agency
Tutoring
Accounting
Karaoke Bar
Meal Prep
Financial Coaching
Massage Therapy
Lawn Care
Shaved Ice
Pet Store
Printing Service
Babysitting
Photobooth
Virtual Assistant
Window Washing
Online Courses
Tow Truck
Taxi
Fashion
Logistics
Digital Marketing
Despite what many people think, you don't need a ton of money to start a successful business. If you're able to scrape together a few thousand dollars, you'll have more than enough to start your own company and create your own success.
You could get into consulting, marketing, logistics or meal prep, open a pet store or print shop or start up a taxi or towing service. Just remember that it's not how much you spend, but how much you commit, that will likely determine your success.
Check out our list below of business ideas under $5000.
1. Consulting Agency
Business is revving back up as the pandemic recedes, and one of the industries best positioned to take advantage is consulting, which is worth more than $250 billion in the US and recorded strong growth in 2021. If you have an area of expertise — finance and budgeting, technology, operations, or management — you could start up your own consulting firm and help businesses improve their efficiency and profitability while also making a good living.
Starting a consulting business is difficult, and will require hard work and determination, as well as a decent amount of red tape. Beyond building up a strong network and reliably providing value to your clients, a key element of your success will be understanding what sets you and your firm apart from your competitors and finding ways to promote that message to your target market and deliver on your promise. Accomplish this and you'll soon build a reputation and, with a bit of luck, seven-figure revenues.
2. Tutoring
Do you have an area of academic expertise? Maybe you're great at math, deeply familiar with science, or obsessed with language and literature. Even if you're not a subject expert, but simply good with children, now's a great time to consider starting a tutoring business.
The industry took a hit during the pandemic, but today many tutors are embracing virtual instruction and tutoring is expected to see steady growth in the years ahead. As a result, you're now able to run a tutoring business almost entirely from home, all while helping children to learn and excel and making a good living.
Starting a tutoring business is not terribly complicated. If you have teaching experience or some proof of your expertise, you mainly need a good computer and you can start offering your services on a variety of online platforms, like ClubZ or eTutorWorld. With a bit of marketing on social media, you should be able to attract a few clients and start building your tutoring empire.
3. Accounting
If you're an accountant, why not consider launching your own accounting business? It's one of the most lucrative small businesses and there's always a demand for accounting services. As the US economy improves, corporate profit is also expected to increase, presenting vast opportunities for accounting businesses. The accounting services market in the US is worth more than $140 billion and still growing.
Before you get started, it's important to have a clear vision of your purpose and a firm grasp of the risks involved in starting a business. In some states, you may not need to be a certified public accountant to start an accounting firm. You just need to register it as a business and comply with all applicable laws and regulations. But getting certified will allow you to offer some services that only CPA businesses can. With the right skills, a good marketing plan, and a lot of hard work, you can make your accounting business incredibly rewarding.
4. Karaoke Bar
The pandemic dealt a blow to karaoke bars across the US, but the industry is expected to recover as the economy bounces back and consumer confidence improves. There are over 1,500 karaoke bars across the country, and there's still room for more so start your own karaoke business now. The market is expected to grow in terms of revenue in the next five years.
The first thing you need to do is scout for a good location. Your karaoke bar should be accessible to your potential customers. Next, you will need to come up with a business plan to determine what services you're going to offer. Most karaoke bars also serve food and drinks to their customers, so you might want to work on your menu before you get started. Once you've prepared everything and complied with all regulations, you should promote your business. A karaoke business can be highly profitable if you play your cards right.
5. Meal Prep
People are busy these days, and always on the look-out for more convenience. That's why meal prep is one of the fastest growing industries in the United States. If you're good in the kitchen and would like to share your tasty creations with the world, you might consider starting your own meal prep business.
It doesn't cost a great deal of money, because you can start the business in your home and online. You could offer on-demand dishes, for people just looking for a healthy dinner they can pop in the oven. You could offer goal-oriented meal plans, for people with dietary concerns and limitations. Or you could offer fully prepared meals, such as sandwiches and burritos, that people can store and eat whenever they choose. Or you could get really ambitious and offer all of the above!
The key, of course, will be creating affordable, healthy dishes that appeal to your local market. If you can do that, you'll be well on your way to meal prep success.
6. Financial Coaching
Thinking of starting a financial coaching business? You're not alone. Financial coaching is one of the fastest growing industries in North America, and women make up nearly 60% of coaches, so it's diverse and empowering as well. Financial coaches help people grow their wealth by laying personalized strategies to achieve their goals. This includes budgeting, saving, retirement planning, helpful financial strategies and tools, and more.
You might be wondering how you'll find clients, how much to charge for your services, and what kind of education you might need. These are all good questions that you will find the answers to as you research financial coaching and begin your entrepreneurial journey. Opportunity awaits!
7. Massage Therapy
Do you have strong hands and a knack for helping people relax? If so, you might think about starting your own mobile massage business, making house calls to reduce people's stress and anxiety during these tense times. People want convenience and are willing to pay a bit more for a service that comes to them, on their time, so there's good money to be made in a mobile massage therapy company. As the pandemic recedes, massage is coming back strong and you could ride that wave to success, and maybe even open your own spa some day.
If you're not already, you will need to get trained and certified as a massage therapist, which most states require. But this can be done in just a few months, often for a reasonable price at a local community college. Once you're certified and have chosen your specialty, you'll just need a reliable vehicle, a massage table and some other supplies and you'll be ready to start taking on clients, reducing their stress and filling up your bank account!
8. Lawn Care
Are you a green thumb with an entrepreneurial spirit? If so, a lawn care business might be the perfect venture for you. For starters, the market has grown significantly in recent years, thanks to the real estate boom, and is forecast to keep expanding in the years ahead. In addition, all lawns need care sooner or later, which is why this is a $100 billion industry in the US alone. Put it together, and there's little doubt this market offers real opportunity.
Of course, you'll need to stand out in order to attract clients, and deliver top-quality service to keep them. This means you'll have to invest in the latest lawn mowing and maintenance equipment as well as a strong marketing campaign across social media, various online platforms like TaskRabbit and Angie's List, and your local community. But if you're able to do all this right, and get the necessary licenses, you'll soon be rolling in the green — and we're not talking about grass.
9. Shaved Ice
What's more refreshing than shaved ice on a hot summer's day? Not much, which is why snow cones and shaved ice have been gaining in popularity in recent years and are now making a major splash. This is a great time to start a shaved ice business and spread the summertime joy. All you need is a mobile pushcart or food truck, a shaved ice machine and some tasty flavored syrups and you'll be good to go.
The key step will be finding unique and appealing flavors in an increasingly dynamic and experimental market. These days, restaurants like David Chang's Majordomo are serving up Japanese-style shaved ice, while street vendors offer flavor combinations like blackberry-lavender and watermelon-basil.
Whichever options you choose, you should know that the US frozen dessert market is worth $53 billion and expects strong growth through 2028, which means opportunity is there for the taking for the bold entrepreneur.
10. Pet Store
With people stuck at home during the pandemic, the number of pet owners skyrocketed. Over the past decade, Americans' spending on pets has more than doubled to $110 billion, and pet stores, also growing quickly, represent about a fifth of that total. If you love animals, you could start a pet store, give lots of cuddly cuties new homes and help people better take care of their pets, all while making a good living.
Of course, you'll need to decide which pets you'll offer and how broad your variety of products will be, from food to toys and accessories. Another crucial step will be ensuring you meet all regulations and obtain all the required licenses and permits required for pet sales. Starting a pet store is not easy, but it's far from impossible. With a bit of luck and determination, you can start your own and ride Americans' love of animals to prosperity.
11. Printing Service
Do you have some untapped creativity you've been hoping to share with the world? Printing could be a great way to do just that. Traditional printing in the US has declined in recent years, as more and more business has been done online, without the need for paper documentation. But globally, the printing industry is expected to see steady growth in the coming years, while digital printing is expected to triple by 2028. You could start your own business and ride that wave to serious success.
There will of course be some hard work and planning involved. You'll need to decide a market segment to focus on — it might be screen, offset, 3D or digital printing. Then you'll need to purchase the required equipment, which could cost up to $30,000. If you short on funds you could rent the printing equipment, instead of buying. And if you have a large apartment or basement, you could initially run the business out of your home to cut costs further. Then once you've built a brand and started getting referrals, the orders could start rolling in and you'll need to find a storefront and start building your printing empire.
12. Babysitting
If you think babysitting is just for teenage girls, think again. It's a chance to make good money while making a real difference — helping out families in need and shaping and caring for young minds. It can also be a lot of fun! What could be better than that?
Childcare is a growing industry that offers a variety of opportunities for the entrepreneur. You could babysit in your free time to add another income stream, or you could go full-time and launch a babysitting business that offers all-day care and nannying. Your first step should be to register with your local government as a provider of childcare services, and once that's done nail down your service offerings and prices and start your marketing.
You could reach out to friends, family, acquaintances and work colleagues, making clear your reliability and availability. Once you've gotten a client or two, jump on social media and start hyping your babysitting skills on Instagram, Facebook, Twitter and beyond. You could soon have so many customers you'll have to turn some away! That's the best kind of business problem.
13. Photobooth
After nearly being forgotten, photobooths are back in a big way! The market is expected to grow strongly in the years ahead and hit $1 billion in revenue by 2027. Keep in mind, these aren't your grandfather's photobooths, with the little curtain and four-photo black-and-white strip. Today's photobooths offer a slew of technological advancements, as some come with touch screens, props, color printing, customizable backgrounds, and mobile hotspots to share photos on social media.
These days, businesses are renting photobooths for corporate events, while consumers are renting them for weddings, birthday parties, proms, graduations and other major events. The possibilities are nearly endless, and the opportunity is vast. Getting started requires the purchase of an appealing, technologically advanced photobooth, which is a significant investment. The smart move is to look in your area and online for a used one at a reasonable rate. Once you've checked that box you'll just need to get the word out and you'll be snapping your way to serious success.
14. Virtual Assistant
The job didn't even exist 20 years ago, but now, thanks to new technologies and the sharp increase in remote work during the pandemic, the virtual assistant industry is booming. After years of strong growth, the market is expected to be worth more than $4 billion by 2025. That means now is a fantastic time to start your own virtual assistant business.
To be clear, we're talking about a human, not a digital or AI-powered, assistant, who provides administrative, technical, and creative services to clients remotely, via the internet. If you have a strong business skillset, you can get started with a minimal investment and run the company out of your own home while serving clients anywhere in the world. You could also add more skills over time, increasing your revenue streams and the rates you're able to charge.
With hard work and a bit of luck, you'll soon be helping businesses run more smoothly and efficiently while making good money for yourself.
15. Window Washing
Did you ever notice what happens to windows that don't get cleaned? They stop being windows because you can barely see through them! Window washing is always in demand, which is why it's a billion-dollar industry in the US, and a serious business opportunity.
Starting a window washing business is incredibly easy. All you need is the proper gear and reliable safety equipment and you can start offering your services on an online platform like Angie's List or TaskRabbit. You could also check out the going rates to ensure your prices are competitive and watch a few YouTube videos to make sure you're up on the latest techniques, but otherwise it really is that easy. Just always be sure to check all your gear and stay safe up there!
16. Online Courses
Thanks to video conferencing apps, e-learning and online courses are becoming more popular and seeing explosive growth. The global online courses market exceeded $250 billion in 2020. It is expected to expand four-fold and reach $1 trillion in revenue by 2027. If you're an expert in a certain field, then you can start an online courses business and help educate the world while making some cash.
Before you can launch your business, it's important to keep yourself updated with the latest trends such as the use of artificial intelligence and virtual reality in conducting online classes. Integrating these in your online course programs and providing engaging content can spell the difference for your business.
You can start small and run your business from home. You just need a PC or mobile device, fast and reliable internet connection, a compelling website, and a creative marketing plan to attract clients. With these in place, your online courses business will surely attain success.
17. Tow Truck
If you're an entrepreneur looking for a new business opportunity, starting a tow truck business may be the perfect choice. For one thing, vehicles are constantly breaking down, which is why towing is a fast-growing $11 billion US industry. With just one truck you could start your tow truck business from home, help all kinds of people out of terrible jams and grab a share of that huge market.
Of course, tow trucks don't come cheap, and the down payment on even a used truck might cost $10,000 or more. But that's nothing compared to the money you'll make, as the average tow runs about $100. You'll need to acquire a commercial driver's license and make sure you have excellent insurance that protects both your business and your customers from potential damages. You may also need a state or local permit to offering towing services, so be sure to check with your local governments.
Finally, you'll need to hit on a marketing approach that helps your towing service stand out from the competition, whether that's discounted prices, rapid service or something else. Once all that's sorted, you'll be driving your way to serious profits.
18. Taxi
Considering all the ride-sharing apps out there, you might be surprised to know that old-school taxis are not only surviving, but doing quite well. The US taxi and limo market is worth more than $66 billion and expected to see steady growth in the coming years. If you don't mind driving and enjoy meeting strangers, starting a taxi business might be the right move for you.
Getting started will require some real effort and investment. You'll need to buy a reliable car, if you don't already have one, plus reliable insurance and all the necessary permits. In some cities the car hire license can be a major expense, for instance a New York City taxi medallion costs $80,000. In other places, like $300 in Cleveland, not so much. Once you've all set up, it's a good idea to build a website so people can find you, and you might want to offer an app as well, as most car services nowadays offer on-demand ordering.
Finally, get creative with your marketing to stand out in a competitive market, provide excellent service and steady driving to your first few clients, and the good reviews and revenues should start pouring in.
19. Fashion
You might think being a fashionista means just splurging on the latest clothes and accessories, but did you know that you could turn your passion into a thriving business? The global fast fashion market, which refers to clothing collections that move quickly to the stores from the catwalk, is expected to surpass $210 billion by 2030. Whether you're dreaming of launching your own line of clothes or engaging in a buy-and-sell business, there's a huge market waiting for you.
You can start small by just selling to family and friends. As your business grows, you might want to do digital marketing and even hold live selling sessions, the latest trend in online shopping. During live selling, you will not only get to model your clothes on an imaginary catwalk in your home, but you will also be making a lot of sales. Before you start, however, it is important that you scope out the market, prepare some initial capital, decide whether to put up a physical store or stay online, and comply with government regulations.
20. Logistics
In five years, the global logistics market is expected to reach nearly $13 trillion on the back of a rapidly growing e-commerce industry. Logistics companies transport cargoes by air, land and sea, then schedule delivery to end-consumers. Think you want a piece of the action? That's great! Logistics is a vital industry, and there's plenty of room for new players. But how do you start a logistics business?
First, gather all the information you can about the industry and your target market. This will give you an idea about what specific services you can offer, where you should set up your office or hub, how much you should charge, and how much you should set aside for operational expenses. You'll also need to find enough capital and check out any licensing and other requirements. How and where to find clients? This is where networking and having an efficient marketing strategy come in.
21. Digital Marketing
With many people staying at home and working remotely because of the pandemic, companies have also gone online and undertaken digital marketing initiatives to keep their target markets engaged. Global digital marketing is booming right now, and expected to more than double to $786 billion by 2026.
If you're looking to start your own digital marketing business, you're in luck. There has never been a better time to do it. Just catch up on the latest industry trends and know the steps in setting up a business. Keep in mind that since this is a relatively new industry, there are no concrete guidelines for success, but some insights into how other companies grew their own businesses can be helpful. Read and learn everything you can about the business before uploading your first social media post or your first digital ad. Once you've done that, you should be able to get the hang of digital marketing!