Back to Articles of Organization Guides
How to File Articles of Organization in Louisiana
Written by: Natalie Fell
Natalie is a business writer with experience in operations, HR, and training & development within the software, healthcare, and financial services sectors.
Edited by: David Lepeska
David has been writing and learning about business, finance and globalization for a quarter-century, starting with a small New York consulting firm in the 1990s.
Updated on February 1, 2023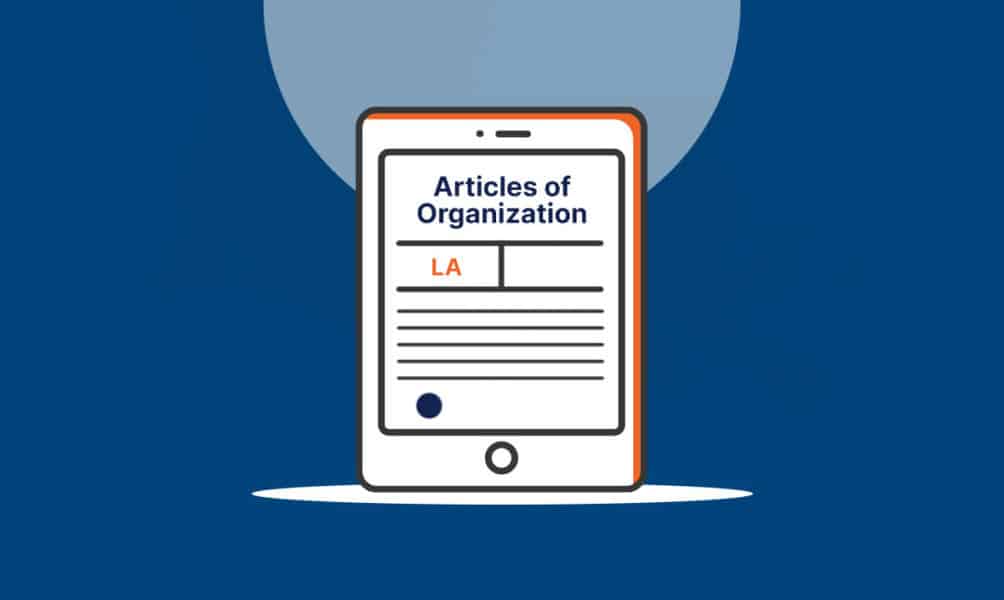 How to File Articles of Organization in Louisiana
What are Articles of Organization?
How to File the Louisiana Articles of Organization
Louisiana Secretary of State Contact Info
The Bottom Line
Frequently Asked Questions
In Louisiana, as in most states, the primary step in creating a limited liability company (LLC) is to file articles of organization with the state. This is an absolutely crucial document that helps define your business, so it's important to do it correctly.
An LLC is a business entity that offers liability protection for owners, as well as pass-through taxation, much like a sole proprietorship.
What are Articles of Organization?
The articles of organization is a legal document you need to file with the state to form your LLC. It will specify details about your company and establish your LLC as an officially registered business entity in Louisiana.
The document is similar to the articles of incorporation you would file to form a corporation instead of an LLC.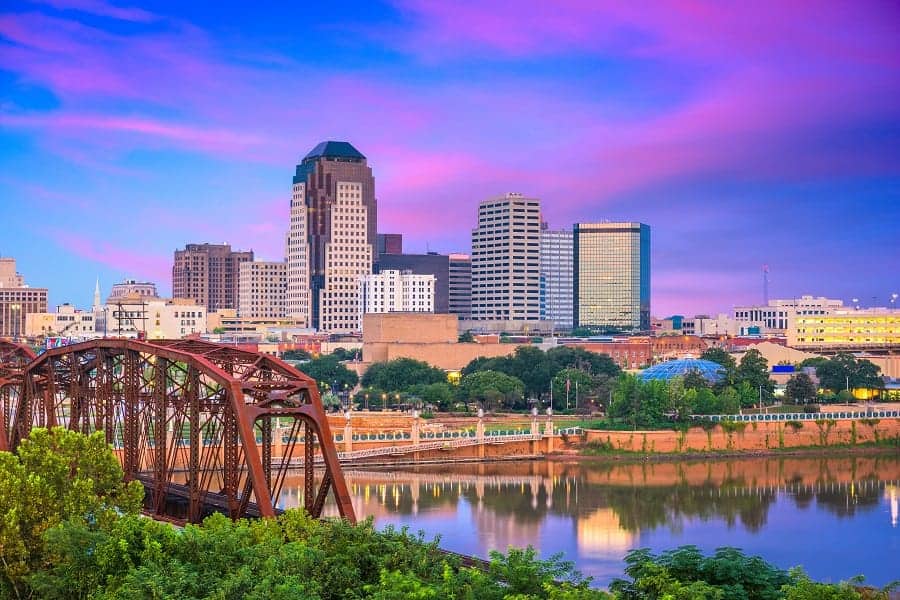 How to File the Louisiana Articles of Organization
In Louisiana, the process to file articles of organization is quite simple. The crucial first step is gathering the required information about your new LLC, before proceeding with the filing itself.
Here are the steps you'll need to take to create your new business entity:
Gather the required information about your business.


Entity name
Entity address
Registered agent name
Registered agent address
Business purpose
Duration of company
Tax types
LLC ownership type
FEIN
Visit the Louisiana Secretary of State website
Find Louisiana's articles of organization form here. It's easiest to fill out the form online and file immediately, but you can also download it, fill it out and mail it in.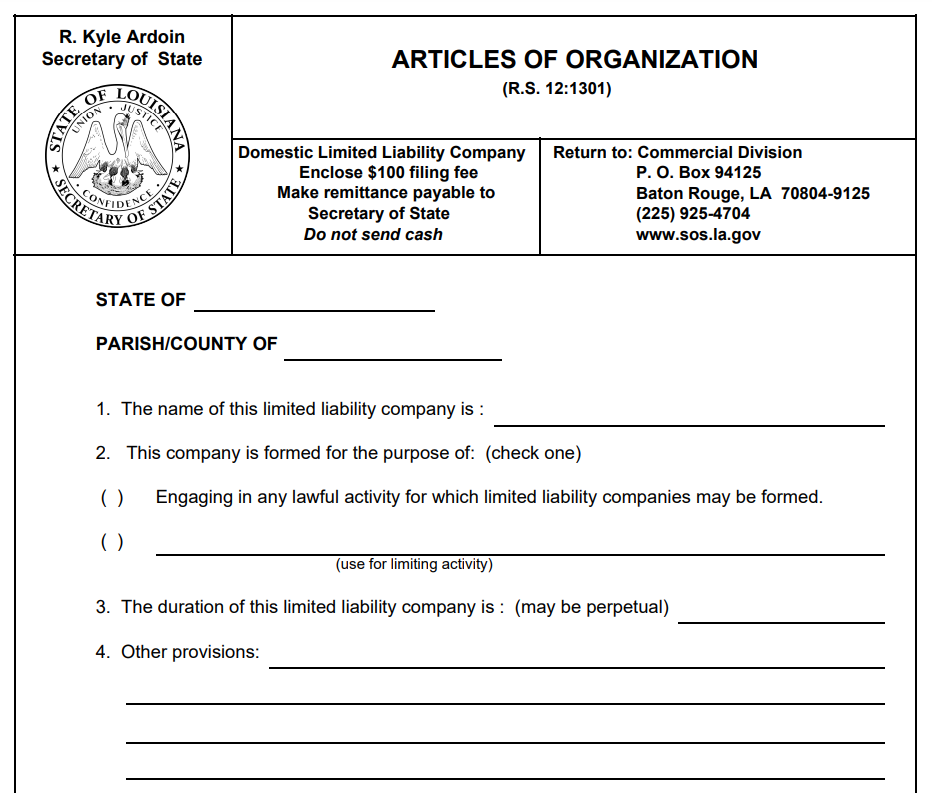 Filling out Articles of Organization Document
If you don't already have a geauxBIZ online account, you'll need to create one to file your articles of organization online.
Once you create your account, log in and click "Get Started" at the top left corner of the dashboard. On the next page, choose "Register a Louisiana business just starting up" from the list of options and click "Next". On the next page, click "Start New Business Filing", then choose "LLC" and "Domestic". Click "Next".
The next page asks you to select your tax types, if you have employees in Louisiana, and if your business is subject to Federal Unemployment Tax Act (FUTA) in a state other than Louisiana. Make the appropriate selections and then click "Next". On the next screen, choose your LLC ownership type.
On the next page, enter your LLC name. Click "Next".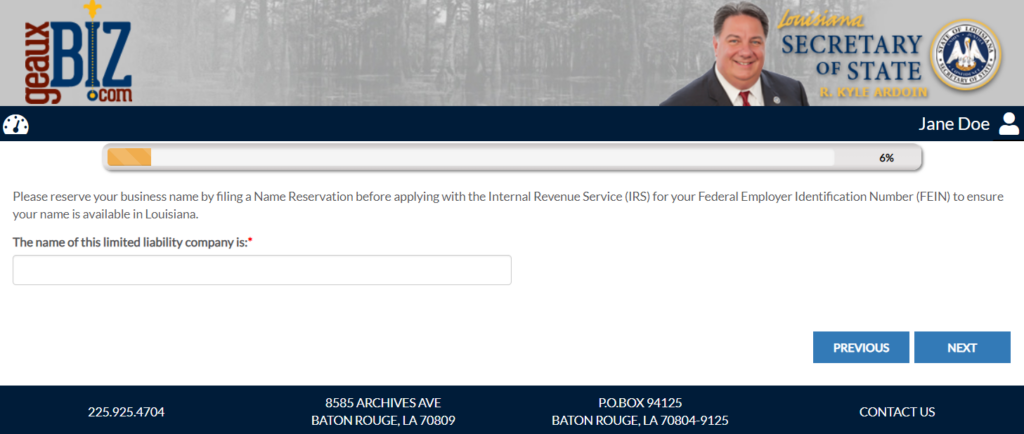 You will then move through several screens to complete the form. You'll need to enter your company's purpose and duration, FEIN, location address, mailing address, registered agent information, manager and member contact information, and an electronic signature. The last page gives you the opportunity to review the form before you submit it. If everything looks correct, click "Next".
You'll then move through another series of screens where you'll enter your NAICS code and tax information. There are several screens related to registering for any number of taxes, so make the appropriate selections specific to your business.
At the end of the prompts, you'll be asked if you wish to expedite your filing for an additional $50 fee. Click yes or no and then "Next" to be taken to the payment screen.
When filling out your articles of organization form, be sure to double-check that all the information is accurate and up-to-date. Maybe you've just moved, or use your middle initial in official documents, such as with your bank account. If you get it wrong now, changing it later can be a real pain. So accuracy is crucial.
File Articles of Organization – The final step in the process is to submit payment through the website's payment screen or mail in all documentation. The filing fee in Louisiana is $100 plus a $5 state fee.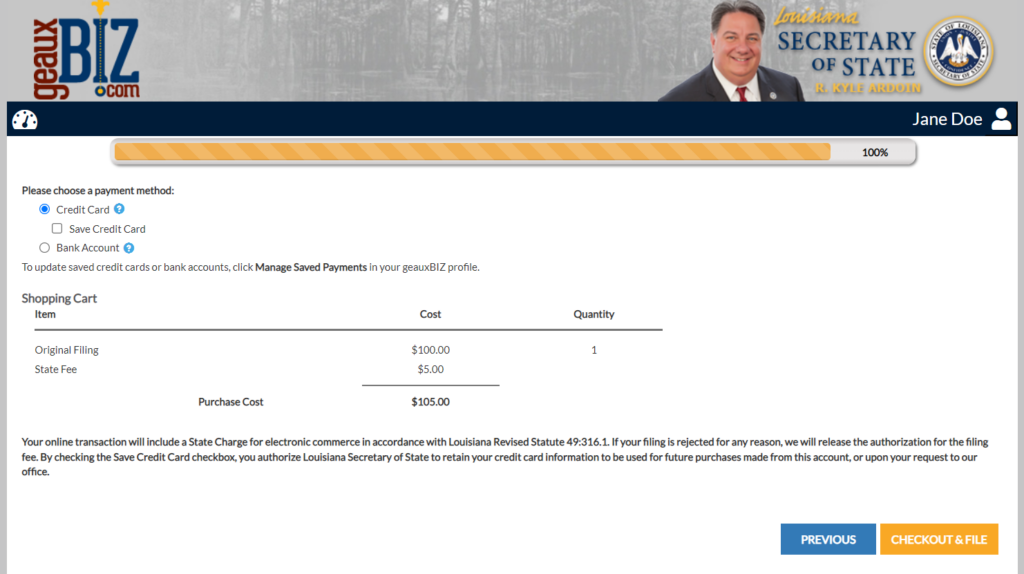 Louisiana Secretary of State Contact Info
Department main website: Louisiana Secretary of State
Online portal website: geauxBIZ.com
Louisiana Secretary of State Office
8585 Archives Ave.
Baton Rouge, LA 70809
225.922.2880
225.922.2003 fax
The Secretary of State's Office is open Monday through Friday from 8 a.m. to 4:30 p.m.
The Bottom Line
In Louisiana, it's relatively easy to create an LLC, but you do need to jump through a few hoops. You now have all the information you need to officially create your new business and begin your entrepreneurial journey in The Pelican State.
Frequently Asked Questions
Do I need an attorney to file articles of organization in Louisiana?
You do not need an attorney to file articles of organization in Louisiana. You can easily file online yourself, or use a business formation service. ZenBusiness's online LLC formation service will enable you to form your LLC in just a few minutes.
How do I amend my LLC articles of organization?
To file an amendment online, log in to your geauxBIZ account. Select "Get Started" from the dashboard and then choose "File an amendment". The filing fee is $100.
How do I get a copy of my articles of organization in Louisiana?
Copies of your articles of organization may be obtained by written request to P.O. Box 94125, Baton Rouge, LA 70804, or faxed to 225.932.5313. You can also get a copy online through the Commercial Database. The fee for a copy of an individual document is $15.
Comments