Back to Business Name Search Guides
How to Conduct a Business Entity Search in West Virginia
Written by: Natalie Fell
Natalie is a business writer with experience in operations, HR, and training & development within the software, healthcare, and financial services sectors.
Edited by: David Lepeska
David has been writing and learning about business, finance and globalization for a quarter-century, starting with a small New York consulting firm in the 1990s.
Updated on May 2, 2023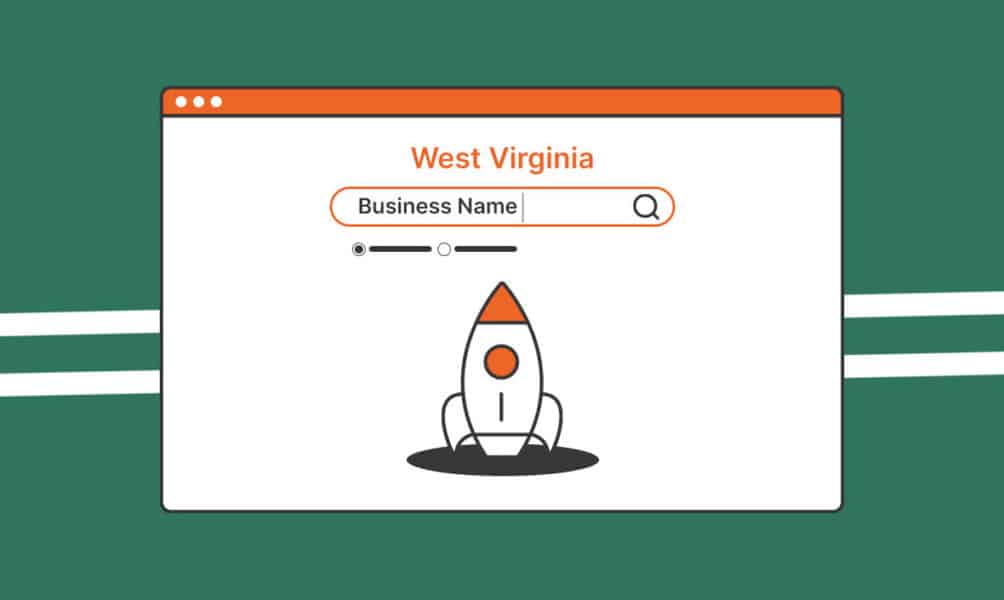 How to Conduct a Business Entity Search in West Virginia
Follow West Virginia LLC Naming Guidelines
Search for Name Availability
Checking for Domain Name
Reserve or Register Your LLC Name
West Virginia Secretary of State Contact Info
Conclusion
Before you register and form your limited liability company (LLC), you need to make sure the name you've chosen is available in your state. If you choose a name that's already in use, the state will deny your LLC application. So checking name availability is absolutely crucial. In West Virginia, it's a simple process — just follow the steps outlined below.
Follow West Virginia LLC Naming Guidelines
Like all states, West Virginia has specific rules and restrictions when it comes to business names. You need to follow these or your preferred name could be rejected by the state.
In West Virginia, it's important that your name include the phrase "limited liability company," or one of its abbreviations (LLC or L.L.C.), and your name cannot include words that could confuse your West Virginia LLC with any government agency.
Your name also cannot include words like bank, insurance, university, (or any similar names) without approval from certain state authorities. Additionally, your name must be distinguishable from all other business names in the state, and cannot contain "corporation", "limited", or "company", or any relevant abbreviation. It also cannot contain 911.
Search for Name Availability
Now it's time to do the actual search. In West Virginia, this requires a visit to the Secretary of State website, as detailed in this screenshot.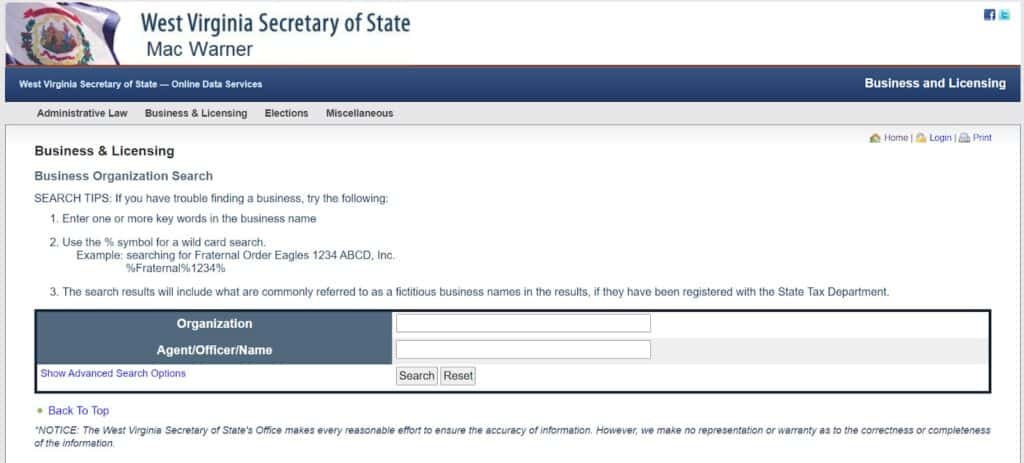 Next, enter your preferred name in the search box and press the Search button Do this with similar names as well to see if businesses exist with similar names. If you find the name during your search, you'll need to go back to the drawing board and choose a different name.
Before you register or reserve the name for your LLC, you should visit the website of the US Patent and Trademark Office to make sure it's not already trademarked. If it has been, you're not allowed to use the name.
Checking for Domain Name
Check the availability of related domain names using our Domain Name Search tool. Using ".com" or ".org" sharply increases credibility, so it's best to focus on these. Once you've finished your name checking process, you can register the domain name by choosing an ICANN-accredited registrar such as GoDaddy.
The fee for maintaining your domain name usually ranges from $10 to $20 per year. When you purchase the name, you generally must pay for the first year up front.
Reserve or Register Your LLC Name

Now that you know your preferred business name is available in West Virginia, not nationally trademarked, and has an available web domain, it's a good idea to take the next step and make it official.
In West Virginia, you have two options. You can either reserve the name here, which means the state will hold it for you for 120 days, or you can go ahead and formally register your LLC name here.
The first option gives you more time to be absolutely sure you want to create a new business, while registering right away lets you start your entrepreneurial journey more quickly. The choice is yours.
You should also consider trademarking your LLC name with the US Patent Office so it's protected throughout the country.
West Virginia Secretary of State Contact Info
Office of the Secretary of State
State Capitol Building
Charleston, WV 25305
Office Hours:
Monday – Friday 8:30 AM to 5:00 PM
Phone:
Main: (304) 558-6000
Fax: (304) 558-0900
Toll Free: (866) 767-8683
Conclusion
Your business name is your business identity, so before you officially register your LLC it's absolutely crucial to confirm that your preferred name is available. This will ensure you avoid any business naming potholes and set your LLC up for smooth sailing.