Back to Interviews with Entrepreneurs
Unique Ascent: Mastering the Art of Adventure with Iain Miller
Written by: Carolyn Young
Carolyn Young is a business writer who focuses on entrepreneurial concepts and the business formation. She has over 25 years of experience in business roles, and has authored several entrepreneurship textbooks.
Published on November 1, 2023
Updated on November 14, 2023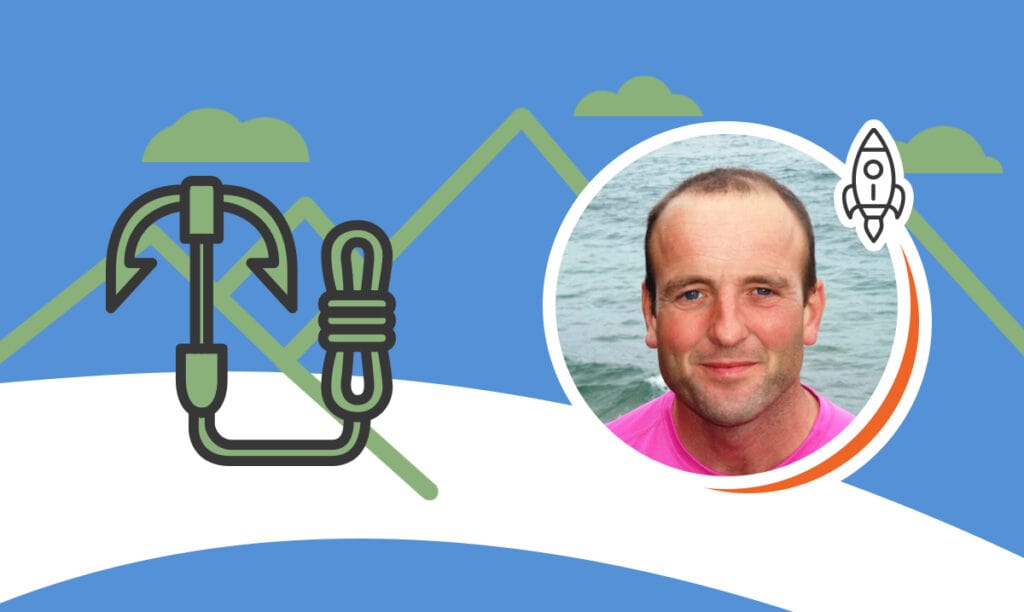 In the rugged terrains of County Donegal, where the sea cliffs stand tall and the sea stacks challenge the bravest of adventurers, lies Unique Ascent, a beacon for thrill-seekers and nature enthusiasts alike. At the helm of this extraordinary venture is Iain Miller, a seasoned rock climber, an accomplished guidebook author, and an avid hillwalker whose passion for the outdoors has transformed into a thriving business. Unique Ascent is not just a guiding service; it is a journey through the uncharted and a dance with the wild, led by a man who knows the cliffs like the back of his hand.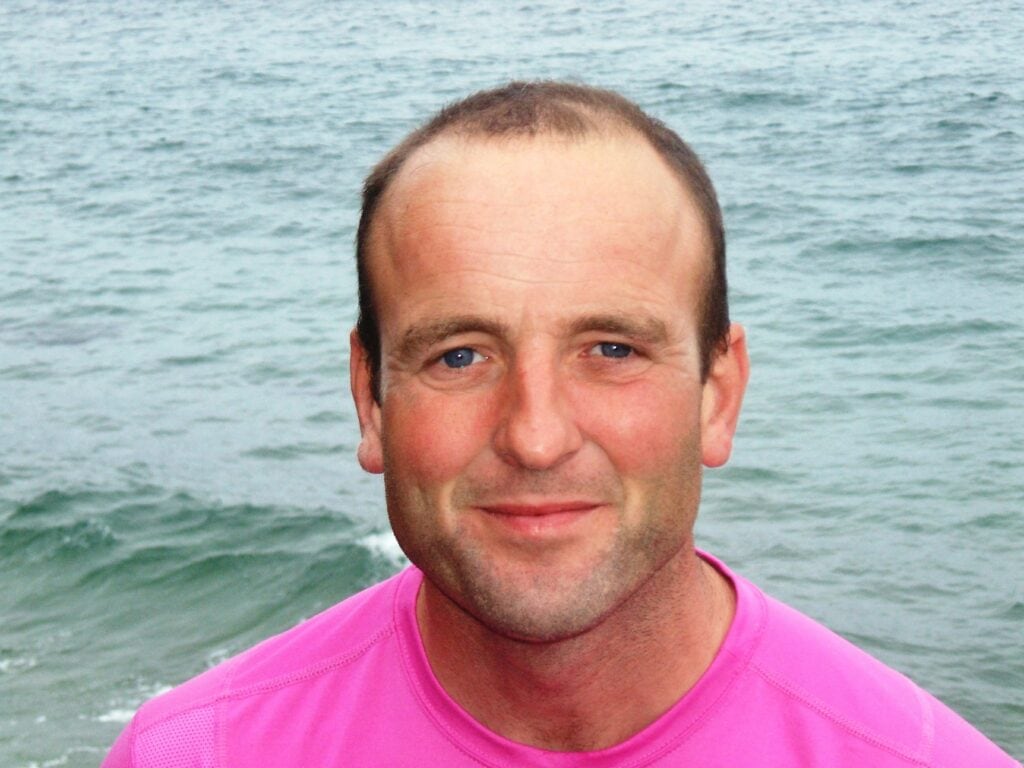 In this exclusive interview, we delve into the heart of adventure entrepreneurship with Iain, unraveling the threads of passion, risk, and resilience that have woven the tapestry of Unique Ascent. From the inception of this extraordinary venture and the challenges of starting a business in the adventure tourism industry to the day-to-day thrills of guiding adventurers through some of Ireland's most breathtaking landscapes, Iain shares his journey, his insights, and his advice for aspiring entrepreneurs looking to carve their own path in this challenging yet rewarding field.
Join us as we climb the peaks and traverse the valleys of Iain Miller's entrepreneurial adventure, uncovering the stories, the strategies, and the spirit of Unique Ascent.
The Beginning
SBS – Can you share the story of how your business journey began? What inspired you to start it?
Iain – From leaving school at 18 years old in 1988, I joined the merchant navy (called merchant marine in the US) and sailed the world. I sailed to nearly every country in the world with a coastline, delivering 100s if not 1000s of different cargos. I did this until 2007 and was by then sailing as a chief engineer. During this time period, I was spending all my time at home rock climbing mountains, sea cliffs, and sea stacks. My inspiration to start my business was quite simple. As time progressed, more and more people began to ask to come out climbing with me. This got to the stage where I did not join a ship one summer as I was having too much fun taking people out climbing, so I founded my company.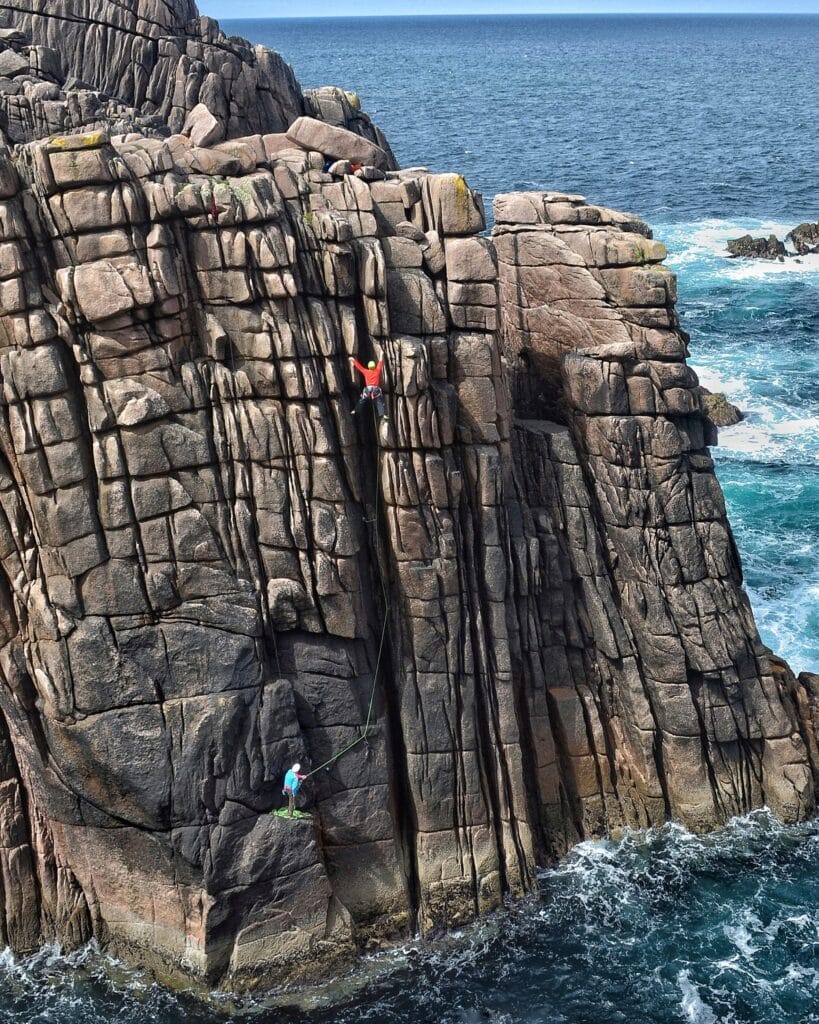 Coming up With a Business Name
SBS – Choosing the right name for a business is crucial. How did you come up with the name for your brand, and what significance does it hold?
Iain – I have spent the last 30-odd years looking for, finding, and climbing unclimbed sea cliffs and sea stacks in both Scotland and Ireland. This is an integral part of outdoor rock climbing and one I continue to the present day. It was my mum who came up with my company name, "Unique Ascent." I have been making unique ascents of previously unclimbed cliffs for well over half of my life.
Business Funding
SBS – Starting a business often requires capital. How did you fund your business initially, and did you explore any unique financing options?
Iain – From day one, I have never had to borrow any money; instead, I have run on a money-in/money-out basis. I started with everything I needed to do what I could at the time. As I earned money, I reinvested it into my business without needing to borrow. This, of course, meant I perhaps grew slowly, but it also meant I grew at a perfect rate for me to facilitate and ultimately gain an understanding of how a business works.
Service Differentiation
SBS – How do you differentiate your products/services in your market?
Iain – I am the only person in Ireland providing the services I do. I am also the only person in Ireland doing my particular rock climbing niche recreationally. I have been in business for 14 years, and so far, I do not have any competitors. What this means is that I have a solid unique selling point which also has a very hard route to market for anyone considering copying my business model. Another unique selling point is I was the first person to climb all the sea stacks I currently guide and play on, thus cementing my name to the activity I provide.
A Day in the Life of an Entrepreneur
SBS – As an entrepreneur, what does a typical day look like for you?
Iain – What I do as a business owner is have as much fun as possible, and people pay to come and play out with me. Here are two typical days out. The first is the ascent of Ireland's highest sea stack, and the second is Dún Briste. The latter received a massive volume of global press attention from press agencies as far away as New Zealand.
As a business owner, I, of course, have a volume of admin, bookings, and article writing to do, but my core function is to continue climbing the unexplored. It is this core part of my business that allows me to grow and continue in all aspects of life and business.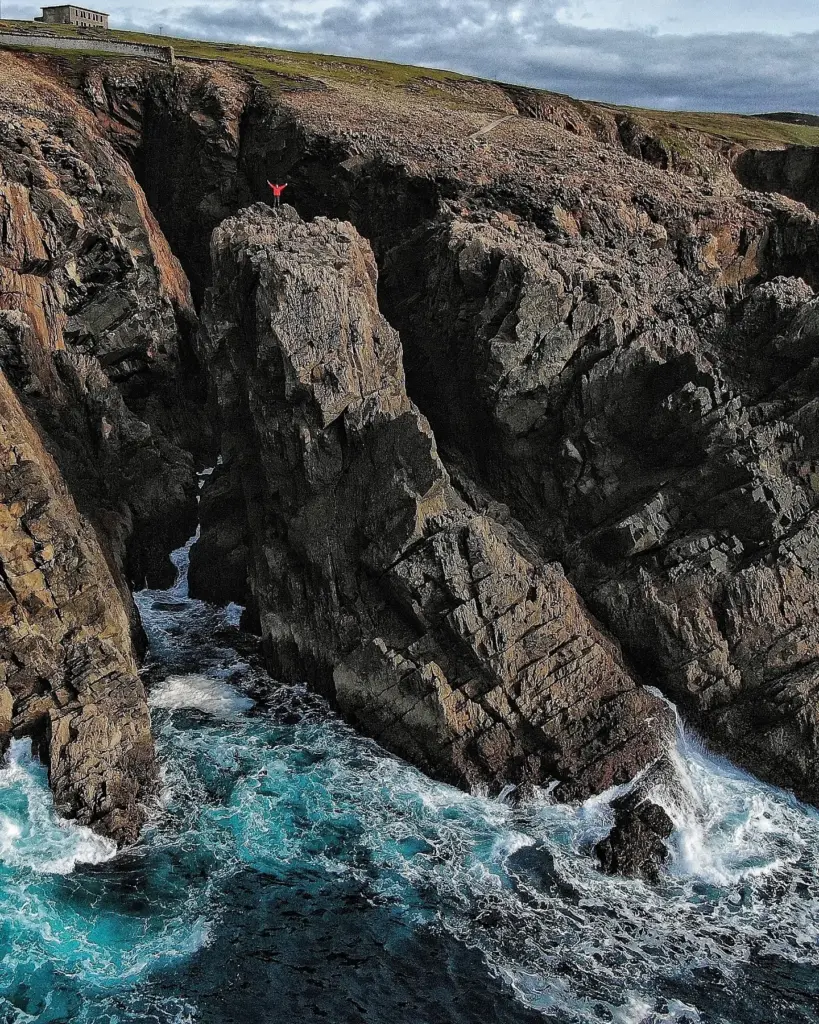 Risk Management
SBS – Given the inherent risks involved in hillwalking and rock climbing, how do you ensure the safety of your clients, and what safety protocols do you have in place?
Iain – The inherent risks associated with mountain sports are numerous and potentially fatal to both myself and my clients. Risk is managed by simply calculating any and every situation's potential risk and making the correct decisions. I best ensure my clients' safety by making the correct judgements and decisions in our activities together. The protocols I have in place involve the adoption of standard accepted mountaineering and nautical practices. These I have modified and practised over the last 30 years. I have the same procedure with most new customers. I read their email and tailor the best day out that the weather and our time together allows. This tailoring of the customers' day negates many risks and ensures the customers get the best day that our time and abilities allow.
Client Experience
SBS – Can you share a memorable experience or a particular challenge you faced with a client and how you handled it?
Iain – I have had numerous near misses over the years, but all have been successfully managed. This has ensured that my safety record is perfect, and I strive to keep it that way. By managing risk in a holistic manner, you constantly seek to avoid it. In the event of an unforeseen incident that you have, this should have been on the possible list of the day's outcomes. The essence of any day out is all about calculated risk and outcomes.
Training and Certification
SBS – What kind of training or certifications do you think are essential for someone looking to start a business in adventure guiding, and how did you acquire yours?
Iain – To be a guide or anyone who takes the duty of care for other people must be a very experienced practitioner of the sport. Sports such as white water kayaking, diving, abseiling, mountaineering and skydiving require many years of participation for a person to become proficient. Additionally to this proficiency, local knowledge of the guide's home area must be second to none. Of course, having good people skills is a standard trait of all successful guides. Personally, I have been recreationally rock climbing — specifically on coastal cliffs and sea stacks — for over 30 years. When I made the decision to start a guiding business, I sat and passed a collection of trekking and rock climbing certificates. My certificates only cover The Republic of Ireland and the UK. Every other country has its own system of guiding certification.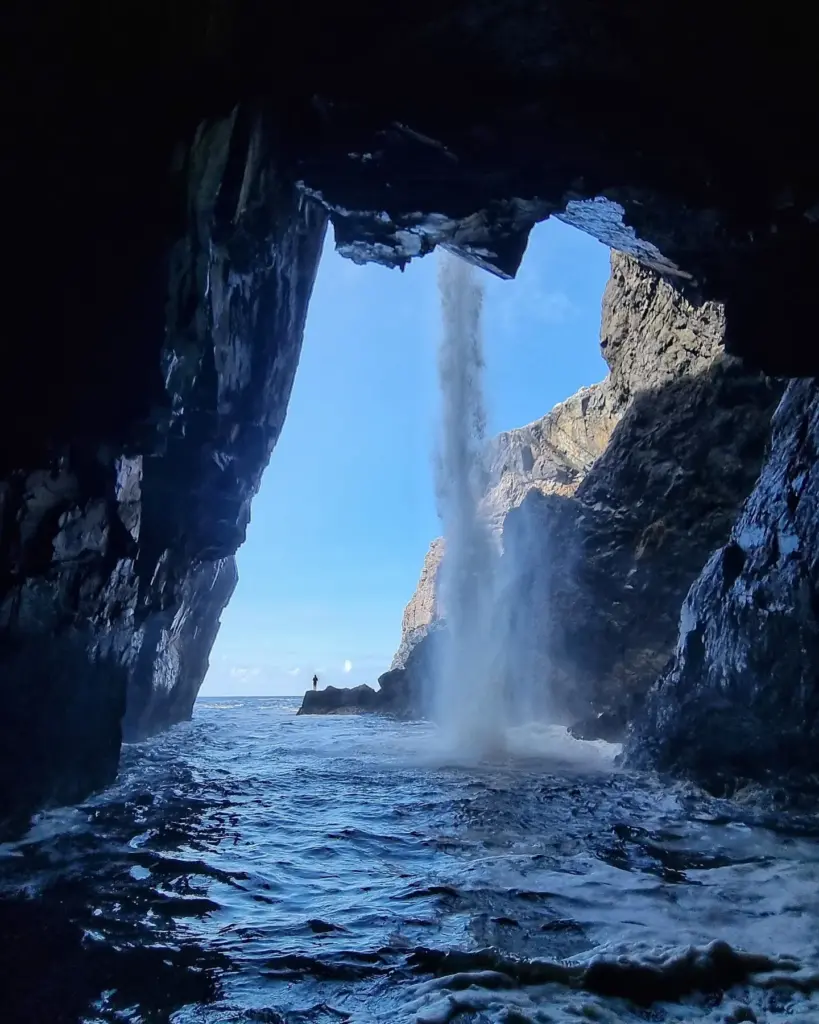 Marketing Strategies
SBS – How do you market Unique Ascent, and which channels have proven to be the most effective for attracting new clients?
Iain – My main form of marketing is to simply go out and do what I do best. I go out and look for, find and climb previously unclimbed bits of rock. I record these climbs in my own guidebooks and make them freely available on my website for anyone to download. My site currently hosts the rock climbing information for my local area on 44 individual PDFs. During these climbs and days out, I record myself as I regularly climb alone. I regularly post on social media and do very well with my content. That's my best method of promoting myself, the area, and my sport. This has led to successful promotions with Redbull, Forbes Magazine, and Failte Ireland, among others. By simply having great days out myself and posting them online attracts people to my area to play.
Seasonal Variations
SBS – How does your business adapt to seasonal changes in weather and client demand, and what strategies do you employ to maintain a steady income throughout the year?
Iain – I provide two services. The first is a unique and extensive guiding service. I guide people on experiences of true adventure to remote unclimbed sea stacks, previously unclimbed cliffs, uninhabited islands, difficult-to-access sea caves, and, of course, to the summits of Ireland's and the UK's mountains in both summer and winter conditions. These outdoor experience days are open to everyone, and there are no requirements to have any previous climbing, kayaking, or hillwalking experience. We tailor every guided day to your aspirations, experience, fitness, weather, and sea conditions to get the best day out we safely can. This is what I do in the summer months, as my business is 100% weather-dependent.
In the winter months, I provide a mountain training service in which I provide mountain training courses and assessments. The courses we provide are both national governing body courses approved by Mountaineering Ireland and bespoke courses tailored to your needs, aspirations and current skill set. We provide courses covering a wide range of criteria and remits for trainee rock climbing instructors and mountain leaders. Our bespoke courses are only really limited to your aspirations and imagination. We have provided training to assist people in fulfilling their own personal goals and ambitions.
Environmental Stewardship
SBS – Adventure sports can have an impact on the natural environment. What practices do you implement to minimize your ecological footprint and promote sustainable tourism?
Iain – In the main and by their very nature, many of our outdoor sports create minimal environmental damage as the environment is what we are selling to you. Every adventure guide will ensure they leave their playground better than they found it. This usually involves promoting best practices and cleaning up after other people. If we ruin our outdoor playground, we don't have a playground anymore.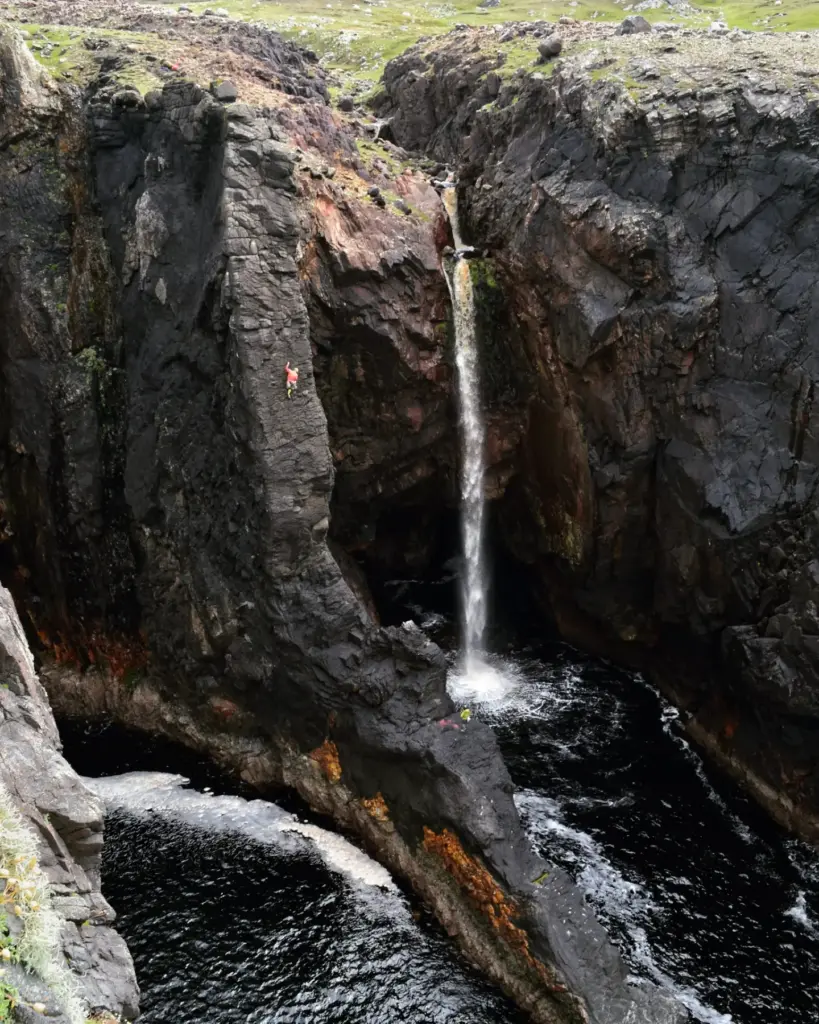 Networking and Collaboration
SBS – How do you network with other professionals in the adventure tourism industry, and have you formed any partnerships or collaborations that have been beneficial for your business?
Iain – In business and the ability to create your employment, it all revolves around your ability to interact with others. Networking and collaboration are a vital part of every business. I employ the go-with-the-flow method of directing my business direction and marketing. This means you try many things and decide what does and does not work. Being able to stop doing something and move to the next is a skill that takes a little time to get right. I have worked with many different organisations and people over the years, and something good has always come from every interaction.
Advice for Aspiring Entrepreneurs
SBS – What advice would you give to someone looking to start their own adventure-guiding business, and what do you wish you had known when you were first starting out?
Iain – My advice for anyone thinking of becoming an adventure guide would be to decide the activity that makes you happiest, then do that activity until you are very good at it. During this time, you will have worked out how and where you are going to your future customers. A simple rule I have is, "If it's not fun, then I'm not doing it." If you keep this mantra throughout your guiding career, you will have a great life.
Stay connected with Unique Ascent and join the community of adventure enthusiasts by following Iain on Instagram, liking the page on Facebook, and staying updated through Twitter!
Comments
Unique Ascent: Mastering the Art of Adventure with Iain Miller
The Beginning
Coming up With a Business Name
Business Funding
Service Differentiation
A Day in the Life of an Entrepreneur
Risk Management
Client Experience
Training and Certification
Marketing Strategies
Seasonal Variations
Environmental Stewardship
Networking and Collaboration
Advice for Aspiring Entrepreneurs
Subscribe to Our Newsletter
Join our exclusive community! Subscribe to our newsletter
and gain insider access to cutting-edge business insights and trends.
Thank you for subscribing! We can't wait to share our latest news and updates with you. Get ready for exciting content in your inbox.