Published on November 10, 2023
Updated on November 14, 2023
In the dynamic world of software development, where innovation and agility are key, InvoZone has emerged as a trailblazer under the astute leadership of CEO Furqan Aziz. Steering through the complex and ever-changing tech landscape, Aziz has not only navigated InvoZone to new heights but also positioned it as an influential force in shaping the industry's future. Our conversation with Furqan Aziz today offers an exclusive window into the inner workings of this formidable enterprise, providing insights into the journey and ethos behind InvoZone's success.
Under Aziz's guidance, InvoZone has become a cornerstone in the field, empowering businesses, startups, and enterprises with sophisticated software solutions. From the initial spark of inspiration to the ongoing pursuit of excellence, join us as we explore the nuances of leading a top-tier software development company in a competitive global market, illuminated by the experiences and visions of CEO Furqan Aziz.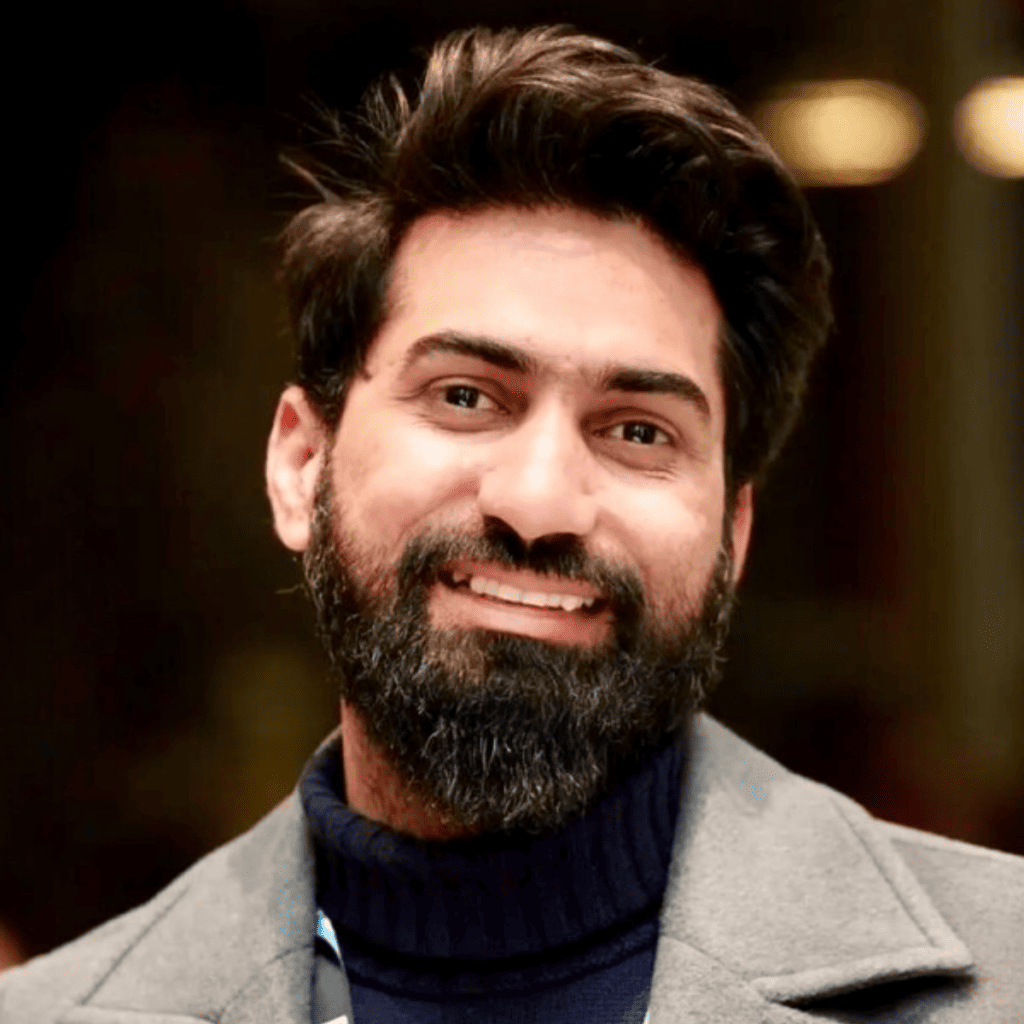 The Genesis of InvoZone
SBS – Can you share the story of how your business journey began? What inspired you to start it?
Furqan – A particular moment I believe contributed to the founding of InvoZone and my becoming an entrepreneur was when I was working for a company and was in need of some cash, so I went to withdraw it, only to discover that my account had been hacked, and all my funds were stolen. This incident served as a stark reminder that even someone like me, with technical knowledge, could become a victim of cybercrime — then what about non-technical individuals? This realization motivated me to establish my own IT firm, specializing in the development of highly encrypted and secure software and web apps. Our commitment to security is one of the primary factors that also sets us apart in the market.
Coming up with a Business Name
SBS – Choosing the right name for a business is crucial. How did you come up with the name for your brand, and what significance does it hold?
Furqan – Indeed, you are very right here! Your company name plays a monumental role in a brand's growth and perception, meaning it can completely make or break a company. InvoZone is more than just a software and web app development company; we are a community of highly skilled individuals dedicated to empowering businesses to thrive in the market through our innovative and contemporary approaches. Our web and mobile solutions are not mere answers; we craft them with the latest market trends while preserving their distinctiveness. This was the message we aimed to convey through our name — that we are the zone of innovation, hence InvoZone.
Funding the Company
SBS – Starting a business often requires capital. How did you fund your business initially, and did you explore any unique financing options?
Furqan – I'll be honest here — I've bootstrapped InvoZone from day one. I began by personally handling projects and gradually built a team. My pre-InvoZone experiences with international businesses provided vital insights into how businesses operate, covering everything from the technical side to sales. Certainly, finances are important, but the initial step is meticulous planning, starting with the resources at your disposal. Speaking with my experience of working with 100+ startups who are now mid-level or high-level companies. Always plan to work within your resources, especially in this inflation where the procurement of funds is hard. In my opinion, plan thoroughly before considering external funding if bootstrapping isn't feasible.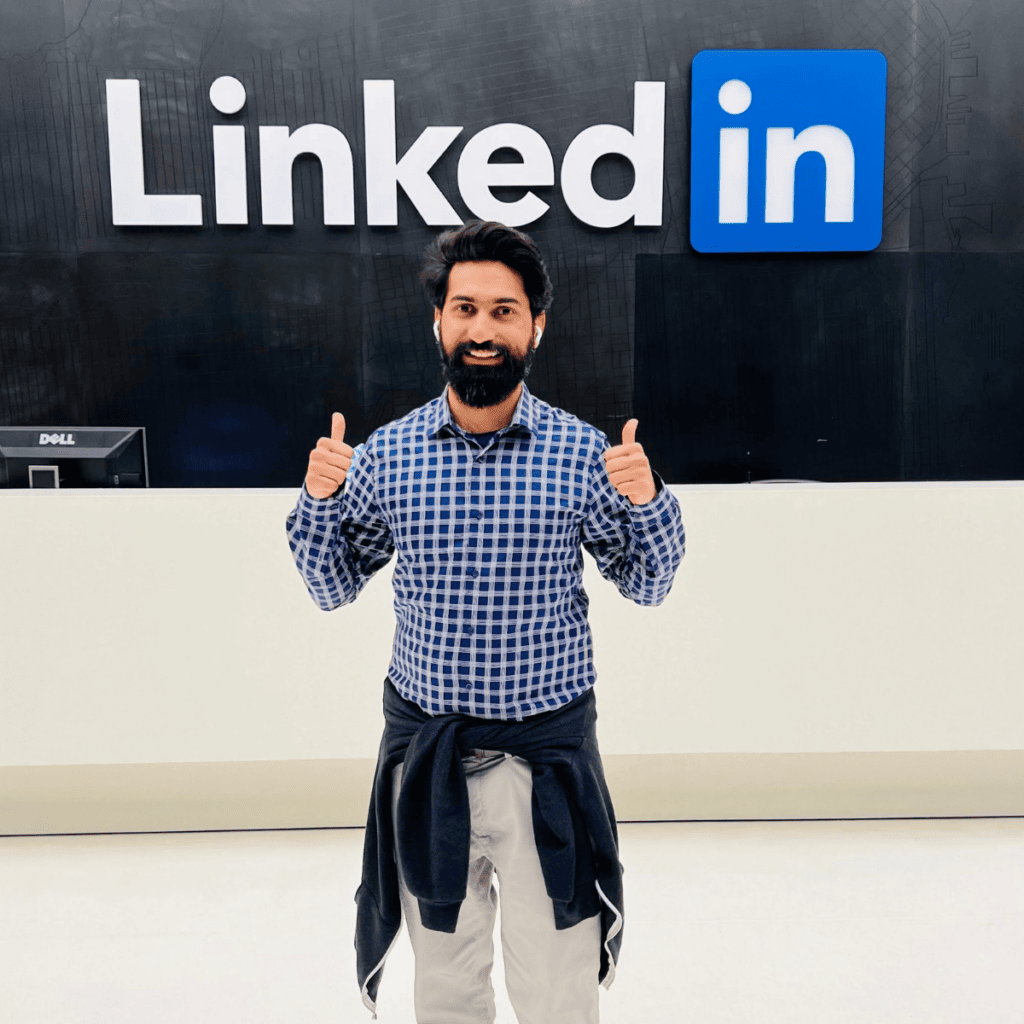 Setting InvoZone Apart in the Market
SBS – How do you differentiate your products/services in your market?
Furqan – In the IT market, the products are those that can be used by anyone, like Facebook, Quora, Instagram, etc., whereas services are targeted towards specific people, companies, or businesses and can be given by any company, like Zoho Corp, InvoZone, etc.
A Day in the Life of a Tech Entrepreneur
SBS – As an entrepreneur, what does a typical day look like for you?
Furqan – Being an entrepreneur is challenging; it's not the glitz and glamor portrayed in movies. My day typically begins at 7:30am with an early morning walk or jog, which refreshes my mind and provides me with a fresh perspective on life and my business. Afterward, I enjoy breakfast with my family, ensuring that I spend quality time with them despite the demands of entrepreneurship. My workday officially starts at 9:00am when I open our internal messaging app to address employee queries to maintain open communication. I firmly believe that my employees are my most valuable asset, and I encourage them to reach out to me with any questions, whether related to projects or their careers.
Throughout the day, I have scheduled meetings and sync-ups with my heads of departments (HODs), and after lunch, I attend client calls aligned by my team. In the meantime, my office doors are always open to employees, allowing them to approach me with any issues or concerns — I believe in agile workflow. My workday typically concludes at 11:00pm as I check and respond to emails and messages. Then I go to sleep except if there is a client call. I believe in burning the midnight oil at the start of your company when you are adopting coaching leadership. After that, you can trust your team and delegate the tasks, and this is the most important part of your job as an owner and CEO of the business.
Building the Tech Team
SBS – What qualities do you prioritize when hiring software developers and other key personnel for your team?
Furqan – As a CEO, I ensure that the person I hire is technically capable in addition to being empathetic This means that, beyond coding skills, the person is sensitive enough to understand the client's pain points and concerns on their level in addition to being a team player with super communication skills. A developer, in my opinion, is not just a coder but a person who transforms the dream of a company into reality.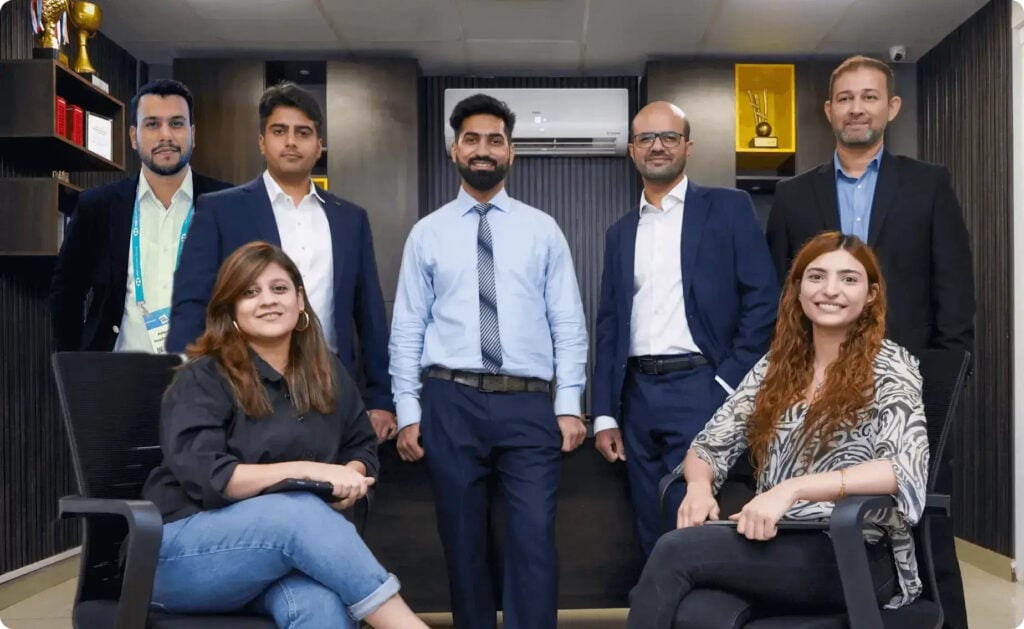 Acquisition and Retention Strategies
SBS – Can you discuss your strategies for acquiring new clients and retaining existing ones in this competitive industry?
Furqan – I cannot emphasize enough that establishing & maintaining client relationships is an ongoing process, extending beyond the initial sale to building a long-term relationship of trust and mutual benefit.
First and foremost, speaking from experience, always deliver something extra to your client. This leaves a long-lasting impression.
Secondly, you get to deal with different clients, so tailor your approach to individual client needs, get regular feedback, and foster open communication. Assuredly, you need new clients for the sustenance of your business, so for that, always keep your business listings updated, like GoodFirms and Clutch, etc, and try to get a maximum number of testimonials on these platforms. Keep your socials innovative and active to attract potential clients. Also, LinkedIn is the most useful for you as it can be used for networking as well as lead searching and gathering.
Software Tools and Methodologies
SBS – Which tools and methodologies do you use to keep your software development projects on track?
Furqan – We believe in agile methodologies such as Scrum for project management. Some of the tools we use are Jira and Trello for task tracking. Other than this, regular stand-up meetings foster team communication, making sure that everything is aligned and potential roadblocks or blockers are addressed swiftly. Also, we include clients in our sprints and meetings so that they are involved at every step of the process. The purpose is to keep them informed about the progress of their project.
Embracing AI
SBS – How has the integration of Artificial Intelligence affected your services, and how have you adapted to stay ahead in the industry?
Furqan – Well, Artificial Intelligence has bestowed us with the efficiency and productivity we dreamt of having. It is there to augment our efforts, not to replace us. In this context, AI and automation have been immensely helpful. We use ChatGPT, Open AI, Google Bard, Kubernetes, Chef, etc (these are only some of the prominent tools we use) for automating repetitive tasks.
Overcoming Challenges
SBS – What have been some of the biggest challenges in running InvoZone, and how have you overcome them?
Furqan – I believe that challenges present growth opportunities, and so far, it has been a positive experience. By fostering a culture of supportive leadership and breaking down silos, we can mitigate and overcome the challenges. However, finding talent has been a little difficult for us.
We are constantly looking for individuals who can enrich our company with their expertise and skills. With sales offices in Canada, Malaysia, and the US and development headquarters in Pakistan, you can contact us at Careers at InvoZone if you are interested in joining us. Currently, we have a team of 500+ professionals, including virtual employees.
The QA and Testing Strategy
SBS – Can you elaborate on your quality assurance and testing processes to ensure software meets industry standards and client expectations?
Furqan – Certainly, and I am thrilled that you asked this question because ensuring the development of bug-free software is our USP. We have a separate team of QAs deployed on every project from the very beginning, conducting testing at every step of the development cycle.
We conduct regular sprints and meetings with clients to ensure their involvement in every step. Without their approval, we won't move any further.
Lastly, our QA team uses industry-standard tools such as Postman, JMeter, Selenium, Bugzilla, Browserstack, and SoapUI.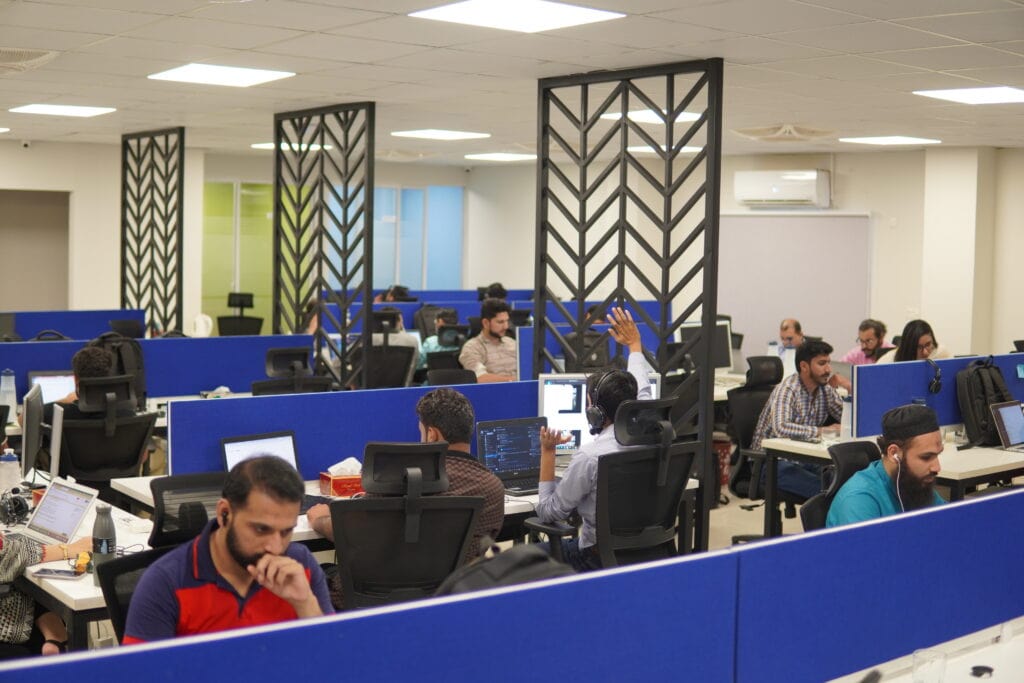 The Cycle of Continuous Improvement
SBS – How do you gather and utilize client feedback for continuous improvement of your services?
Furqan – At InvoZone, for every project, we deploy a dedicated client success manager (CSM) above each project manager (PM). They operate independently from the development team and PM, taking client feedback at every stage of the project.
CSMs are responsible for creating an open environment for clients to share their concerns and feedback, welcoming and appreciating critical points of view as opportunities for focus and growth. If a problem persists, the CSM can involve management for resolution.
The CSM team also extracts key points from this feedback, and during monthly sprints, management discusses these points and explores ways to improve or tilt the odds in our favor.
Keeping Up with Software Development Trends
SBS – How do you stay informed about the latest software development trends, and how quickly do you adapt your practices to new market demands?
Furqan – Well, staying informed about the latest software development trends is essential for survival in this ever-transforming industry. At InvoZone, we maintain a separate team to monitor the latest technology trends, tools, methods, and practices. Our development team and management stay in constant communication with them, and based on their research, we adapt our practices to meet industry standards.
Personally, I find attending industry conferences the best method to know the latest technologies and trends and to connect with industry experts and leaders.
Additionally, I actively participate in online communities, and whenever I have spare time, I read on platforms like Stack Overflow, Reddit, and Discord. I also contribute to Medium and Hackernoon. You can check out my Medium contributions here and on Hackernoon here.
Competitive Strategies: InvoZone's Market Edge
SBS – What strategies do you employ to maintain a competitive edge in the software development industry?
Furqan – Frankly, staying ahead of the curve and maintaining a competitive edge is challenging, but we make sure that we are fully aware of industry trends to offer our partners the solutions they deserve. This helps them stand apart in the market with secure and customized solutions.
Here are some of the strategies we employ:
We conduct regular training sessions for our developers to keep them informed about new trends and technologies
At InvoZone, we make sure our technical teams have access to new tools for implementing innovative solutions
Our company has a dedicated team to process, monitor, and analyze the impact of technological trends
We have an Innovation Lab series of seminars where our heads of departments give regular lectures bi-monthly regarding new trends related to various industries
The Future Vision for InvoZone
SBS – Can you share your vision for the future of InvoZone and how you plan to evolve your services in the coming years?
Furqan – InvoZone has completed over 300 projects, and our aim is to expand our services further, catering to startups and big corporations, and ushering them in the era of digital transformation.
Regarding services, last year, we established two verticals InvoGames dedicated to game development, and InvoBlox, associated with Blockchain development. Additionally, we launched various products, such as InvoChat, InvoCom, InvoHub, and InvoTeams. 
The reason behind telling you this is to provide clarity into my vision, where I want InvoZone to be InvoZone Private Group Ltd.
For those eager to continue the conversation and stay updated with InvoZone's latest endeavors, be sure to connect with them on social media platforms:
Comments
Decoding InvoZone's Rise in Software Development
The Genesis of InvoZone
Coming up with a Business Name
Funding the Company
Setting InvoZone Apart in the Market
A Day in the Life of a Tech Entrepreneur
Building the Tech Team
Acquisition and Retention Strategies
Software Tools and Methodologies
Embracing AI
Overcoming Challenges
The QA and Testing Strategy
The Cycle of Continuous Improvement
Keeping Up with Software Development Trends
Competitive Strategies: InvoZone's Market Edge
The Future Vision for InvoZone
Subscribe to Our Newsletter
Join our exclusive community! Subscribe to our newsletter
and gain insider access to cutting-edge business insights and trends.
Thank you for subscribing! We can't wait to share our latest news and updates with you. Get ready for exciting content in your inbox.