Business Plan vs. Marketing Plan
Written by: Carolyn Young
Carolyn Young is a business writer who focuses on entrepreneurial concepts and the business formation. She has over 25 years of experience in business roles, and has authored several entrepreneurship textbooks.
Edited by: David Lepeska
David has been writing and learning about business, finance and globalization for a quarter-century, starting with a small New York consulting firm in the 1990s.
Updated on September 13, 2023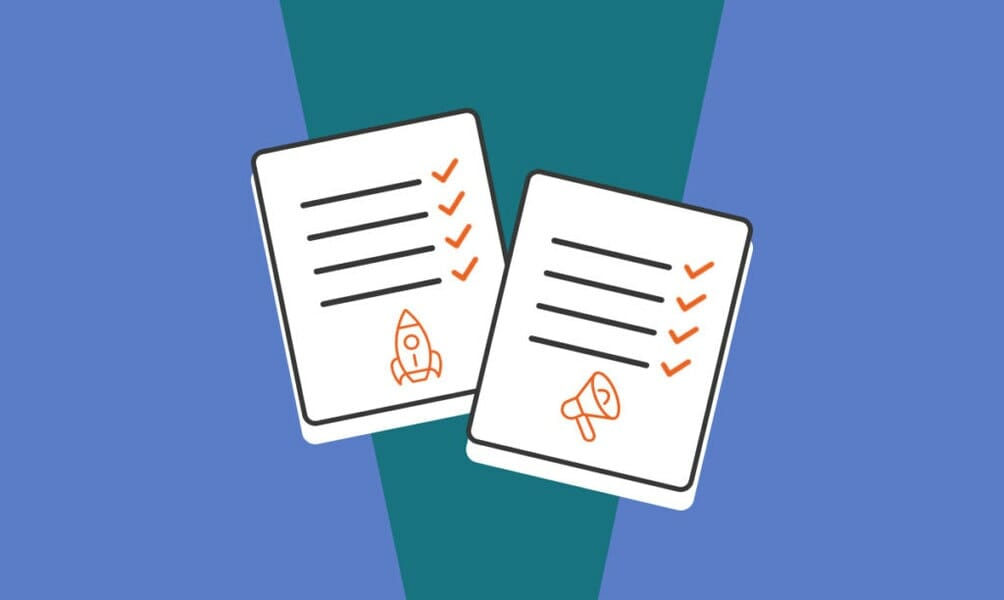 Business Plan vs. Marketing Plan
Business Plan Components
Marketing Plan Components
In Closing
Starting a business usually requires both a business plan and a marketing plan. The first has many components, including a marketing section, and covers all facets of the business. The second is essentially an expanded and more detailed version of the marketing section of your business plan.
Both are dynamic documents that will change over time as you learn more about your business. This guide lays out all the details of what goes into a business plan and in a marketing plan.
Aspect
Business Plan
Marketing Plan
Purpose
Outlines the overall mission, vision, and direction of a business.
Focuses on strategies and tactics to promote products/services.
Primary Focus
Overall operation, financial projections, organizational structure.
Market research, positioning, and promotional strategies.
Components
Executive Summary
Company Description/Overview
Products/Services Offered
Market Analysis
Marketing and Sales Strategies
Operations and Management
Financial Plan
Appendices
Marketing Objectives
Target Market
Value Proposition
Marketing Activities
Marketing Budget
KPIs
Duration
Typically covers 3-5 years of business operations.
Generally covers a shorter term, like 1 year.
Audience
Primarily for investors, banks, partners, and stakeholders.
Mainly for the marketing team, partners, and stakeholders.
Role
Provides a comprehensive view of the business, including its challenges, strategies, and financial expectations.
Focuses solely on attracting, retaining, and growing a customer base.
Revisions
Updated as major shifts or changes occur in the business landscape.
Frequently updated to adjust to market dynamics and trends.
Outcome Expectation
A roadmap for business growth, resource allocation, and management decisions.
A blueprint for increasing sales, brand visibility, and market share.
Business Plan Components
A business plan has eight essential components.
1. Executive Summary
The executive summary opens your business plan, but it's the section you'll write last. It summarizes the key points and highlights the most important aspects of your plan. Often investors and lenders will only read the executive summary; if it doesn't capture their interest they'll stop reading, so it's important to make it as compelling as possible.
The components should include:
The business opportunity – what problem are you solving in the market?
Your idea, meaning the product or service you're planning to offer, and why it solves the problem in the market better than other solutions.
The history of the business so far – what have you done to this point? When you're just getting started, this may be nothing more than coming up with the idea, choosing a business name, and forming a business entity.
A summary of the industry, market size, your target customers, and the competition.
A strong statement about how your company is going to stand out in the market – what will be your competitive advantage?
A list of specific goals that you plan to achieve in the short term, such as developing your product, launching a marketing campaign, or hiring a key person.
A summary of your financial plan including cost and sales projections and a break-even analysis.
A summary of your management team, their roles, and the relevant experience that they have to serve in those roles.
Your "ask", if applicable, meaning what you're requesting from the investor or lender. You'll include the amount you'd like and how it will be spent, such as "We are seeking $50,000 in seed funding to develop our beta product".
Remember that if you're seeking capital, the executive summary could make or break your venture. Take your time and make sure it illustrates how your business is unique in the market and why you'll succeed.
The executive summary should be no more than two pages long, so it's important to capture the reader's interest from the start.
2. Company Description/Overview
In this section, you'll detail your full company history, such as how you came up with the idea for your business and any milestones or achievements.
You'll also include your mission and vision statements. A mission statement explains what you'd like your business to achieve, its driving force, while a vision statement lays out your long-term plan in terms of growth.
A mission statement might be "Our company aims to make life easier for business owners with intuitive payroll software", while a vision statement could be "Our objective is to become the go-to comprehensive HR software provider for companies around the globe."
In this section, you'll want to list your objectives – specific short-term goals. Examples might include "complete initial product development by 'date'" or "hire two qualified sales people" or "launch the first version of the product".
It's best to divide this section into subsections – company history, mission and vision, and objectives.
3. Products or Services Offered
Here you'll go into detail about what you're offering, how it solves a problem in the market, and how it's unique. Don't be afraid to share information that is proprietary – investors and lenders are not out to steal your ideas.
Also specify how your product is developed or sourced. Are you manufacturing it or does it require technical development? Are you purchasing a product from a manufacturer or wholesaler?
You'll also want to specify how you'll sell your product or service. Will it be a subscription service or a one-time purchase? What is your target pricing? On what channels do you plan to sell your product or service, such as online or by direct sales in a store?
Basically, you're describing what you're going to sell and how you'll make money.
4. Market Analysis
The market analysis is where you're going to spend most of your time because it involves a lot of research. You should divide it into four sections.
Industry analysis
Research and describe exactly what's happening in your industry, such as growth rate, market size, and current trends. Where is the industry predicted to be in 10 years? Provide links to your sources.
Detail your company's place in the market. Will your product fit a certain niche? Is there a sub-industry your company will fit into? How will you keep up with industry changes?
Competitor analysis
Now you'll dig into your competition. Detail your main competitors and how they differentiate themselves in the market. For example, one competitor may advertise convenience while another touts superior quality. Also highlight your competitors' weaknesses.
Next, explain how you'll stand out. Detail your competitive advantages and how you'll sustain them. This section is extremely important and will be a focus for investors and lenders.
Target market analysis
Here you'll describe your target market and whether it's different from your competitors'. For example, maybe you have a younger demographic in mind?
You'll need to know more about your target market than demographics, though. You'll want to explain the needs and wants of your ideal customers, how your offering solves their problem, and why they will choose your company.
You should also lay out where you'll find them, where to place your marketing and where to sell your products. Learning this kind of detail requires going to the source – your potential customers. You can do online surveys or even in-person focus groups.
Your goal will be to uncover as much about these people as possible. When you start selling, you'll want to keep learning about your customers. You may end up selling to a different target market than you originally thought, which could lead to a marketing shift.
SWOT analysis
SWOT stands for strengths, weaknesses, opportunities, and threats, and it's one of the more common and helpful business planning tools.
First describe all the specific strengths of your company, such as the quality of your product or some unique feature, such as the experience of your management team. Talk about the elements that will make your company successful.
Next, acknowledge and explore possible weaknesses. You can't say "none", because no company is perfect, especially at the start. Maybe you lack funds or face a massive competitor. Whatever it is, detail how you will surmount this hurdle.
Next, talk about the opportunities your company has in the market. Perhaps you're going to target an underserved segment, or have a technology plan that will help you surge past the competition.
Finally, examine potential threats. It could be a competitor that might try to replicate your product or rapidly advancing technology in your industry. Again, discuss your plans to handle such threats if they come to pass.
5. Marketing and Sales Strategies
Now it's time to explain how you're going to find potential customers and convert them into paying customers.
Marketing and advertising plan
When you did your target market analysis, you should have learned a lot about your potential customers, including where to find them. This should help you determine where to advertise.
Maybe you found that your target customers favor TikTok over Instagram and decided to spend more marketing dollars on TikTok. Detail all the marketing channels you plan to use and why.
Your target market analysis should also have given you information about what kind of message will resonate with your target customers. You should understand their needs and wants and how your product solves their problem, then convey that in your marketing.
Start by creating a value proposition, which should be no more than two sentences long and answer the following questions:
What are you offering
Whose problem does it solve
What problem does it solve
What benefits does it provide
How is it better than competitor products
An example might be "Payroll software that will handle all the payroll needs of small business owners, making life easier for less."
Whatever your value proposition, it should be at the heart of all of your marketing.
Sales strategy and tactics
Your sales strategy is a vision to persuade customers to buy, including where you'll sell and how. For example, you may plan to sell only on your own website, or you may sell from both a physical location and online.
On the other hand, you may have a sales team that will make direct sales calls to potential customers, which is more common in business-to-business sales. Sales tactics are more about how you're going to get them to buy after they reach your sales channel.
Even when selling online, you need something on your site that's going to get them to go from a site visitor to a paying customer. By the same token, if you're going to have a sales team making direct sales, what message are they going to deliver that will entice a sale?
It's best for sales tactics to focus on the customer's pain point and what value you're bringing to the table, rather than being aggressively promotional about the greatness of your product.
Pricing strategy
Pricing is not an exact science and should depend on several factors. First, consider how you want your product or service to be perceived in the market. If your differentiator is to be the lowest price, position your company as the "discount" option.
Think Walmart, and price your products lower than the competition. If, on the other hand, you want to be the Mercedes of the market, then you'll position your product as the luxury option.
Of course you'll have to back this up with superior quality, but being the luxury option allows you to command higher prices. You can, of course, fall somewhere in the middle, but the point is that pricing is a matter of perception.
How you position your product in the market compared to the competition is a big factor in determining your price. Of course, you'll have to consider your costs, as well as competitor prices. Obviously, your prices must cover your costs and allow you to make a good profit.
Whatever pricing strategy you choose, you'll justify it in this section of your plan.
6. Operations and Management
This section is the real nuts and bolts of your business – how it operates on a day-to-day basis and who is operating it. Again, this section should be divided into subsections.
Operational plan
Your plan of operations should be specific, detailed and mainly logistical. Who will be doing what on a daily, weekly, and monthly basis? How will the business be managed and how will quality be assured? Be sure to detail your suppliers and how and when you'll order raw materials.
This should also include the roles that will be filled and the various processes that will be part of everyday business operations. Just consider all the critical functions that must be handled for your business to be able to operate on an ongoing basis.
Technology plan
If your product involves technical development, you'll describe your tech development plan with specific goals and milestones. The plan will also include how many people will be working on this development, and what needs to be done for goals to be met.
If your company is not a technology company, you'll describe what technologies you plan to use to run your business or make your business more efficient. It could be process automation software, payroll software, or just laptops and tablets for your staff.
Management and organizational structure
Now you'll describe who's running the show. It may be just you when you're starting out, so you'll detail what your role will be and summarize your background. You'll also go into detail about any managers that you plan to hire and when that will occur.
Essentially, you're explaining your management structure and detailing why your strategy will enable smooth and efficient operations.
Ideally, at some point, you'll have an organizational structure that is a hierarchy of your staff. Describe what you envision your organizational structure to be.
Personnel plan
Detail who you've hired or plan to hire and for which roles. For example, you might have a developer, two sales people, and one customer service representative.
Describe each role and what qualifications are needed to perform those roles.
7. Financial Plan
Now, you'll enter the dreaded world of finance. Many entrepreneurs struggle with this part, so you might want to engage a financial professional to help. A financial plan has five key elements.
Startup Costs
Detail in a spreadsheet every cost you'll incur before you open your doors. This should determine how much capital you'll need to launch your business.
Financial projections
Creating financial projections, like many facets of business, is not an exact science. If your company has no history, financial projections can only be an educated guess.
First, come up with realistic sales projections. How much do you expect to sell each month? Lay out at least three years of sales projections, detailing monthly sales growth for the first year, then annually thereafter.
Calculate your monthly costs, keeping in mind that some costs will grow along with sales. Once you have your numbers projected and calculated, use them to create these three key financial statements:
Profit and Loss Statement, also known as an income statement. This shows projected revenue and lists all costs, which are then deducted to show net profit or loss.
Cash Flow Statement. This shows how much cash you have on hand at any given time. It will have a starting balance, projections of cash coming in, and cash going out, which will be used to calculate cash on hand at the end of the reporting period.
Balance Sheet. This shows the net worth of the business, which is the assets of the business minus debts. Assets include equipment, cash, accounts receivables, inventory, and more. Debts include outstanding loan balances and accounts payable.
You'll need monthly projected versions of each statement for the first year, then annual projections for the following two years.
Break-even analysis
The break-even point for your business is when costs and revenue are equal. Most startups operate at a loss for a period of time before they break even and start to make a profit. Your break-even analysis will project when your break-even point will occur, and will be informed by your profit and loss statement.
Funding requirements and sources
Lay out the funding you'll need, when, and where you'll get it. You'll also explain what those funds will be used for at various points. If you're in a high-growth industry that can attract investors, you'll likely need various rounds of funding to launch and grow.
Key performance indicators (KPIs)
KPIs measure your company's performance and can determine success. Many entrepreneurs only focus on the bottom line, but measuring specific KPIs helps find areas of improvement. Every business has certain crucial metrics.
If you sell only online, one of your key metrics might be your visitor conversion rate. You might do an analysis to learn why just one out of ten site visitors makes a purchase. Perhaps the purchase process is too complicated or your product descriptions are vague.
Learning why your conversion rate is low gives you a chance to improve it and boost sales.
8. Appendices
In the appendices you can attach documents such as manager resumes or other documents that support your business plan.
Marketing Plan Components
A marketing plan, as mentioned above, is a more detailed version of the marketing strategy section of your business plan. It includes six components.
1. Marketing Objectives
Start by detailing your short-term marketing goals. This could be "Reach 10,000 monthly site visitors by next year'" or "Acquire 500 new customers by May". Be sure to set clear and attainable goals so your marketing team understands its targets.
2. Target Market
You'll want to document exactly who you're trying to reach with your marketing. You should've already done a target market analysis for your business plan, and you'll use it here.
What Problem Are You Solving?
Whatever your product or service, it needs to solve a problem in the market. So, ask yourself, what problem does my business solve? Next, consider who faces that problem.
A plumbing company, for instance, solves the problem of broken pipes. Who deals with that problem? Homeowners and property owners and managers.
Depending on your business, it may not be obvious who has the problem you're solving. If it's not clear, do more research. Either way, knowing who faces the problem you're solving is just the beginning. You need to know much more about your target customers.
Research Your Market and Competition
Now, dig into your market with some online research. Do some Google and Bing searches about your target demographic, where they shop and live, what appeals to them and so on.
Next, check out your competition to see who they're marketing to. It may help to study their marketing through the eyes of a consumer.
What need do they fill? Who would find their marketing appealing? Where do they advertise? If their ads appear on TikTok, they're looking to attract a younger market.
This market research should give you a general profile of your target market – but that's not enough.
Talk to Potential Customers
To learn more about your target market, go straight to the source. The best way to learn their needs and wants, why they'd buy your product and how they'll use it, is to ask them via a phone or email survey.
If you've yet to make any sales, it's probably best to post your survey online then promote it on social media by offering a small reward, such as a gift certificate. Just make sure you ask the right questions to get the information you're looking for.
You can also hold in-person focus groups and offer your goods at a discount for participants.
Create Customer Profiles
Now it's time to build detailed profiles of your target customers. You may have found that your product will appeal to more than one group of people. These are called customer segments, and all your segments together make up your target market.
Create descriptions of each group with all the information you're learned. These profiles should include:
Pain points: the problems they have that you're solving
Benefits your product provides
Their interests: what do they care about?
Buying patterns: where do they shop?
Age, location, income level, other factual information
3. Value Proposition
Now you can use these profiles to craft a value proposition that will serve as the foundation of all your marketing. You may need to devise more than one value proposition to target different segments.
Your value propositions should be no more than two sentences long and answer the following questions:
What are you offering
Whose problem does it solve
What problem does it solve
What benefits does it provide
How is it better than competitors' products
An example might be "Payroll software that handles all the payroll needs of small business owners, making life easier for less."
Remember that you need to align your value proposition with the wishes of your target market.
4. Marketing Activities
Now you'll layout the specific marketing activities that you plan to conduct. Your target market analysis should have told you where you're most likely to find potential customers, so if you found out that your potential customers use TikTok, you can post and run ads there.
You'll want to only perform the marketing activities that are most likely to reach your potential customers so that you're not wasting marketing dollars. If getting found online is important to you, focus on search engine optimization (SEO) and social media ads.
Make the activities as specific as possible, such as "Run a TikTok ad promoting ____ for three months."
5. Marketing Budget
Now, determine what these activities will cost and set a budget. When you go through this process, you may find that you need to adjust your marketing to stick to the budget you can afford.
Your marketing budget needs to align with your goals. If one of your goals is to obtain 500 new customers, which will generate $10,000 in revenue, you can't spend more than that on marketing. You have to make sure you're getting a good return on your investment, or at least breaking even.
6. KPIs
Now you'll determine your key performance indicators (KPIs) to gauge the success of your marketing.
If you sell only online, one of your key marketing metrics might be your visitor conversion rate. You might do an analysis to learn why just one out of ten site visitors makes a purchase.
Perhaps the purchase process is too complicated or your product descriptions are vague. The point is, learning why your conversion rate is low gives you a chance to improve it and boost sales.
Similarly, if you're not getting enough site visitors, you may need to revisit your SEO strategies.
In Closing
A business plan outlines the overall mission, objectives, and strategies of a business, encompassing aspects like operations, finances, and organizational structure.
In contrast, a marketing plan focuses specifically on strategies and tactics to promote products or services, detailing target audiences, promotional methods, and market positioning.
While the business plan provides a comprehensive view of the entire business, the marketing plan hones in on attracting and retaining customers.