Incfile vs Inc Authority Comparison
Written by: Coralee Bechteler
Coralee is a business writer with experience in administrative services, education, and software testing.
Edited by: David Lepeska
David has been writing and learning about business, finance and globalization for a quarter-century, starting with a small New York consulting firm in the 1990s.
Updated on August 30, 2023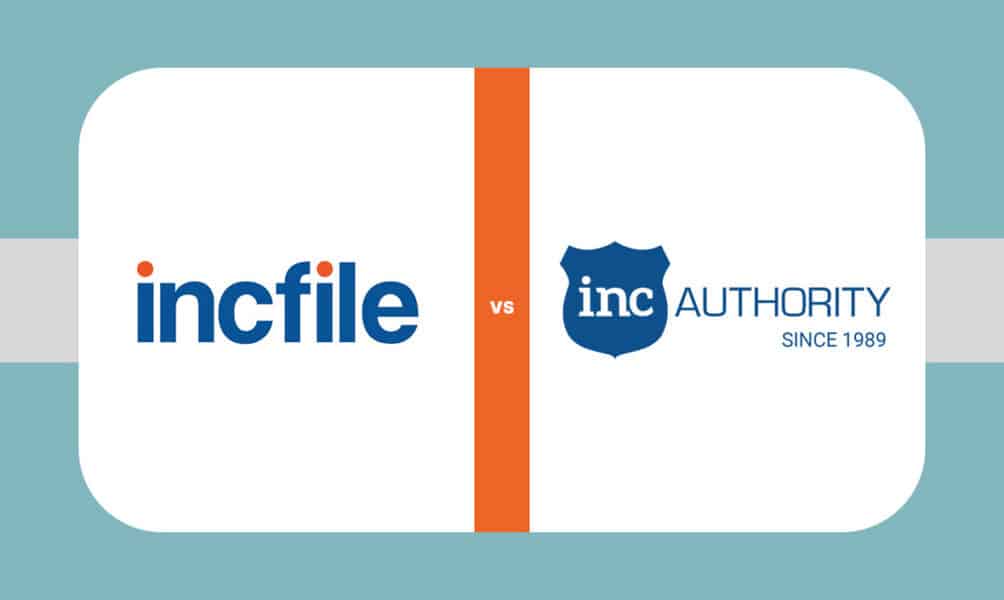 Incfile vs Inc Authority Comparison
Services Overview
Our Verdict
Pros and Cons
Plans and Pricing – Winner: Incfile
Experience – Winner: Incfile
Customer Support – Winner: Incfile
Turnaround Times – Winner: Incfile
Customer Reviews – It's a tie between the two
Ease of Use – Winner: Inc Authority
Additional Services – It's a tie between the two
FAQs
Establishing a business entity is a pivotal step in kickstarting a business, but its intricate and wearisome nature often leads many entrepreneurs to engage a professional to handle it appropriately. These business formation services also provide further assistance that could be beneficial for a fledgling business owner.
Incfile and Inc Authority are two of the top-tier online services worth considering in this regard. To assist you in discerning which of these would be the most suitable for you and your venture, we've conducted a comprehensive review of their services from an entrepreneur's perspective.
Continue reading to select the service that will set your business on the road to success.
Services Overview
Business Formation Service
Incfile
Inc Authority
Plans and Pricing
3 plans: Silver, Gold, and Platinum; $0 – $299 + state filing fees
Free Formation, Starter and Fast Track Business Bundle + state filing fees
Registered Agent Service
Free for one year in all plans, then $119 annually
Included for one year, then $179 annually
Operating Agreement
Included in Gold and Platinum
Not included, $89
Annual Report Service
Lifetime company annual report alerts included in Gold and Platinum
Annual compliance notifications
Processing Time
Varies from the state; Incfile will pass your data to the governing body in 1 day.
Standard state times, $0 express processing
Customer Support
Chat, email, phone; Mon – Fri 9am – 6pm CST
Chat, email, phone; Mon – Fri 6am – 5pm PT
Business Documents Online Library
Nine free templates in Silver and Gold, full package in Platinum plan
No
Other Services Offered
Business compliance services, IRS filings, free tax consultation, business banking, domain name and email address
Ownership or Stock Certificates, Professional Tax Consultation, Web Domain + 5 Email Addresses
Number of Business Served
Over 1 million since 2004
250,000
Money Back Guarantee
No
60 days
Our Verdict
The advanced service packages offered by Incfile surpass those of Inc Authority. By choosing Incfile, you'll not only save significant funds but also enjoy additional perks such as banking resolution and business contract templates, making it our preferred choice.
Although Inc Authority's basic package provides substantial value, Incfile generally gives you more bang for your buck and offers superior customer service. In this comparison, we wouldn't think twice about recommending Incfile.
Pricing
Turnaround Time
Help and Support
Customer Satisfaction
Ease of Use
Visit Incfile

Pricing
Turnaround Time
Help and Support
Customer Satisfaction
Ease of Use
Visit Inc Authority
While Inc Authority's Starter Business Bundle is a great value at the cost of state fees only, Incfile's plans and cost structure overall provide more for less, making Incfile our choice.
Pros and Cons
Pros
Affordable, with a free plan that includes all the basics
Unlimited name searches
Free registered agent service for a year
Access to an online dashboard for paid plans
Unlimited access to phone and email support
Cons
Customer service may be less responsive than other services
Limited legal services available
Limited customer support hours, no weekend availability
Pros
Free plan is a good value
Free 1-year registered agent service and EIN
Quick and easy purchase process
Good rating with Trustpilot
Cons
Pricing not disclosed on site; the information is hard to find on the site
Expensive service packages
Aggressive sales tactics
Poor customer service
Plans and Pricing – Winner: Incfile
Incfile
Incfile's formation services are free, also providing a year of free registered agent services. After the first year, the registered agent service renews at $119/year. The Gold ($199) and Platinum ($299) packages offer substantial features, justifying their cost.
Inc Authority
Inc Authority's free business formation plan includes free LLC formation, one year of free registered agent services, and an employer identification number (EIN). The prices of their premium bundles aren't clearly displayed, but they offer services like the INC Success Advisor Package, Private Banking, Personalized Business Advice, and expedited filings.
Experience – Winner: Incfile
Incfile
Incfile, established in 2004, has aided in the formation of over 1 million businesses.
Inc Authority
Inc Authority, established in 1989, has formed over 250,000 LLCs and corporations.
Customer Support – Winner: Incfile
Incfile
We tested Incfile's customer service channels thoroughly, including chat, email, and phone. The response times were impressive across all platforms: with almost instant replies on chat, immediate phone pickup, and an email response in less than a day. You can contact the support team Monday to Friday.
Inc Authority
Inc Authority offers support via phone, email, or chat but does not provide customer service over the weekends. We also observed that the chat option was not consistently available.
Turnaround Times – Winner: Incfile
Incfile
Incfile guarantees same-day processing for their Premium plan and 24–48 hours filing time with the Silver and Gold plans. The turnaround time is state-dependent, but usually, it takes around three weeks to form your business. Incfile provides a valuable comparison tool to help you estimate your turnaround time.
Inc Authority
For Inc Authority, processing times hinge on each state's requirements, varying from a few business days up to several weeks.
Customer Reviews – It's a tie between the two
Incfile
Incfile has over 14,000 customer reviews on Trustpilot alone, with the majority of them sharing highly positive customer feedback.
Inc Authority
Inc Authority enjoys an excellent customer satisfaction rating, with over 26,000 reviews that are predominantly positive. Their clients particularly praise their free LLC formation service and swift processing times.
Ease of Use – Winner: Inc Authority
Incfile
The process of forming a business with this service is fast, simple, and user-friendly. The upgrade options provide clear and useful information rather than being pushy. However, the lack of a feature to save your progress can be inconvenient if you need to step away and return later.
Despite this, the website overall is straightforward and easy to use, particularly if you're prepared to finish the entire process in one go.
Inc Authority
Inc Authority effectively simplifies the LLC formation process compared to the do-it-yourself approach. Their platform is user-friendly, with intuitive guides assisting users through each step, thus making business entity setup more accessible for entrepreneurs.
However, there are upsells during the formation process that can lead to increased LLC costs.
Additional Services – It's a tie between the two
Inc Authority and Incfile present a range of similar services, including registered agent service, business bank accounts, and trademark support, among others. Yet, each of them possesses unique features not available in the other company.
For instance, Inc Authority is the sole provider of revocable living trusts and business credit assistance. Conversely, Incfile exclusively offers services such as business accounting, amendments, and dissolutions, which are not part of Inc Authority's offerings.
FAQs
Why should I use a business formation service to start my LLC?
Using a business formation service to start your LLC frees you up to focus on growing your business. These services handle the filing process for you and offer additional services that can make life easier for a new business owner.

What should I take into consideration when choosing the right business formation service for my LLC?
When assessing whether or not a business formation service is right for you, it's important to dive into the following four categories: included features, customer service, pricing, and turnaround time.
Should I choose Incfile to form my business?
Incfile is a great choice for entrepreneurs on a budget, as their Silver Package covers the basics and includes a free year of their registered agent service. Inc Authority certainly offers a more robust suite of services, but their premium packages can be extremely expensive.
What do I get with the Inc Authority's free business formation option?
The entry-level plan is free except for state fees and includes a business name availability search through your state and the business formation service, with full customer support. It also offers a few extras, including an S Election form and a tax consultation. You'll also have access to your formation documents online.
Is Inc Authority a good business formation service?
Overall, Inc Authority's robust suite of formation packages provides several valuable services. However, they are significantly more expensive compared to other companies. All three of Incfile's business formation plans have lower starting prices than Inc Authority's Starter Business Bundle.