Back to Articles of Organization Guides
How to File Articles of Organization in Hawaii
Written by: Natalie Fell
Natalie is a business writer with experience in operations, HR, and training & development within the software, healthcare, and financial services sectors.
Edited by: David Lepeska
David has been writing and learning about business, finance and globalization for a quarter-century, starting with a small New York consulting firm in the 1990s.
Published on June 16, 2022
Updated on May 1, 2023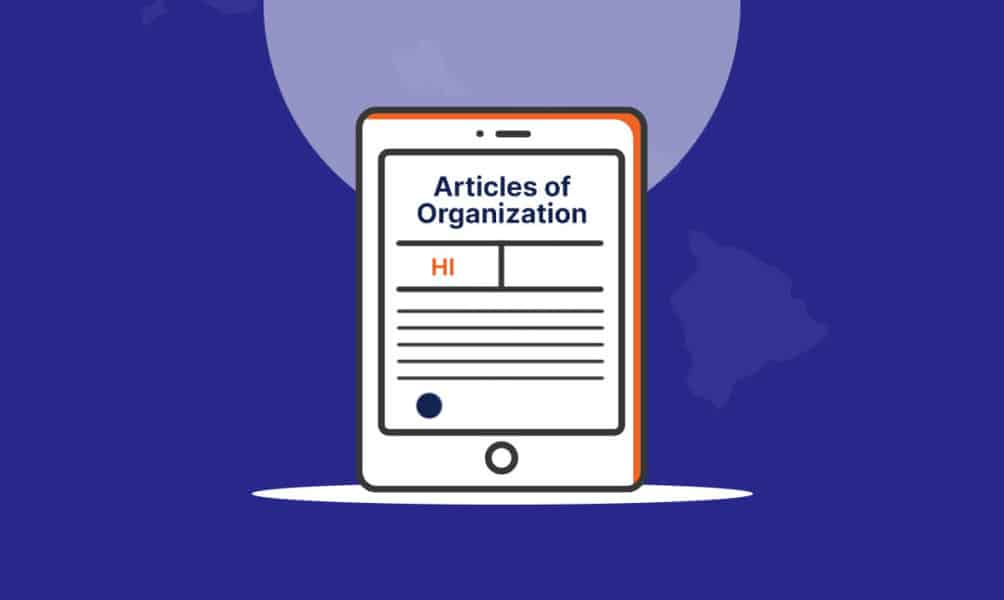 In Hawaii, as in most states, the primary step in creating a limited liability company (LLC) is to file articles of organization with the state. This is an absolutely crucial document that helps define your business, so it's important to do it correctly.
An LLC is a business entity that offers liability protection for owners, as well as pass-through taxation, much like a sole proprietorship.
What are Articles of Organization?
The articles of organization is a legal document you need to file with the state to form your LLC. It will specify details about your company and establish your LLC as an officially registered business entity in Hawaii.
The document is similar to the articles of incorporation you would file to form a corporation instead of an LLC.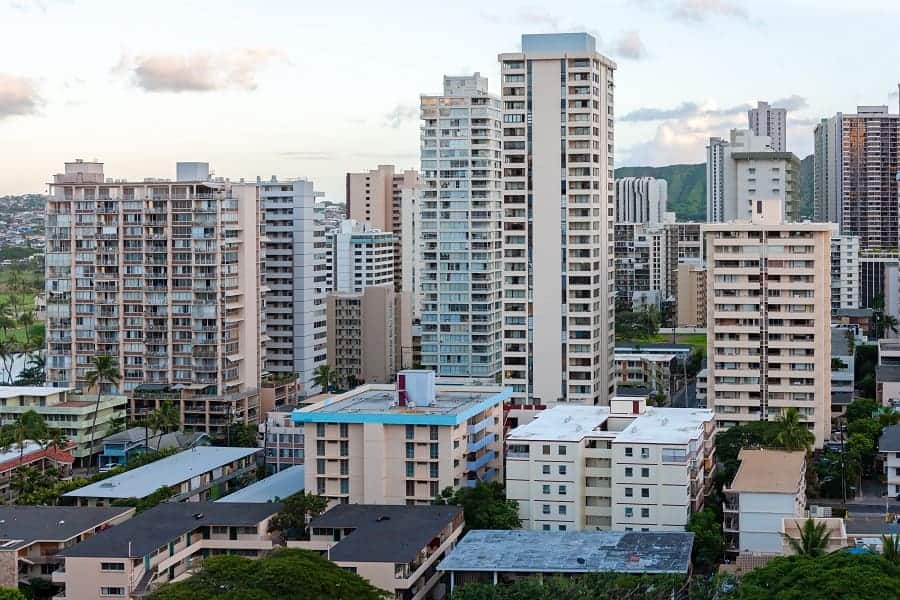 How to File the Hawaii Articles of Organization
In Hawaii, the process to file articles of organization is quite simple. The crucial first step is gathering the required information about your new LLC, before proceeding with the filing itself.
Here are the steps you'll need to take to create your new business entity:
Gather the required information about your business.


Entity Name
Registered Agent Name
Registered Office Address
Names of Organizers
Governing Authority Type
Member Liability
Business Duration
Visit Hawaii's Department of Commerce & Consumer Affairs website
Find Hawaii's articles of organization form here. It's easiest to fill out the form online and file immediately, but you can also download it, fill it out and mail it in.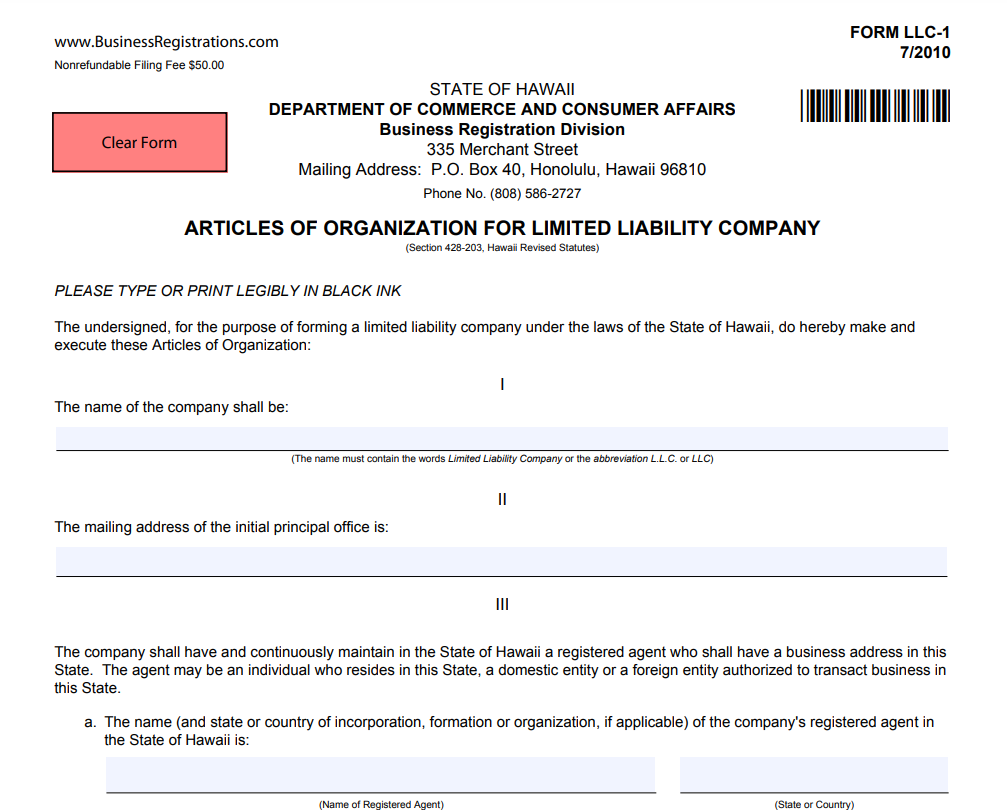 Filling out Articles of Organization Document
If you don't already have a Business Express (eHawaii.gov) account, you'll need to create one to file your Hawaii articles of organization online. Once you've created an account, log in to get to the "Start a New Business" landing page. Select "I would like to register a new business in Hawaii with the Business Registration Division, Department of Commerce and Consumer Affairs".
You will also be asked whether or not your business is based in Hawaii. Choose "yes" or "no". Under "business structure", select "Limited Liability Company". Click "continue" to be brought to the "Initial Business Filing" page.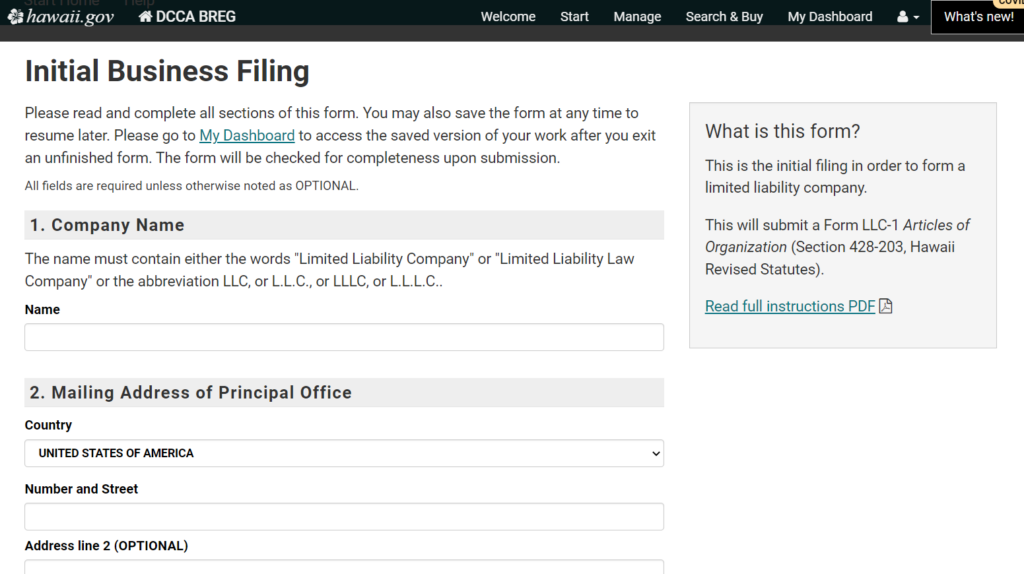 Fill in each field of the Initial Business Filing form. Fields include company name, principal office mailing address, registered agent contact information, organizer information, period of duration, management information and liability of members, and finally, organizer signature.
Once the form is complete, click "Review and Purchase". You will then have the opportunity to review each field one last time. If everything is correct, click the checkbox at the bottom next to "I certify the above contact information is correct", then click "Confirm" to proceed to the checkout screen.
When filling out your articles of organization form, be sure to double-check that all the information is accurate and up-to-date. Maybe you've just moved, or use your middle initial in official documents, such as with your bank account. If you get it wrong now, changing it later can be a real pain. So accuracy is crucial.
File Articles of Organization – The final step in the process is to submit payment through the website's payment screen or mail in all documentation. The filing fee in Hawaii is $50 plus a $1 archive fee.

Your LLC should be officially formed within 5 business days from filing. If you wish to expedite your online filing, you can choose 1-3 day processing for an additional $25.

Hawaii Department of Commerce & Consumer Affairs Contact Info
Business Express – Hawaii Department of Commerce & Consumer Affairs Website
Department of Commerce & Consumer Affairs
King Kalakaua Building
335 Merchant St Rm 201
Honolulu, Hawaii 96813
808-587-3222
7:45 am to 4:30 pm M-F Hawaii time.
Click here for more contact information for neighboring islands.
The Bottom Line
In Hawaii, it's relatively easy to create an LLC, but you do need to jump through a few hoops. You now have all the information you need to officially create your new business and begin your entrepreneurial journey in The Aloha State.
Frequently Asked Questions
Do I need an attorney to file articles of organization in Hawaii?
You do not need an attorney to file articles of organization in Hawaii. You can easily file online yourself, or use a business formation service. ZenBusiness's online LLC formation service will enable you to form your LLC in just a few minutes.
How do I amend my LLC articles of organization?
To amend your LLC articles of organization, complete and mail in an Articles of Amendment form. The filing fee is $25.
How do I get a copy of my articles of organization in Hawaii?
Copies and certified copies of your articles of organization can be purchased online through your Business Express account. Log in, search under your business name, open the record, and go to the last tab titled, "Buy Available Docs." You can also request copies by phone, email, fax, mail, or in person.  The cost for regular copies is $3.00, for certified copies add an additional $10.00.
Comments
How to File Articles of Organization in Hawaii
What are Articles of Organization?
How to File the Hawaii Articles of Organization
Hawaii Department of Commerce & Consumer Affairs Contact Info
The Bottom Line
Frequently Asked Questions
Subscribe to Our Newsletter
Join our exclusive community! Subscribe to our newsletter
and gain insider access to cutting-edge business insights and trends.
Thank you for subscribing! We can't wait to share our latest news and updates with you. Get ready for exciting content in your inbox.