Back to Interviews with Entrepreneurs
From Dream to Dough: Starting a Bakery with Ayham Haddad of Mahalab Bakery
Written by: Esther Strauss
Esther is a business strategist with over 20 years of experience as an entrepreneur, executive, educator, and management advisor.
Published on August 28, 2023
Updated on November 14, 2023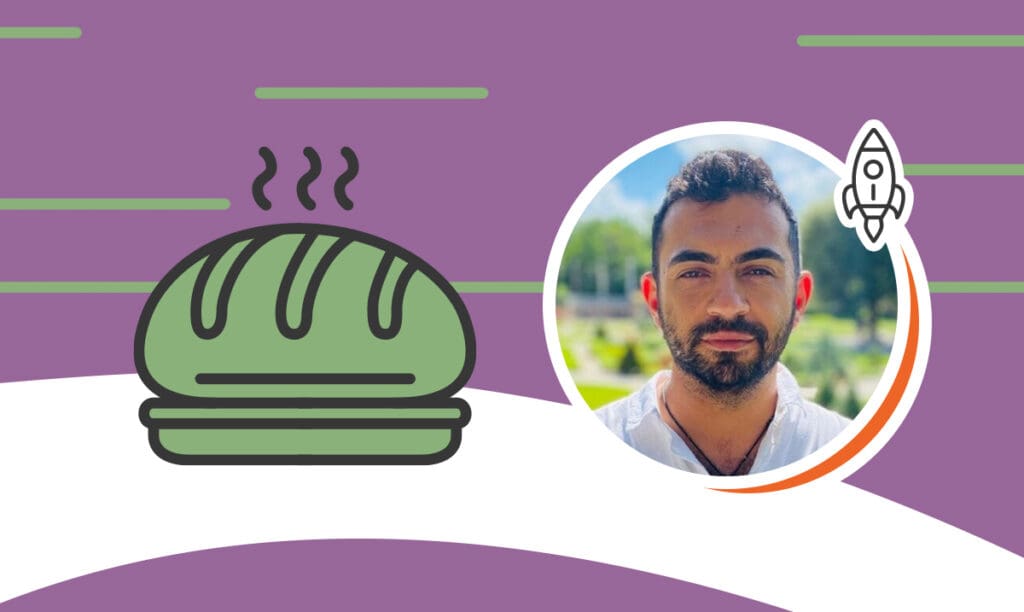 Entrepreneurship is a journey often marked by challenges, passion, and a steadfast commitment to one's vision. In our latest installment of the Entrepreneurial Spotlight Series, we had the privilege to sit down with Ayham Haddad, the head baker and owner of Mahalab Bakery, nestled in the vibrant neighborhood of Somerville, Massachusetts.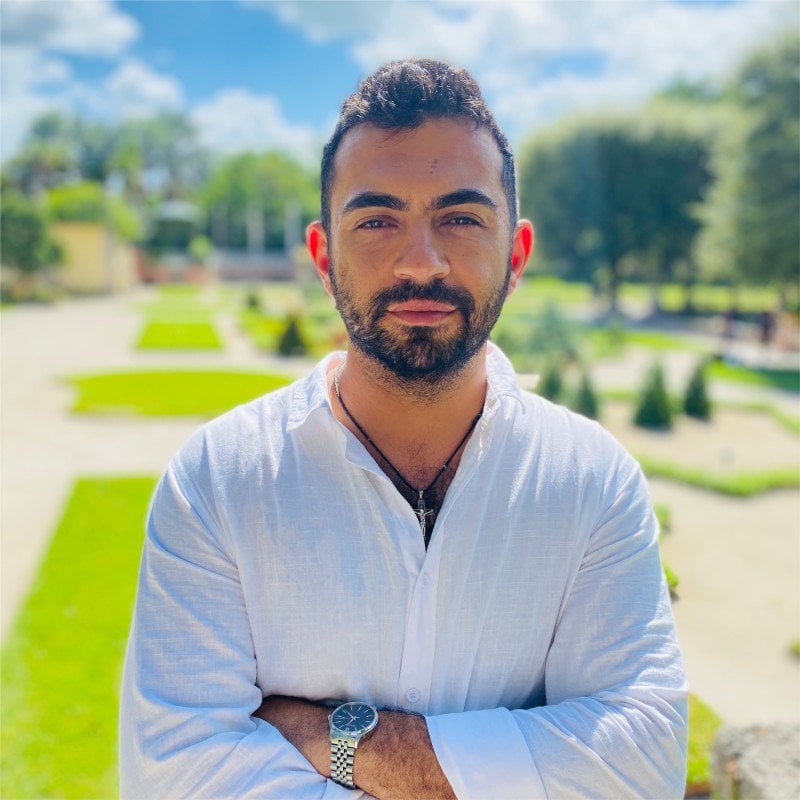 Ayham's story is one of transition — from the tech realm to the intricate world of baking. His passion for quality, the value he places on relationships, and his commitment to retaining the heart in his products are refreshing reminders of why entrepreneurs embark on their ventures.
Ayham shares his entrepreneurial journey, the initial challenges, the importance of understanding the "why" behind a business, and much more. His insights are a testament to the power of passion and the importance of aligning one's skills with one's purpose. Dive in to uncover the story behind Mahalab Bakery and get inspired by Ayham's relentless drive and commitment to his craft.
To connect with Ayham Haddad's company, you can visit the bakery's website with its online shop or check out the company's Instagram and Facebook profiles.
The Origin Story
SBS – Can you share the story behind the formation of your business? So basically, how did it all begin?
Ayham – So, a business does not start when you start a business. It started with my vision three to four years before the business started. It started with the concept. I always wanted to get into the bakery business. And honestly, it started with one time I was making non-traditional food like Chinese dumplings. And I was insistent on making the best ones, so I spent hours and hours and weeks and weeks making things and having my friends try my food. Then, one day, it was perfect.
My friends know I've always been passionate about my faith, but one friend was asking me, "What, besides your faith, are you this passionate about?" She said she'd never seen someone with as much passion for food as me.
It made me question what else I'm this passionate about, and I decided that if I was this passionate about it, why don't I explore working in the field? So, I actually started moving directions from my career world in technology to the baking direction. And definitely, it was a disappointment for my parents because they paid for college, and then I ended up becoming a baker.
Combining Education with Passion
SBS – So, if you're pursuing your dreams and still want to be educated, that's the best combination. You always have knowledge that no one can take away from you.
Ayham – Definitely. I always recommend that people broaden their skills because, in the future, you might go in a different direction. But yes, I left the tech world because I love to bake, but before I started the business, I wanted to work in a bakery for a while, so I applied for a job.
They asked me in the interview why I wanted to work for them, and I told them honestly that I wanted to start my own thing, but I wanted to see the grind and the work that is required to run a business. So, I worked in the bakery for almost two years and learned what's required to run a bakery. I still have a relationship with the manager because she let me work there. If you want to start something like this and you're passionate about it, find people who started it before you because you will learn a lot from them.
So yeah, I worked with her for a year and a half to two years before I started my business, and then for two years, I stayed there until I eventually quit and became full-time in my own bakery.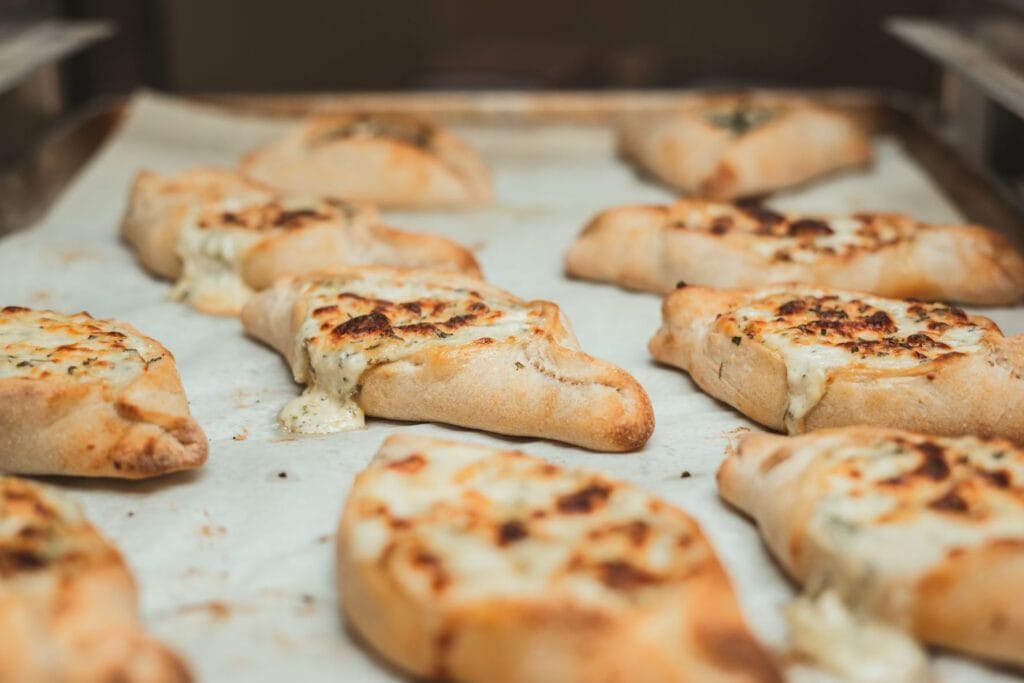 Overcoming Early Obstacles
SBS – So basically, just to sum it up, you came to the idea led by your passion, then before you started, you wanted to see if you were capable of doing it, and then you decided to start it. What were the first challenges that you faced in the early stages of starting your bakery?
Ayham – Yeah, I think one of the main challenges was to define the "why" of the business. I have a passion for baking, but why do I want to start my own business? And yes, I like baking. I like working with people. I like to feed people. I like to see their reaction. I like them to enjoy, but at the same time, I feel like baking has become so commercialized, and I want to bring back that hearty personal relationship people have with the food.
I don't do authentic Middle Eastern or Mediterranean food. I do my own, but it's the heart behind it and that personal relationship and what it used to be like when a mother made something for her kids. Food is kind of a personal relationship with the quality and the simplicity of the product. And it's not about just satisfying a craving — whether for sugar or something — but rather satisfying this need for the relationship.
So, I started working with artisanal bakeries to learn more about that part and how I could manifest these principles of "heart" in a product that benefits the city and the people around me that I can also put myself in. I came up with the savory Mediterranean baked goods product as one of them because I found it's not available in the market. So now the challenge is, what is the product?
Because you don't want to be like, "Okay, I figured out my passion," and all of that. I'm going to make this product. So, knowing that I'm going to jump into a saturated market with a product identical to something else, I have to figure out how I can make people feel better and buy my stuff rather than someone else's.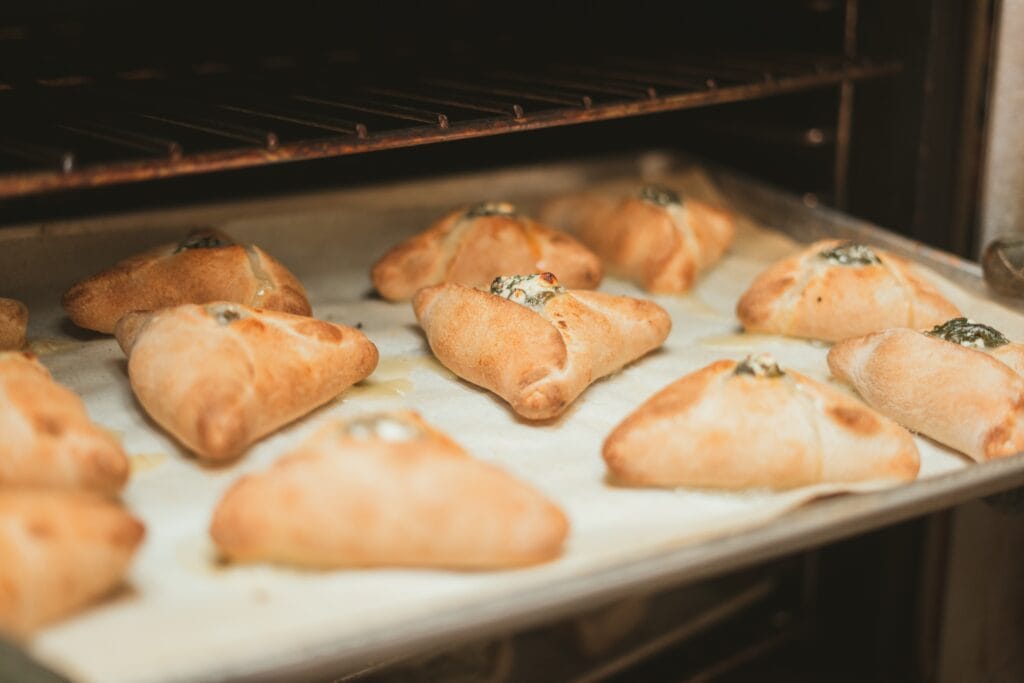 Mission and Differentiation
SBS – What you were focused on was the mission behind your business, what you really wanted to sell, and your target group. You don't want to feel like the rest of the mass bakeries. Basically, you are different because of the quality of your products and because of the soul that you put into making those products for people. And your customers are the people who want to get homemade, authentic stuff and know that you are the person behind it.
Ayham – Yeah, me personally in the front of the production and being in the relationship with the customer was very important to convey this message because if I'm just making another baguette or flatbread, then I'm just another baguette. It might be of higher quality, but I find most of my customers attach to the message of my business as much as they attach to the quality of the product. So, I think the challenge is always to achieve a match between the product and the "why."
If your "why" is just simply to feed as many people as you can, then you make a high-quality artisanal product. But instead, I want to make a healthy, simple product that everyone can access at a cheap price. That's how the "why" matches the product.
Strategic Focus and Challenges
SBS – So the part of the same question is, after the challenge, how did you overcome it? I believe your answer is when you realized what you wanted to achieve and who is your target group. But are there some things that you still haven't overcome that you're trying to do?
Ayham – So this is where it's come to. I'm focused on public relations and the client-based culture of the communities in which I am engaged. So in smaller communities — I mean, you have a big city, but in the end, our communities are neighborhoods, they are populations, they talk with each other. So, I might be able to find a breakthrough in one, two, or three smaller communities within the region within a five-mile radius.
But there are some communities that take much, much work, and maybe years to overcome. And I realize I cannot overcome these challenges and make the same connection in some other neighborhoods. So, in some places, I had an advantage and access, and I'd be able to create the relationship, but in some parts, not as much. Some cities require different strategies, and some populations require different strategies.
So, to overcome challenges, it's not always black and white and is not something that you can repeat in every community. The strategy for me was to go neighborhood by neighborhood and put in a lot of effort to make a connection.
Hopefully, it will not take 20 years because my product is unique, and I don't think anyone has made something close. They do traditional Mediterranean Middle Eastern. Now, it's about how to convince people that this is unique.
Unique Selling Proposition
SBS – So the next question is how to be different from the other products. So, what is the differentiator from the other bakeries in Boston or your area?
Ayham – I focus on two concepts — simplicity of ingredients and complexity of nature. We've disconnected from what nature can provide for us. I'm talking about natural fermentation and time. A lot of people have an allergy to gluten because we're disconnected from the symbiotic relationship we have with natural fermentation and long-process fermentation. So I wanted to bring that back in all my products. I use natural fermentation. It takes two or three days to develop each product, which makes my products healthier and easier to digest.
And it's the simplicity of the ingredients because many bakeries use many different ingredients to enhance the flavor. With the right ingredients, you can have very powerful, very strong, very nice flavors. In some of my products, I use a combination of squash, shiitake mushroom, or greens and leeks, and combine that with natural fermentation and local grains. The flavors can become very complex.
A Day in the Life of a Bakery Entrepreneur
SBS – What is the typical day for you as an entrepreneur? How does every day start? When? How does it end?
Ayham – A day as an entrepreneur shifts drastically depending on the season of business you are in. I used to do it all by myself, so my main focus was making the product and bringing it to customers. Finance and finding new clients were not my focus. Now, I'm shifting more to where I want to be, which is to be involved in every aspect of the business, but it's not completely under my own control. Now I have a baker, my wife helps with some strategic things, and I have people sell to the customers. And I have contractors to help with things like the finances.
I would say, for me now, what my day generally looks like is checking in at the bakery to make sure things are going smoothly and reaching out to my current clients, especially my wholesale accounts.
Then, I market my products and go back again to the kitchen to check on production. If I need to, I jump in and start helping with production. And when I have a little bit of free time, that's when I work on things like finances.
I used to have a season where I put in, like, 70 to 80 hours a week of work, and I would get burned out. My day would start at 5am and end around 7pm or 8pm. Now, I work around 50 to 60 hours per week.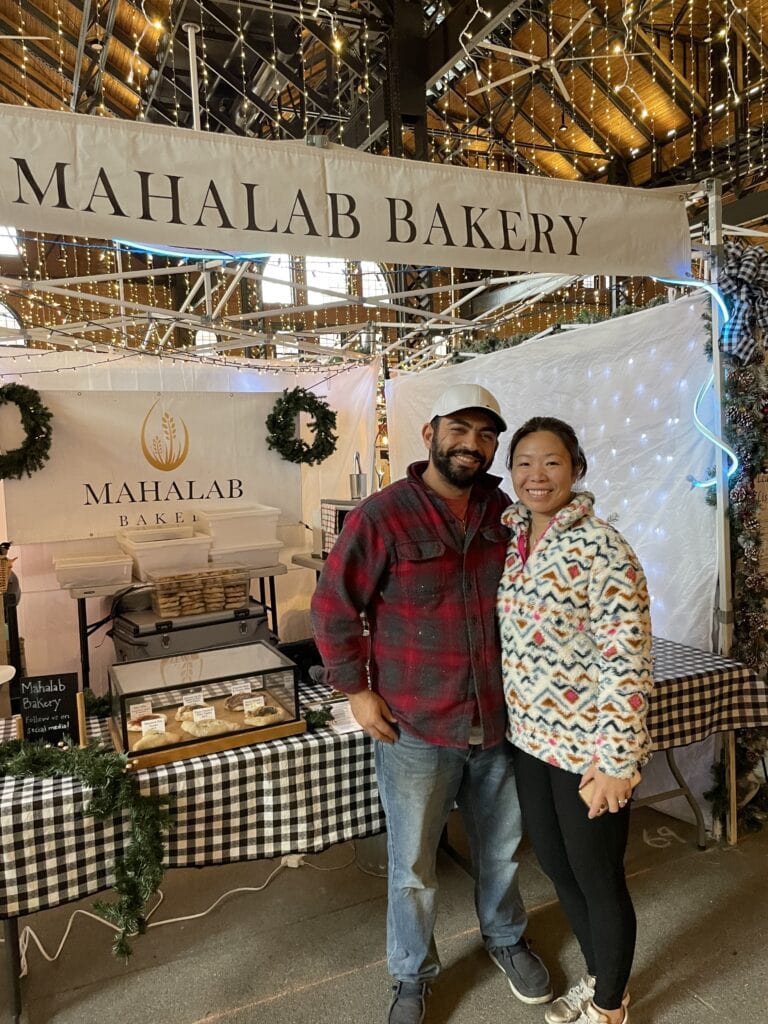 SBS – I'm glad to hear that, and it's good for entrepreneurs to know that they may need to work harder in the first months of the business, but it gets better over time.
Ayham – I think entrepreneurs think, "Oh, I am the boss of my own time." Actually, you're not. The business is the boss of your time. The business needs you to be somewhere, and if you really want to see this business succeed, you go there.
The Decision for Business Structure
SBS – What made you decide to form an LLC for your business? So, is it an LLC that you formed for your business or something else?
Ayham – So I formed an LLC, but, looking back, for that first year, I didn't really need an LLC. In the US, you can register what's called a doing business as a name, but it's not the legal name of the business. Registering the LLC is the easy part, but it's everything that comes with having an LLC that's the hard part.
I decided to register as an LLC because I do food products, and there is a little bit of danger that comes with that if someone gets sick. I don't want liability to come back to my family. It protects our personal assets.
But, what I would say to someone who does have any assets — and if you put all your money into your business — is that an LLC is not going to protect anything.
Team Formation and Growth
SBS – The next question is, how did you form your team? Do you have people other than your baker? And how did you choose your baker?
Ayham – He was part of my network because I worked with him at the other bakery, so we had a relationship. He came when I really needed a baker. I choose people based on what stage the business is in and prioritize needs. I used to be a baker and just needed someone to sell my products in the beginning. Now, I need a baker so I can sell the bigger wholesale accounts.
From a mentor, I learned to look at your potential $15, $20, $30 hourly rate employees and see where you fit in. For example, you don't need to spend time doing deliveries, so you can pay someone $15 or $20 an hour to do that. It's about how valuable certain roles are and if it's worth it to me to spend time on it or not.
SBS – So, basically, you hire people based on your needs and how your time needs have evolved.
Ayham – Yes, and I hired the baker based on their skills and reliability. I don't have to be on top of his decision-making, so I can trust him to manage the bakery space, and I'm just there to support him rather than the other way around.
I also have people who sell, and I chose them based on friendliness, caring, and respect for others, as well as their ability and work ethic. Sometimes, I get people who reach out to me just by giving me a resume, but I reject those immediately because they're not taking it seriously. But people who respond with answers and questions show that they're going to be reliable.
So, my salespeople — I don't hire them for the sales but to gain clients. So I tell them I don't care about the sales as much as gaining clients. It's about building long relationships. And I want people that I don't have to control all the time.
Acquiring the First Customers and Marketing Evolution
SBS – This is also a very good question: how did you find your first customer, and how has your marketing strategy evolved from there? Do you have a website, or do paid campaigns, or is it just a customer relationship strategy?
Ayham – I'm going to tell you my strategy, but I am also going to talk about a better way because I've learned that what I have done was not correct.
I started by just being at farmer's markets, just to have people try my products and gain customers. This is a healthy way to do it, and everyone should do it based on your product — if you just want to reach the general public. Let them try it, build your name, and people will tell each other. But you have to believe in your product. I find people like my products and come back.
But, my strategy shifted a bit as I grew because these events are limited and fluctuate based on the season, and I don't have control over who comes and who doesn't and who to target. So, I realized that I needed events where the market manager and I have the same goal and the same target customers. That way, we are benefiting each other.
Now, my focus, for example, is to do 60% direct-to-consumer through farmer's markets, 30% wholesale, and 10% corporate events and large orders like catering. So, I have three different access points to sell my product, but the focus shifts based on the season. In the summer, I have a lot of walk-in customers and farmer's markets, but in the winter, wholesale and catering are better for me.
But, I've learned over time what works and when, so my strategy has shifted year by year and shifts by season. This offers more stability of income.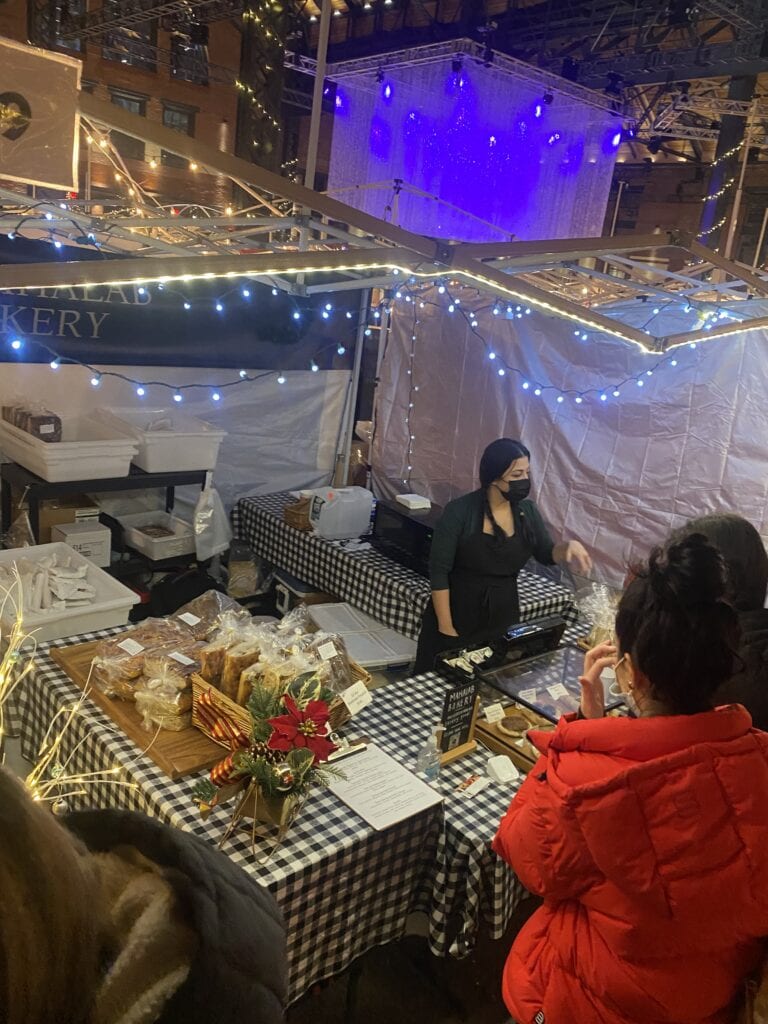 SBS – So, in those three years, if I understood you well, you learned what is the best and what you must do during the seasons. Do you have an Instagram profile or a website? Do you think that is helpful or needed for your business or not?
Ayham – It's needed to have some availability on social media, but it doesn't have to be your main focus. In the end, you want to invest in your biggest customers. For me, it's men and women, mainly women 35 to 65, higher middle or higher income families, and those are generally not social media people.
In the end, they like to see a professional website, but I have people who, when they like my product, don't review me online— they send me an email. You don't see that with the younger generation.
I have a professional website, and I think I have to focus on it to at least get an extra 10% of sales that come from younger people. But I focus on the families that will continue to buy from me for years, not just in the short term.
Guidance for Aspiring Entrepreneurs
SBS – So, what advice would you give to someone who is starting a business? What advice would you give to someone starting a bakery?
Ayham – I would say something that I learned the hard way is that you have to have people who will be honest with you about your product and not just support it. You always need supportive people, but you really need honest people who will help you get established.
The second thing is — why are you doing what you're doing? Can you just be a manager or work in a bakery? Because if that's what you're looking for, it's better, honestly, to be just working a bakery and pursuing it as a passion.
And another thing — if you want to start a bakery, don't be committed to one or a single line of products because the reality is the market will shift, and you'll find that some products will do well while others don't. Don't be prideful about your products. You have to adapt and learn and do better. Just be comfortable with that. Think, "This doesn't work, so I have to change my strategy."
It's the same with sales. If farmer's markets are not working, try something new.
SBS – Yes, that's really important for people to know. You have to adapt and change and not give up. So, if you had a chance to start another business, would you choose an LLC? Or if you started something other than a bakery, would you form an LLC?
Ayham – I most likely would start an LLC, but it's something you have to think about. Do you have a benefit from starting an LLC? If it makes you feel like you own something, then go for it. But it really doesn't help with taxes. In fact, it's going to cost you more. And it doesn't help you with customers. It does help with some vendors, though. They want to do business with a company.
When my business grows and I have a few investors, I might incorporate.
But back to the question, if I'm doing a business that involves food, I would start an LLC after the first year.
Vision for the Future
SBS – Okay, thank you. And the last one — What are your future goals? It doesn't have to be in some period of time, but what are your future goals?
Ayham – Okay, so my future goal is just what I hope the business will be. When people think of Mahalab, I want them to think of savory Mediterranean healthy and simple products. And when they think of savory, healthy baked goods that are very flavorful, they think of Mahalab. In the same way, when you think of a simple fast-food burger, you think of McDonald's. I want the same thing with high-quality artisanal bread.
So if I reach that even in just a small community or in my city, I'm satisfied.
SBS – Thank you very much. I really wish you all the best with the future of your bakery.
Comments
From Dream to Dough: Starting a Bakery with Ayham Haddad of Mahalab Bakery
The Origin Story
Combining Education with Passion
Overcoming Early Obstacles
Mission and Differentiation
Strategic Focus and Challenges
Unique Selling Proposition
A Day in the Life of a Bakery Entrepreneur
The Decision for Business Structure
Team Formation and Growth
Acquiring the First Customers and Marketing Evolution
Guidance for Aspiring Entrepreneurs
Vision for the Future
Subscribe to Our Newsletter
Join our exclusive community! Subscribe to our newsletter
and gain insider access to cutting-edge business insights and trends.
Thank you for subscribing! We can't wait to share our latest news and updates with you. Get ready for exciting content in your inbox.