Back to Interviews with Entrepreneurs
In Motion with Zoe Birch: Navigating the World of Physiotherapy
Written by: Carolyn Young
Carolyn Young is a business writer who focuses on entrepreneurial concepts and the business formation. She has over 25 years of experience in business roles, and has authored several entrepreneurship textbooks.
Published on November 13, 2023
Updated on November 14, 2023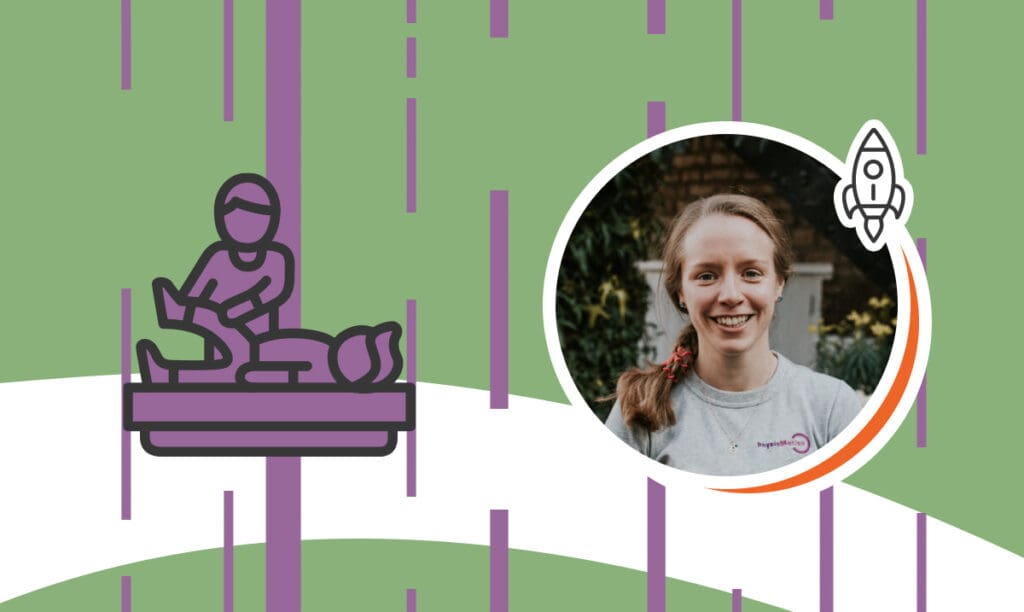 Embarking on a journey through the intricate and evolving world of physical therapy, today we're delving into the professional life and insights of Zoe Birch, BSc, a renowned chartered physiotherapist at Physio Motion. With a career dedicated to advancing the field of physiotherapy, Zoe stands at the forefront of both clinical excellence and compassionate care, embodying a unique blend of expertise and empathy. Her journey, marked by dedication and innovation, offers a wealth of knowledge for both aspiring physiotherapists and those curious about the inner workings of a successful physical therapy practice.
In our conversation, we aim to uncover the layers that make up a thriving physiotherapy business, from the initial spark of inspiration to the everyday challenges and triumphs. Zoe's experience, ranging from the nitty-gritty of business operations to the profound impact of patient care, provides a comprehensive look into what it takes to not just run but truly excel in physiotherapy practice. Through her story, we hope to illuminate the path for future entrepreneurs in this field and offer a deeper understanding of the dedication and skill that underpins a career in physical therapy.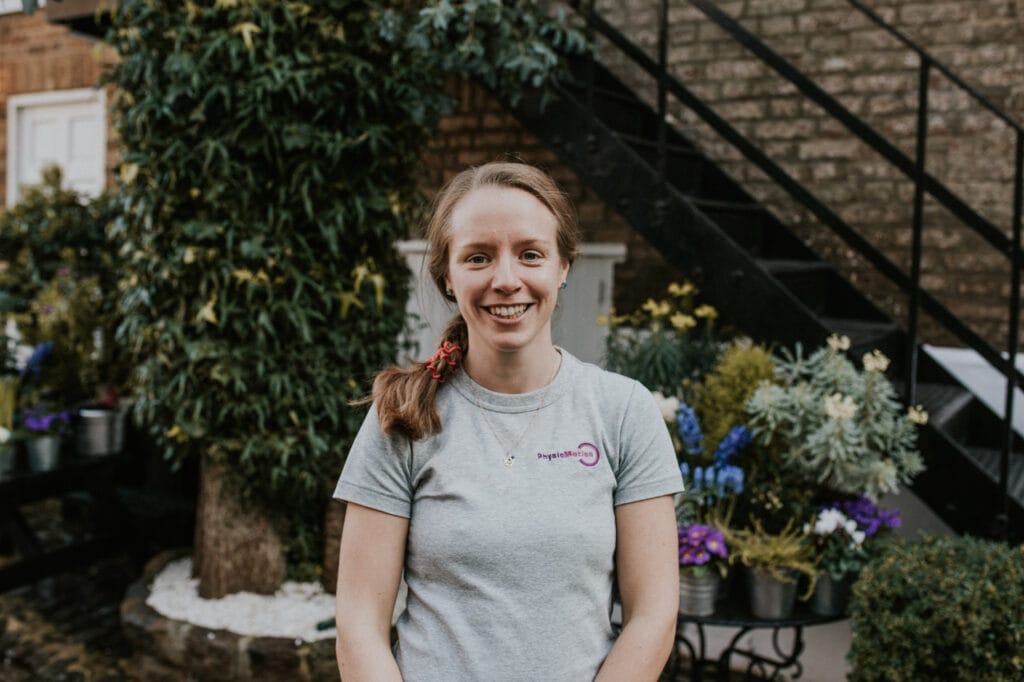 Origin Story
SBS – Can you share the story of how your business journey began? What inspired you to start it?
Zoe – I was working in a private hospital as a ward and outpatient physiotherapist and building up relationships with orthopedic surgeons that we wanted to refer in-house rather than external physiotherapists. I would regularly attend their clinics and surgeries to help build up these relationships as well as confidence in the patients I was treating that I understood their surgery.
After three years of doing this, I decided that there was no progression in my job at the hospital and considered working abroad in an area of disaster to gain experience I wouldn't get in developed countries. After discussing this with one of the surgeons I had been shadowing, he asked whether I would consider working in London as his clinic was bigger, and he was impressed with my work.
I joined a physiotherapy company as a contractor and gained experience in domiciliary physiotherapy in the private sector for a year building up my connections with a variety of doctors who treated musculoskeletal conditions until one day, the initial surgeon thought that I could provide a better service and also something that other physiotherapy companies where not doing — home visits and clinic-based physiotherapy. He introduced me to another physiotherapist who had a clinic room to sublet that was connected to a gym that was accessible to me, and I started working for myself in 2014.
The Power of a Name
SBS – Choosing the right name for a business is crucial. How did you come up with the name for your brand, and what significance does it hold?
Zoe – To make it obvious what the company did, I knew that the word "physiotherapy" would need to be it, but I needed to avoid using my name so that I didn't become the service and other physiotherapists could join the practice. Because I used my bicycle to get to home visits and clinic, I wanted that to be incorporated as well. The last thing was that physiotherapists get people moving. So, I chose "Physio Motion."
Financial Foundations
SBS – Starting a business often requires capital. How did you fund your business initially, and did you explore any unique financing options?
Zoe – Because I had worked for a year with very little expenditure (no holidays at all), I had saved up enough money to pay for a website, branding, business card, etc. As I wasn't buying premises to work from and I paid in arrears for the clinic time, I required little money to initially fund the business.
Differentiation in Physiotherapy Services
SBS – How do you differentiate your products/services in your market?
Zoe – We offered home visits and clinic appointments. We initially were a family-run business, with my mum being the administrator and my brother being another physiotherapist, so we brought that friendly and caring aspect to the sector and moved away from the corporate approach to business.
A Day in the Life of a Physiotherapy Entrepreneur
SBS – As an entrepreneur, what does a typical day look like for you?
Zoe – I am either treating patients in the clinic or at their homes (cycling between patients). I'm also sending patients their exercises via videos at the end of the day, emailing administrative assistant tasks she needs to complete — payments made by cheque/cash, providing receipts for business purchases, and dealing with patient queries regarding physiotherapy-related problems.
Navigating Challenges
SBS – What were the biggest challenges you faced in the early stages of your physiotherapy business, and how did you overcome them?
Zoe – The biggest challenge that I faced in the early stages of my physiotherapy business was finding the right clinic space that enabled me to provide a high level of rehabilitation and be able to fully assess the problems the patients were having. I really needed a clinic that had a gym connected with it to provide the care I knew I would be happy with. Thankfully, by discussing this with other health professionals in the private sector and contacting gyms within the area where I wanted to be based, I was linked up with another physiotherapist to share a clinic connected with a gym.
Also, I wanted to offer treatment at both clinic and home for my patients so that access to physiotherapy was easy for them and appropriate to their needs. Therefore, I needed to work out what days would be appropriate for each location. This was to make sure I was efficient with my time and not burnt out trying to be everywhere all the time. After a few months, it was apparent what days most people would choose for a home visit, and I then allocated the other three days to being based in the clinic. At first, it was scary to assign myself to certain days at a particular location, not knowing how busy I would be, but once people knew where I was going to be on certain days, those locations got filled.
Regulatory Navigation in Physiotherapy
SBS – Could you describe the regulatory hurdles for starting a physiotherapy practice and how to navigate them effectively?
Zoe – For my physiotherapy practice, there were not many regulatory hurdles that I needed to navigate. In regards to the physical practice, as I rent a clinic room within a larger space, it is their responsibility regarding health and safety, etc., although it is my responsibility to make sure that these are in place for the benefit of me and my patients.
The main regulatory policies that need to be in place are:
All physiotherapists are registered with HCPC, and they need to comply with the HCPC standards of conduct, performance, and ethics
The practice or individual practitioner has liability insurance
The practice is registered with the ICO
The practice has all the practitioners' DBS checked
Staying Current: Advancements in Physiotherapy
SBS – What strategies do you employ to stay updated with the latest physiotherapy techniques and industry standards?
Zoe – All physiotherapists have to be a member of the Health and Care Professions Council (HCPC). It enables you to call yourself a physiotherapist, and there are strict guidelines that you must adhere to be able to practise. One of them is around continuous professional development that ensures that you keep up to date with the latest research for physiotherapy treatment and management but also have an understanding of other healthcare professionals' practices that you might be exposed to.
I have scheduled into my diary to have one day a week that I assign to performing something to help with my continuous professional development. These include, but are not restricted to:
Regularly reading current literature on my areas of physiotherapy practice
Organising and participating in peer reviews and discussions with other physiotherapists and allied health professionals that include new techniques, current patients, and changes in practice
Attending CPD talks provided by physiotherapy groups and private consultant clinics and hospitals
Listening to podcasts related to my practice
Attending courses to review the way that I assess and treat my patients for certain areas of the body or activities they participate in or learning a new treatment technique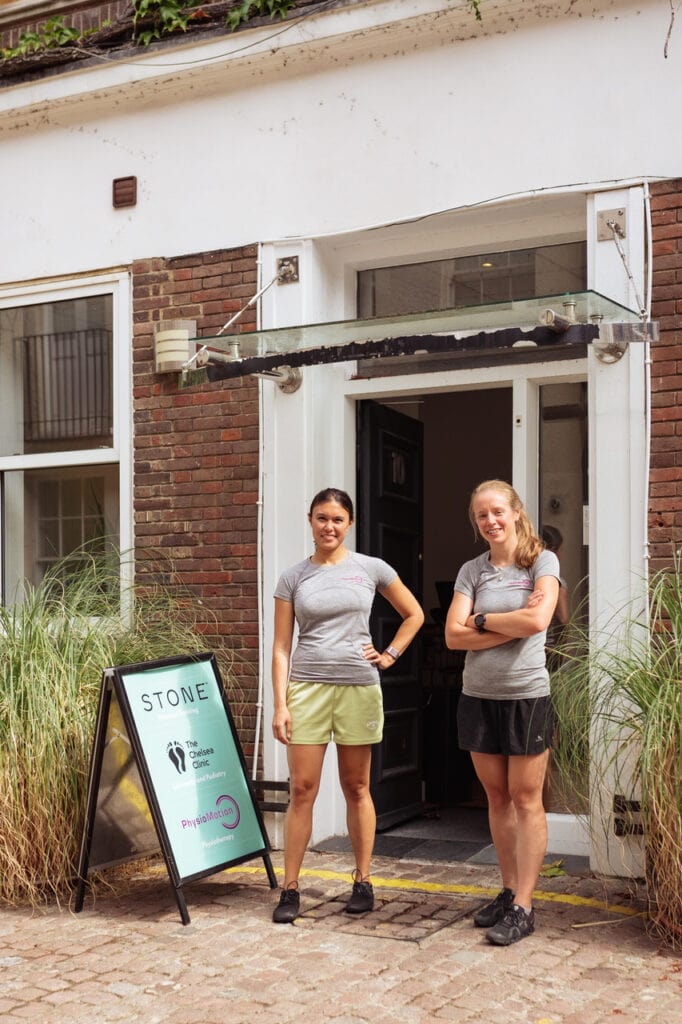 Strategic Location: Choosing a Clinic Site
SBS – Can you discuss the importance of location for a physiotherapy clinic and what factors played into your choice of clinic locations?
Zoe – We have tried a few clinic locations due to changes in gym setup, COVID, and physiotherapy practice saturation! Picking a clinic location in London, there are 6 things that I needed to consider:
Accessibility by transport
Types of people in the area
How many other physiotherapy practices are in the area
Is it a residential, commercial, or both in the area
Who my referral sources are in the area
Does it fit the purpose of my service
Marketing Strategies for Physiotherapy Services
SBS – How do you approach marketing for your physiotherapy services, and what methods have you found to be most effective in attracting new patients?
Zoe – For my business, a lot of my patients find us through word of mouth. This has come about due to us providing a great service to our patients and building up relationships with consultants/GPs, personal trainers and allied health professionals.
Therefore we have made sure that we are regularly in contact with our referrers to discuss our mutual patients, ensure we are up to date with their protocols for treating certain conditions and work collaboratively. Building up strong relationships with our patients, we ensure that they are able to contact us easily between sessions, and we contact them after they have been discharged to see how they are doing. Additionally, we send company-branded birthday cards to them to maintain contact with them without the pressure to use our service — but it informs them that we are still practising.
We have found that having a strong and fast website has been very attractive to new patients. Therefore we make sure that it is always up to date and add new content relevant to the patients who need our help. We also ask our patients to write reviews on Google and Trustpilot and provide testimonials to add to the website at the end of their treatment. This allows potential new patients to be more informed by current examples of people and conditions that we have treated.
We have worked closely with a web designer to have a website that is quick, easy to use, and personal. We have achieved this by having a static website with most of the photos being of our team and actual patients or locations and photographs taken by us. Additionally, all content has been written by us to ensure that there is no generic information and that the company ethos and values come across to the audience. We know that this time has paid off, as our patients who have found us through Google have often told us that they chose our company over others due to the website looking more professional, warm, and not full of stock photos.
We tried social media, but we only found that we received a few patients, such as via a social media influencer that we had treated or when we were regularly posting information and stories. For us, the effort did not pay off as much as the physical connection and the presence of a good website.
Qualities of a Successful Physiotherapist
SBS – In your experience, what are the key qualities that a successful physiotherapist should possess?
Zoe – To be a successful physiotherapist, you must be:
Personable
Empathetic to your patient's needs and concerns
Caring
Honest about your knowledge and ability, and not be scared to refer your patient to someone else who will meet their needs
Good at communicating both verbally and in writing
A good listener, not interrupting your patient when they are providing you with information about their problem and how that makes them feel
Approachable
Good at forming relationships with a variety of people and types of personality
Adaptable
Non-judgemental
Passionate about your work and your ability to help people go back to the things they are passionate about
Defining Success Beyond Profit in Physiotherapy
SBS – How do you measure success in your physiotherapy practice beyond the financial aspect?
Zoe – I have measured my success by the number of people who have recommended us to their patients, friends, family members, and colleagues. You know that your practice will be doing well if people are confident in your work and service to encourage other people to see you for physiotherapy treatment.
Also, I know we're successful when people return to your practice to have treatment for a different condition or problem.
Building a Team
SBS – Could you explain your process for hiring staff and ensuring they align with your business's values and quality standards?
Zoe – In interviews, people will prepare themselves by looking at your website and social media to get an understanding of the type of company you are and ensure that they say the right things to illustrate that they believe in that as well.
So from my experience, it is important to know what academic and work experience they have on paper and with references to ensure that they are competent at practising physiotherapy. Additionally, you get a better idea if they align with your business values by having a general conversation about them and their interests whilst showing them around the clinic to see how they interact with other people and respond to the environment and certain situations.
For my business, being personable and caring is really important, as it helps form strong, long-lasting relationships with our patients, colleagues, and referral sources.
Revenue Streams and Diversification
SBS – What are the primary revenue streams for a physiotherapy clinic, and how can one diversify their services to cater to different patient needs?
Zoe – The primary revenue stream for a physiotherapy clinic is physiotherapy treatment itself, but other services that you can supply are soft tissue/sports massage, strength and conditioning training, women's health physiotherapy, pilates, yoga, gait analysis, ergonomic assessment, in-service health and wellness courses to corporate clients, CPD courses to other physiotherapists, etc.
In order to diversify, you need to make sure that you have the specialist training or knowledge to perform these, as the HCPC standards state that you should not work outside of your professional ability and capacity.
The Importance of Specialisation in Physiotherapy
SBS – How important is having a niche, such as women's health or sports injuries, in establishing a successful physiotherapy practice?
Zoe – There are lots of different areas of physiotherapy like there are for doctors. It is important to find an area that you are passionate about and want to specialise in, such as musculoskeletal physiotherapy. This will ensure that you take great care and have the enthusiasm to provide excellent service to your patients, resulting in a successful practice that people want to be treated at.
You can narrow this speciality even more to a particular joint or condition if you find that you are either interested in just treating that or you work with a lot of patients with those problems. For some patients, this is really important to them, as they want to know that you are the best at treating a particular problem and have seen their condition a lot.
Typically, a physiotherapy practice will not just have one physiotherapist, so the practice can specialise in areas of physiotherapy, but individual physiotherapists can have a sub-speciality, such as foot and ankle conditions or women's health.
But something to consider is how much you want to specialise. I have found that when someone has found a clinic that they like and have had successful treatment for one condition, then they are likely to want to return there when they need physiotherapy for something else, so it is not always best to be a niche clinic.
Comments
In Motion with Zoe Birch: Navigating the World of Physiotherapy
Origin Story
The Power of a Name
Financial Foundations
Differentiation in Physiotherapy Services
A Day in the Life of a Physiotherapy Entrepreneur
Navigating Challenges
Regulatory Navigation in Physiotherapy
Staying Current: Advancements in Physiotherapy
Strategic Location: Choosing a Clinic Site
Marketing Strategies for Physiotherapy Services
Qualities of a Successful Physiotherapist
Defining Success Beyond Profit in Physiotherapy
Building a Team
Revenue Streams and Diversification
The Importance of Specialisation in Physiotherapy
Subscribe to Our Newsletter
Join our exclusive community! Subscribe to our newsletter
and gain insider access to cutting-edge business insights and trends.
Thank you for subscribing! We can't wait to share our latest news and updates with you. Get ready for exciting content in your inbox.