Back to Interviews with Entrepreneurs
Starting a Roofing Company with Evan Oxenhorn of Reiter Roofing
Written by: Carolyn Young
Carolyn Young is a business writer who focuses on entrepreneurial concepts and the business formation. She has over 25 years of experience in business roles, and has authored several entrepreneurship textbooks.
Published on September 27, 2023
Updated on November 14, 2023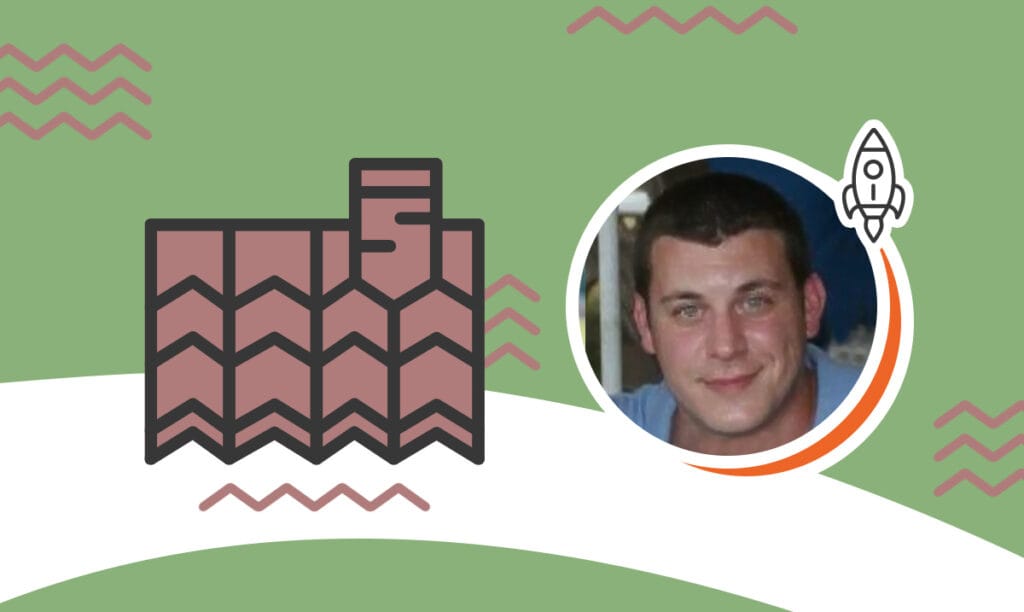 When one thinks of businesses that stand the test of time and have adaptability, resilience, and a deep sense of purpose, Reiter Roofing, a reputable roofing business in Philadelphia, is just the business that comes to mind. Born from a family legacy in the early 1990s, it's a testimony to what dedication to the craft, an unwavering commitment to customer satisfaction, and the heart of a true entrepreneur can achieve.
In our recent interview, Evan Oxenhorn, the driving force behind the present-day Reiter Roofing, paints a vivid picture of how the business has grown, faced challenges, and continues to cement its place as a trusted name in the industry.
Dive into Evan's inspiring journey by continuing with the full interview below.
Business Formation
SBS – Can you share the story behind the formation of your roofing business?
Evan – The story behind the formation of Reiter Roofing is a deeply personal one for my family. My uncle, Barry Reiter, founded the business back in the early 1990s. He started it with the aim of providing high-quality roofing services to the people of Philadelphia. He was a sharp salesman and believed in the importance of integrity, craftsmanship, and customer satisfaction.
When I graduated from Penn State, the job market was not very promising, so I took a job working in construction. After a few years, I opened a contracting business with a partner, and after a few years, we decided to close up due to some personal issues my partner was having.
Barry called me and asked me to come work for him. I spent the next 15 years helping to build Reiter Roofing into the business it is today. When COVID hit, Barry decided it was time for him to retire. In 2020, I formed a new corporation called Craftsman Contractor Inc. and purchased the assets of Reiter Roofing as a way to keep the Reiter Roofing name going.
Overcoming Initial Challenges
SBS – What challenges did you face in the initial stages of your business, and how did you overcome them?
Evan – Like any small business, we faced our fair share of challenges in the beginning. The competition was stiff, and it was often difficult to stand out in the crowded roofing market. We also had to battle major increases in material costs and a disappearing labor pool.
We overcame these challenges by staying true to our commitment to quality workmanship and customer service. Word-of-mouth referrals played a significant role in building our reputation. We also invested heavily in online marketing as a way to make our business stand out.
Differentiating Your Services
SBS – How do you differentiate your roofing services in your market?
Evan – Differentiating our products and services in the market has been a continuous effort. It's tough to stand out when every roofing company basically offers the same products. We do so by emphasizing our commitment to quality, safety, and customer satisfaction. We use top-quality materials and stay updated with the latest roofing technologies. Additionally, our family-owned status and our long history in Philadelphia add a level of trust and credibility that sets us apart.
A Day in the Life of an Entrepreneur
SBS – As an entrepreneur, what does a typical day look like for you?
Evan – A typical day for me starts early. I leave my house early and am at my desk by 6:00am. I often spend mornings reviewing project details, scheduling, and coordinating with our crew. I also handle administrative tasks and stay in touch with our customers to ensure their needs are met. Afternoons are usually spent following up on estimates, addressing any issues that may arise, and strategies for the future. I also make time for networking and staying informed about industry trends.
Motivation Behind the Business
SBS – What was the driving force or the main motivation behind starting your own business?
Evan – The driving force behind continuing the family business was trying to preserve the years of hard work I had put into helping build the company and provide a valuable service to our community. Roofing is not just a job for us; it's a passion. We take pride in protecting people's homes and businesses from the elements, and that motivates us every day.
Choosing S Corporation Status
SBS – What made you decide to form an S Corp for your business?
Evan – We decided to form an S Corporation for the business to protect our personal assets and limit our liability. It's a common structure for family-owned businesses, and it provides the legal separation needed to shield our personal finances from any business-related issues.
Building a Team
SBS – How did you build your team? What qualities do you look for when hiring employees?
Evan – Building our team has been a gradual process. We prioritize hiring individuals who share our values of integrity, hard work, and dedication to quality. Roofing can be a physically demanding job, so we also look for candidates with the physical stamina required. It is a tough business to find the right candidates. We often bring in people from other trades and provide them with on-the-job training to ensure they meet our standards.
Customer Acquisition and Marketing Strategies
SBS – How did you find your first customers, and how have your marketing strategies evolved since then?
Evan – Our first customers were largely acquired through word-of-mouth referrals and local advertising in the early days. As the business grew, we expanded our marketing efforts to include an online presence through a website and some social media.
These days, we use a combination of online marketing channels to drive our business as well as an SEO (Search Engine Optimization) strategy that has helped propel our web presence to the forefront of our customers' search efforts. Our newly designed website was designed to be easy to navigate and streamlined for Search Engine Optimization. We feel that the first step in obtaining new customers is being easy to find.
Advice for Aspiring Entrepreneurs
SBS – What advice would you give someone considering starting a business today?
Evan – My advice to someone considering starting a small business today would be to thoroughly research your industry, understand your target market, and focus on providing exceptional value to your customers. Build a strong network, be prepared for hard work and challenges, and never compromise on your principles. There is nothing easy about it — be prepared to work long hours. At times, you will feel like you want to quit, but in the end, the hard work pays off and makes it all worth doing.
Reflections on Business Choice
SBS – If you had the chance to start another business, would you choose the same business again? Why or why not?
Evan – If I had the chance to start another business, I would probably venture into something with less overhead. There are a lot of businesses that don't require huge startup costs and the need for as many physical assets as a construction company. A business model that is more liquid would be easier to manage in lean times.
At the end of the day, though, it's not just about the business; it's about the values and traditions that come with it. The most important thing is to find people that you can work with on a daily basis because, at the end of the day, they are the most important part of your business.
Future Goals
SBS – What are your future goals?
Evan – Our future goals for Reiter Roofing include expanding our services while maintaining the high standards we're known for. We want to continue serving the Philadelphia community, build long-lasting relationships with our customers, and remain a trusted name in the roofing industry. Additionally, we aim to embrace sustainable roofing practices to contribute positively to the environment.
To stay updated with Reiter Roofing's latest endeavors and projects, don't forget to follow them on their Facebook and Google My Business pages.
Comments
Starting a Roofing Company with Evan Oxenhorn of Reiter Roofing
Business Formation
Overcoming Initial Challenges
Differentiating Your Services
A Day in the Life of an Entrepreneur
Motivation Behind the Business
Choosing S Corporation Status
Building a Team
Customer Acquisition and Marketing Strategies
Advice for Aspiring Entrepreneurs
Reflections on Business Choice
Future Goals
Subscribe to Our Newsletter
Join our exclusive community! Subscribe to our newsletter
and gain insider access to cutting-edge business insights and trends.
Thank you for subscribing! We can't wait to share our latest news and updates with you. Get ready for exciting content in your inbox.