PLLC vs. LLC: Key Differences
Written by: Carolyn Young
Carolyn Young is a business writer who focuses on entrepreneurial concepts and the business formation. She has over 25 years of experience in business roles, and has authored several entrepreneurship textbooks.
Edited by: David Lepeska
David has been writing and learning about business, finance and globalization for a quarter-century, starting with a small New York consulting firm in the 1990s.
Updated on April 26, 2023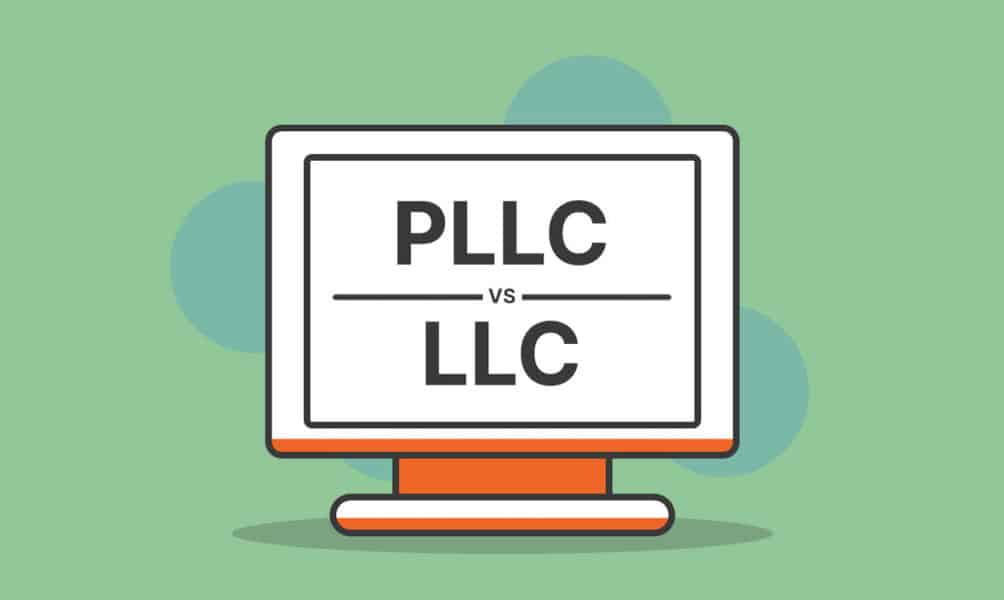 PLLC vs. LLC: Key Differences
What is an LLC?
What is a PLLC?
What's the Difference between LLC and PLLC?
How to Form a PLLC
In Closing
A professional limited liability company (PLLC) is a version of a limited liability company (LLC) intended for doctors, nurses, lawyers, and other occupations that require a state license or certification.
It's important to note that not all states allow PLLCs.
This article provides a detailed comparison of PLLCs and LLCs to inform your decision.
What is an LLC?
An LLC is an increasingly popular business structure for startups, offering liability protection for ownership and greater flexibility than a corporation, particularly in terms of taxes. The LLC itself does not pay taxes. As a "pass-through" entity, income passes through the business to the owner or owners, who report it on their personal tax returns. An LLC is created by filing paperwork with your state, and nominal fees are involved.
An LLC offers its owner or owners, who are called members, considerable flexibility in terms of management. You can choose your management and operational structure and decide how you want to be taxed. Your LLC can have a single member or multiple members, all of whom have personal liability protection, meaning your personal assets are not at risk if you cannot pay business debts or are involved in a lawsuit.
What is a PLLC?
A PLLC, as mentioned above, is meant for professionals such as doctors or lawyers. It is much like an LLC, subject to the same laws and with limited liability protection for members. For a PLLC, however, the state's licensing board must verify the professional's credentials and approve the PLLC's Articles of Organization.
Not all states allow PLLCs. For states that do, PLLC owners must be in a profession that requires a license or certification from the state, although this can be a grey area. Some states list the specific professions that can have a PLLC, while others leave it open to interpretation. Common professions that can form a PLLC include:
Physicians, dentists, other licensed medical professionals
Attorneys
Accountants
Engineers
Architects
Real Estate Agents
Social Workers
Pharmacists
Therapists
What's the Difference between LLC and PLLC?
An LLC is considered a "pass through" entity, meaning income passes through the business to the owners for tax purposes. The LLC is not a taxable entity, so all income is reported on the tax return of the owner or owners and taxed at their personal income rate.
In the case of corporations, the corporation is taxed as well as the dividends shareholders receive, which is sometimes referred to as double taxation. LLC owners also may be eligible for the 20% pass-through deduction that was part of the Tax Cuts and Jobs Act, meaning they can deduct up to 20% of business income from their taxable income. A PLLC is taxed the same way as an LLC.
An LLC is a legal entity that is separate from you, the owner. Just as in a corporation, your personal assets are protected because you are not personally liable for the company's debts or legal liabilities. In a sole proprietorship or general partnership, your personal assets such as your home are at risk if there are unpaid debts or legal liabilities. There are some instances in which an LLC owner, however, could have personal risk. For example, if you are asked to personally guarantee a business loan, you are personally liable for the debt.
This all applies to a PLLC as well, except when malpractice claims arise. A PLLC owner is liable for any malpractice claim made against his or her work, but not for malpractice claims against fellow PLLC members. For this reason, PLLC owners should also have malpractice insurance to protect their personal assets.
How to Form a PLLC
The process to form a PLLC is the same as an LLC, except that the licensing board must approve the Articles of Organization.
1. Choose Your State
The first step is to choose the state in which you plan to do business. PLLC processes and requirements vary by state, so visit your state's website for details. Generally, you can form your PLLC with an online application. If you plan to have physical locations in more than one state, you will need to register a foreign PLLC in the states where you will do business other than your home state.
2. Choose Your LLC Name
Your business name is extremely important. It should reflect the brand you plan to build, tell customers what you do, and be memorable. Once you've chosen a name, you'll need to make sure that it's not already taken. You can do a search on your state's website, and on other state websites if you are doing business in more than one state. You should also check the US Patent and Trademark Office to make sure the name hasn't been trademarked.
3. Choose a Registered Agent
A registered agent is the person or company that sends and receives legal documents on behalf of your PLLC. The registered agent can be a member of the PLLC, or you can choose a third party such as an attorney, or a company that offers registered agent services. Most states require you to have a registered agent. The agent must be a resident of the state where you do business, or a corporation authorized to do business in your state.
4. Determine Your Management Structure
There are two types of management structures:
A Member-Managed PLLC is managed by the members of the PLLC. This is usually chosen by smaller PLLCs with few members who will be involved in various management roles.
A Manager-Managed PLLC is managed by people who are not members of the PLLC and are employees of the business. This structure is often used when an PLLC is larger and has multiple members.
5. File Articles of Organization
The articles of organization is the form you fill out to create your PLLC. These forms vary by state but can generally be filed online. You'll need to fill out the PLLC name, the name and address of the registered agent, the names of the PLLC owners, and in some states, the way the PLLC will be managed. Fees are generally around $100. The licensing board for the state must review and approve the Articles of Organization before they can be filed.
6. Draft an Operating Agreement
An operating agreement is not usually required but is highly recommended. The operating agreement should clearly define the following:
The percentage of each member's interests in the PLLC
How profits and losses will be allocated to each member
Each member's rights and responsibilities
The management structure and management roles of members
The voting rights of each member
Rules for meetings and voting
What happens when a member sells their interest, becomes disabled, or dies
It's a good idea to have an attorney's help when creating your operating agreement so that you can be sure you're covering all bases to protect all members and avoid future issues.
7. Apply for Business Licenses
It's important to make sure you're in compliance with all laws at the local, state, and federal levels. It's likely, depending on your location and type of business, that you'll need business licenses and permits. Do some research to determine which licenses you need. At the very least you'll need a sales tax permit to sell products and collect sales tax.
8. Obtain an EIN
EIN stands for Employer Identification Number and is like a social security number for your business, allowing the IRS to identify your business easily. It is also known as a Federal Tax Identification Number (FTIN), or sometimes for corporations a Tax Identification Number (TIN). An EIN is required if your PLLC has more than one member, if you plan to hire employees, or if you choose to have your PLLC taxed as a corporation. The application is free and can be found on the IRS website. The application is form SS-4, and it can be mailed to the IRS or submitted electronically, and once your information on the application has been validated, the EIN is assigned immediately.
9. File Annual Reports
Your state may require you to file annual reports for your PLLC, which may involve a fee. Check your state for requirements.
In Closing
A PLLC is very similar to an LLC. The only differences relate to who can form them, the licensing board approval requirement, and malpractice claims. The personal liability protection of the PLLC does not protect the personal assets of a member facing malpractice claims, which is why malpractice insurance is crucial. To determine which type of business structure is right for your company, it's best to speak with an attorney and a tax advisor before making a decision.
Comments